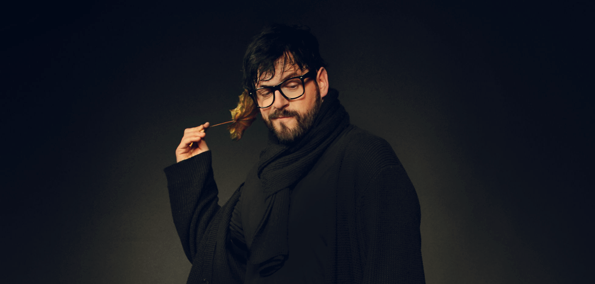 Here at Earmilk, we like our men prolific, productive, and diverse in taste, and Gordon Gieseking certainly fits the bill. As the founder behind Project: Mooncircle and Finest Ego and co-founder of Project: Squared, he's had his hand in the musical upbringing of countless artists all over the spectrum of bass, hip-hop, techno, and house.
Below, we've got an interview from Gordon about the growth of these labels/collectives, the personal ups and downs of his involvement, and what he has in the works right now. Alongside the interview, we're proud to be debuting a huge exclusive mix below, packed with unreleased and forthcoming tracks as well as old favorites.
Lost Treasures In Radiant Yellow - Mixed by Gordon Gieseking
01. Intro: Sweeping Leaves
02. Om Unit - Le Singe / Ulysses VIP / Ulysses Mashup
03. Traxman - The Comeback 2011
04. J-Man - Deeper
05. X Nation - Look No Further
06. Billy Boyo - In The Area
07. KRTS - The Dread Of An Unknown Evil (Unreleased)
08. Craig McWhinney - Disengage (Unreleased)
09. Darling Farah - Body
10. Adi Dumitra & Toygun - Static Soul
11. Jack Dixon - 60 Miles
12. Floating Points - Arp3
13. John Roberts - Ever Or Not
14. Sei A - Frozen Flower
15. Sieren - Tangled (Unreleased)
16. Dense & Pika - Who Cares Who Wins
17. Skit: Rainy Pankow
18. Shift Key - Geeky Playtime
19. Kidkanevil & Daisuke Tanabe - SGstep
20. Daisuke Tanabe - Witch Hunt
21. Robot Koch - Gorom Sen / Gorom Sen Returns (Unreleased) Mashup
22. Keaton Henson - Sweetheart What Have You Done To Us
23. Money - So Long (God Is Dead)
24. Graciela Maria - From Others (Unreleased)
25. Outro: Rainy Pankow
Photos / Cover by The Binh
EARMILK: For our readers, can you briefly describe for us what you do with Project: Mooncircle, Project: Squared, and Finest Ego and what each of these is?
Gordon Gieseking: Project: Mooncircle was founded in 2002 and is specializing in the conjunction between electronic and organic music. Being interested in music from my earliest childhood on, it eventually became more than just a passion to me. In 2004, I found the perfect partner for the label, which was first envisaged as a compilation project only, with Thomas Ulrich and his mail-order hhv.de. Later, Jinna Morocha from Moscow joined the team. This led the way for the first instrumental and vocal solo releases by such artists as Take aka Sweatson Klank, Mr. Cooper, 40 Winks, CYNE, Jahbitat, John Robinson, MF Doom, Lambent, Lewis Parker, Daisuke Tanabe, Kidkanevil, Non of Shadowhuntaz, Graciela Maria, Strand, Robot Koch, Pavel Dovgal, Ta-Ku, Mika Gao, Onra, Submerse, fLako, Sina., 1000 Names, Sekuoia, Rain Dog, DZA, Krts, Long Arm or Glen Porter. ▸▸ http://www.projectmooncircle.com/

In 2009, the sub-label Project: Squared, run by Paul Cooper and Peter Schachmann, two long-standing companions and co-workers, was founded. Project: Squared releases mainly dubstep and techno 12" records from such artists as Asusu, Furesshu, AnD, L-OW, Tom Diccico, Kowton, Shifted and others. ▸▸ http://www.projectsquared.net/

Another sub-label, Finest Ego, was added in 2010. Run by Malte Tarnow, its aim is to consolidate the versatility of instrumental beats, glitch or wonky and anything in between or beyond, besides being also a daily updated blog and a general hub or platform for producers from all over the world. The outcome are compilations with such producers as Daisuke Tanabe, Isaac Aesili, Om Unit, Lapalux, RLP, ichiro_, Himuro Yoshiteru, Pixelord, Monky, Christoph El Truento, and various others. ▸▸ http://finestego.com/

EM: How do all of these things tie together?
GG: We're happy with the outcome so far. Finest Ego and Project Squared grew quite fast and it was pure energy for all of us to receive so much positive feedback from our listeners. Project: Mooncircle is the flagship of course...
EM: What are your favorite parts of running these labels/collectives?
GG: Hmm, good question, because sometimes it's hard to keep all these good things in mind in this kind of buisness but it's what I love. I won't complain, but it is sometimes pretty cold and rough in the position as label head. You can't do the right things or make the best decisions that everyone is happy with all the time, but I try my best to handle things with care! Honestly, maybe that's the main topic in label management and I need this kind of risk between the label and the artist.
Music is my first and never ending love of my life! I started as a DJ and when I was 18 years old, I decided to create my own picture of music and artists. My biggest influences are labels like M3rck Records or Beta Bodega from Miami, Florida. I started to reflect about the whole music buisness with them and they taught me a lot about how to work in this scene and to enjoy it even when it's interpersonally cold and egoistic most of the time.
EM: What have been some of the biggest challenges for you?
GG: In musical ways, the process of Long Arm's, Robot Koch's, and fLako's career. We invested a lot of time and energy to establish these talented acts. The beginning of the sub-labels was also intensive for me, but the biggest step was when I was 18 years old and came from Eastern Germany to the states without any money for my first internship! I worked 8 months without any cent and even nothing to eat but I was never so on focus for my dream and way of life.
EM: You've also done work as a graphic artist - what's fun for you about that?
GG: I don't take it serious anymore. I had a good time with illustrations or graphics for a lot of my favorite musicians or labels but I stopped 2 years ago to be more on point for our artists. If I feel like it then I do some illustrations for Project: Mooncircle.
EM: What have been some defining or exciting moments for you as someone involved in the music business?
GG: I will never forget my first signing in 2003. I was so nervous and I'm sure the artists thought, "WTF?" Haha, damn... Big up Paul!
EM: How often do you DJ out? How do you like that experience?
GG: I started to play some sets again one year ago and I am really enjoying it! I had a break of 6 years because of the label and artwork jobs but I love to play live and to feel and see the feedback of our listeners.
EM: What went into making the mix that we're posting alongside this interview? Any background info you want to share?
GG: I just selected some of my favorite tunes from 2011 and 2012. The mix will show you the cold and warm contrast in autumn and I tried to express this kind of emotion with it. For example, I recorded some long walks on autumn leaves and I hope you can feel the same when you listen to it. I also included some exclusive material from friends like Robot Koch or upcoming new signings like Sieren.
EM: What's coming up for you in the near future?
GG: I'm very excited about 2013. I feel that we will switch into a new era with Mooncircle. We just signed a very talanted 20-year-old singer, producer and songwriter, her name is PYUR, two weeks ago. She worked with musicians like Oliver Koletzki in the past but her solo-release will be different. We invited co-producers like our boys Robot Koch, Rain Dog or Submerse. We want to release new albums from Sweatson Klank (alias of Take from LA), Submerse, Graciela Maria's"Olvido", Long Arm from St. Petersburg is already working on his seconnd album and definitely something new from Robot Koch in 2013 too!
EM: Outside of music, what makes you happiest?
GG: My family and love...