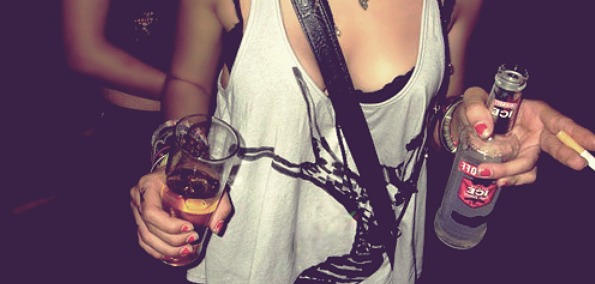 Danl Goodman and Ian Johnson collectively make up the duo gLAdiator, who over the past few months have been delivering all sorts of turnt up booty dropping tracks. Based out of the City of Angeles the pair reps their city hard, even paying homage to the "LA" initials in their name. Some people have been calling their style a "warpath, rocking crowds and creating robot sex music." Pulling from electro, trap, hip-hop and moombahton, they have formulated a very unique sound with the hopes of appealing to all kinds of musical preferences. I had some time to pick these guys brains and find out some interesting fun facts about them. They also were kind enough to make an exclusive November mix for Earmilk. Check the interview below and be sure to check out the November mix. What better way to sweat off that Thanksgiving meal? 
EARMILK: Hello Boys! Glad we can finally do this. So tell me how's it going over on the West Coast?
gLAdiator: Oh, you know, just ballin' out of control, as per usual, stacking paper to the ceiling.
EM:  Where did the moniker come from?
gLA: Our friend David came up with the name gLAdiator when we use to be a trio, we were all different characters from the movie "Gladiator." It also conveniently has the letters 'LA' in it, so it was perfect.
EM: In your own words, how would you describe your sound?
gLA: "LA Based Music Incarnate"
EM: How did you two meet? Did you have solo projects before gLAdiator?
gLA: We went to high school together. Took a brief hiatus from balling out of control (see above) to go to different colleges and pursue "education" so we could get "real jobs" lol.
EM: Do you prefer to make music as a duo?
gLA: Yes, definitely. It always great to have someone else to bounce ideas off of. One of us will usually start a track and then send it to the other for feedback.to finish it up.  (We're like TNGHT Jr.)
[soundcloud url="http://api.soundcloud.com/tracks/54228089" iframe="true" /]
[soundcloud url="http://api.soundcloud.com/tracks/21015685" iframe="true" /]
EM: What kind of music influenced you growing up? Any particular songs or albums on repeat?
Danl: Justice's "Cross" on repeat
Ian: Every Tribe Called Quest album ever…on repeat
EM: Do you come from musical backgrounds?
gLA: We have different musical backgrounds, Danl learnt the drums for a minute and Ian had a brief stint with the guitar. We both have very musically inclined parents who taught us what the deal was at an early age so we have a pretty good handle on the musics.
EM: Can you describe your work environment? What do you produce on? Is it always the same formula?
gLA: Well we produce on Ableton Live 8, bout to be 9 (LETS GOOO). There's actually no formula, which we kind of dig and go for. Most of the time inspiration hits one of us then we send it to the other and we both go in from there. 
EM: You rep LA hard, what's your favorite part about the music scene out there?
gLA: We love that there's something for everyone out here. You have your Avalons and Supperclubs, megaclubs in Hollywood, but you have your underground parties like Low End Theory or Rhonda. However, at the same time it can sometimes feel cliquey and fragmented. We aim to change that by bringing together all peoples together on the dance floor. 
EM: Tell me about your relationship with LOUDPVCK? How did SCALEY come about?
I: Basically Twitter. Twitter brought us together in a way that no other internet social media platform could have. We linked up with Ryan for the PVCK to go see Flosstradamus at Drai's and we've been bromies ever since.
D: I had an Ableton file laying around with some kicks and the synth line from Scaley and then we took it in the studio together. 5 hours later, we emerged with Scaley.  
[soundcloud url="http://api.soundcloud.com/tracks/61155796" iframe="true" /]
EM: What do you think about the current landscape of TRVP music? Do you think this "new trap" sound is a passing fad or is it here to stay?
gLA: Here's the deal: music is more rapidly changing and people will always like the next big thing, with that comes an influx of producers making said big thing. It's hard to sift through the hundreds of mediocre productions that people are spitting out with each new genre but, inevitably, the cream rises to the top. Trap has the benefit of already being an established genre in the hip hop world.  Whether or not trap remains "the hottest shit" forever, we foresee more collaborations between hip hop artists and EDM producers, keeping the trap game alive. 
EM: You've been known to make both booty dropping moombahton and trap beats, where and when did you become exposed to these genres.  
D: Ian put me on the moombahton game about 1 year after it was initially born so we were semi-late to that game. The track that really did it for us was Dillon's remix of "Broken Hearts." That track is fire flame and will always be in our hearts, love you Dilly. Trap was a little more explosive because the second that "Original Don" remix came out, it just fucked the whole game up. We always loved Hip Hop and Dubstep so it was, like, the perfect combination of our two interests. It was meant to be. 
EM: You just dropped the Showtime EP and fans have been all over it. What was the inspiration behind the EP?
gLA: We love Trap and the Lakers and purple drank so……Showtime. But seriously, after we dropped "GameCube Nintendo,"  we made a little splash in the trap scence, so we really wanted to put together a strong first impression for our first trap EP. We just took all of our hip-hop influences and merged them with all of the things we love about EDM and Showtime was born. Shout out to the homie DEMOx for the artwork.
EM: Favorite track off of it?
I: Up and Down.
D: The Bitch Slap remix.
[soundcloud url="http://api.soundcloud.com/tracks/63907023" iframe="true" /]
[soundcloud url="http://api.soundcloud.com/tracks/63907022" iframe="true" /]
EM: There are so many artists venturing into the underground sound scene. Who are some artists right now killing that landscape?
gLA: Cashmere Cat, for sure. Also Alex Young might be that hot new new, the yung based homie. Also Hucci is what's good (holler).  
EM: Do you have a wish list of artists that you want to collaborate with?
gLA: Well…UZ, Baauer, Zeds Dead would be tight, I'd be down to collab with Flinch (cause he's the man). Also Hudmo cause his swag is undeniable. And Kanye. AND YOUNG CHOP. Go google Young Chop. 2 Chainz, clearly AND the whole MMG family. ROZAY
EM: What 2 tracks would you say are turnt the fuck up right now?
D: So Much - Alex Young x The Hi-Yahs. It gets me TOO TURNT. 
I: I'm gonna go with a curveball, Kiss Kiss by Chasmere Cat. I love it because It's not your typical trap banger. It's very mellow/chill, but it still manages to knock in its own special way.
[soundcloud url="http://api.soundcloud.com/tracks/66308843" iframe="true" /]
[soundcloud url="http://api.soundcloud.com/tracks/66285244" iframe="true" /]
EM: Tell me about your relationship with Pesh and Clubtapes.com? How did that begin?
gLA: Again, the internet made this shit happen. Pesh hit us up via email and asked if we'd like to do a tape with them. We realized what an amazing opportunity it was and said "hell yeah." A month later they came out to LA for the Trapaholics show, got to meet in person and swag out. Next day we all got in the studio together and hung out, sealed the friendship deal. All really chill dudes, amazing work ethic and refreshingly forward thinking. Just really good dudes we're happy to be associated with. 
Turn up. 
EM: Do you prefer to release your music on that platform?
gLA: Yes in the sense that we prefer to release our music for free and we appreciate that ClubTapes/LiveMixtapes shares that sentiment.  
EM: You recently played at EDC LV, tell me about that experience?
gLA: Well let's start at the beginning when our manager politely forced us to enter the competition. Ian threw down a sick 30 minute mix, sent it in, and we kinda forgot about it. We thought it was a shot in the dark. Bout 3 weeks later Ian got a call from a guy at insomniac saying we were finalists and to sit tight and not make any plans for EDC weekend. A few hours later he called back and was like: "y'all are in, congrats" Commence the freaking out/obnoxious Facebook spewing.
The actual trip there was an adventure. Danl's car got too turnt at the gas station and decided to get STUCK in Drive so we couldn't park the bitch. THEN we had to convince the auto mechanic that he was being a DICK and wanted to completely replace MY WHOLE TRANSMISSION (too turnt). We got out of there and made it to Vegas as the sun was setting over the dessert (swag). Then we had that unfortunate weather circumstance when Mother Nature decided to turn up a little TOO much and blow over a bunch of speakers and lights and shit and delay our set to the next day. 
The actual set was amazing, we played as the sun was coming up and the fans stayed all the way through. The whole weekend was something we'll tell our grand kids about. 
EM: Your music is a little raunchy and Danl's parents back house is your studio. What do your parents think about the music you make? 
gLA: Our parents have been amazingly supportive of our music, regardless of whether they understand it. Mostly they're just waiting for the stacks to start piling up. Tryna get a return on that 23 year investment, naw mean?
EM: When you're not in the studio producing music, what can we find you doing?
D: I work at Scratch Academy of Los Angeles and that keeps me busy during the week days. I help the kids spin the records. I also occasionally destroy anyone and everyone at Mario Kart Double Dash (get at me). 
I: Just playin' hella 2k or watching copious amounts of shitty TV coupled with copious amounts of really good TV (shout out to Breaking Bad and Homeland, Claire Danes is a fucking saint)
EM: Now time for the fun questions
gLA: OLESDOIT
EM: Best advice you have received?
gLA: "Overnight success takes about 5 years" 
EM: One person you would like to blaze with?
gLA: Man, we gotta give you a top 10. Sorry!
10) Rick Ross
9) Aziz Ansari
8) Don Glover aka Childish Gambino
7) Flosstradamus
6) Snoop Dogg/Lion/etc
5) If Jay Z wasn't too busy being Jay Z…then Jay Z
4) 2 Chainz
3) Mila Kunis (cause you KNOW she blazes)
2) We're splitting this one: Danl would choose Boys Noize, Ian would choose R. Kelly (can you imagine the stories he could tell?)
1) Barry Obeezy, no question. #2TERMZ 
EM: What did you want to be when you grew up?
gLA: Danl wanted to be a professional skateboarder and Ian wanted to be CSI, straight up solvin' murders and shit
EM: What's your vice?
I: Probably curly fries.
D: Loving too much
EM: If you could have a super power what would it be?
gLA: We're both torn between Flying or Lazer Vision
EM: Favorite movie?
D: Pulp Fiction 
I: It's a toss up between Back to the Future and ATL
EM: Favorite video game?
I: The entire NBA 2K series.
D: The Halo series, probably.
EM: Lastly, what can we expect in the upcoming months from you guys? 
gLA: Workin' on some new tracks, we'll see what we do with them. Some hot collabs that we're stoked about. AND we're opening for UZ in Tampa, FL on November 29th which is gonna be incredible.
EM: Any parting words for our readers? 
gLA: SHOUT OUT TIME: 
Shout out to Driscoll's Berries, Sportscenter, Bill Nye Tho (RIP), Snapple, NOMADIC FUCKING MANAGEMENT, Diplo (let's make trap babies), Mariska Hargitay, Carrie Mathison, Master Chief, CRNKN, D!RTY AUD!O, LOUDPVCK, LiveMixtapes, Pesh, TILLA THE VANILLA KILLA, Mitch Kupchak, Nick "Wax Hits" Future, the main man DLowe, Trill Blakely, Juan de Lax, Sriracha, the Longest Yard, Jerome, Tony Quattro, GOJ!RA, Bastille, the Famous Friends, Johnny 2x4, Paul and Yoshi: Redemption, all the ratchets of the world (we do it for the ratchets) and lastly, you America. Stay trippy.
[soundcloud url="http://api.soundcloud.com/tracks/68451701" iframe="true" /]
November Mix Tracklist: 
Fabolous - Lights Out (I Don't See Nobody)
Hucci - Ball So Hard feat. Stooki Sound
D!RTY AUD!O x LOUPVCK - Buck
Rankin x Ace Future - Wine Teeth
Branchez - Treat You Right
ETC!ETC! x Brillz - Callisto
gLAdiator x Chromatic - GameCube Nintendo VIP
Childish Gambino - You See Me
Trolley Snatcha - Make My Whole World
Bro Safari x UFO! - 2012
The Prodigy - Smack My Bitch Up (Major Lazer Remix)
gLAdiator - Magnum
Stalley - Hell's Angels (gLAdiator Remix)
Team Jaguar - On It
ETC!ETC! - Drips
Kill the Noise - Mosh It Up
Mayhem x Antiserum - Spend It
LOUDPVCK - Gaucho
T.I. - 24's
D!RTY AUD!O - 50 Oz
Diplo - Set It Off (CRNKN Remix) feat. Lazerdisk Party Sex
Don Diablo - M1 Stinger (gLAdiator Remix) feat. Noonie Bao
Juelz Santana - Clockwork (D!RTY AUD!O Bootleg)
Hudson Mohawke - Cbat (Slick Shoota Edit)
50 Cent - Blood Hound feat. Young Buck
Protohype x Kezwik - Problematic
gLAdiator x LOUDPVCK x D!RTY AUD!O x Luminox - Free Eighth