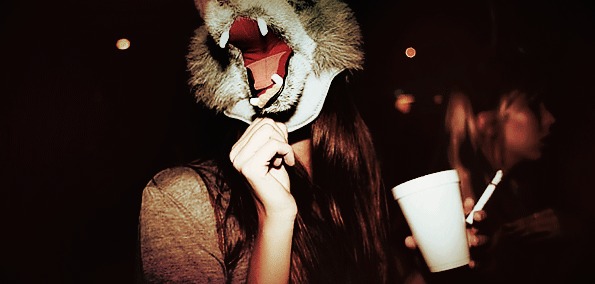 This weekend, the newly established EARMILK San Diego Crew ventured North to catch the famed UK dubstep producer, Caspa, at the Avalon Hollywood in the heart of the City of Angels. Bare and Prototype joined him along with an impromptu B2B with Skrillex for a massive night that went into the wee hours of the morning. Presented by CONTROL Fridays, Avalon's new club night, the event brought that fresh n' heavy trap and grime sound to the music-hungry kids of LA's nightlife. The explosive bass and scattered hi-hats had us jumping from the get go, completely obliterating our sense of time and self and immersing the crowd in waves of delicious musical mind food.
We arrived early to scope out the scene and check out the neighborhood. Avalon is located right off Hollywood Blvd right across the street from Capitol Records. The first thing we noticed was the three-floor theatre design of the venue, complete with two bars and a massive dance floor downstairs, convenient tables and couches to chill on upstairs, and a VIP area designed for prime acoustic enjoyment in the middle. It truly is a place where both artists and fans can go to rage in their free time!
How about we get to the music, yah?
To start off, Huntington Beach's Pavarotti blew open the night with a packed set of classic grime and wobbly dubstep. In the past, he has played alongside EDM giants such as Joe Nice, Ill.Gates, and Hatcha. As his Friday set made clear, he is clearly one of the up and coming UK bass DJs on the West Coast. 
Next up on the decks was LA native, Protohype. Now this kid has been on the scene for a little while and has already created his own fusion of hip-hop and dubstep called dub hop. With the inspiration he received starting out in the Hip Hop world, Protohype brought his sound to the new age grittiness of American dubstep for a bouncy gangster-ride feel that only a rich, white suburban mother couldn't love. Needless to say, he brought the roof crumbling down with his monster sound, dropping his recent track "Problematic" and a new remix he did for Lupe Fiasco.
While the first couple of sets were amazing, the EARMILK crew was there for a reason: to hear some of that original rude boy 140 shit straight from one of West London's O.G. producers. Raised by a family of music heads, Caspa broke into the scene in 2002 with his track "Bassbins" (produced under the moniker Quiet Storm, although unreleased). He immediately gained recognition from a local radio show on Rinse FM, launching his career in deep bass boom. It is safe to say that his hard work and dedication to the sound has earned him his place in the dubstep history books.
Oh yeah, quick fun fact: Caspa's name derives from Justin Pierce's character, Casper, in the 1995 film "Kids" (go see it if you haven't already, pure classic cinema!).
"ALL THE BITCHES LOVE ME, 'CAUSE I'M F*CKIN' CASPAAAA!"
At this point in the night, the dance floor was packed to the brim with restless heads waiting for more of that sweet, sweet grime. In no time, Caspa walked on stage ready to destroy minds. His first hour went by in a blur of wobbly goodness, but quickly turned TrapShit once three-time Grammy winner, Skrillex, joined him on the decks. The duo turned a big headline show into an even more massive B2B set.
Bare was up next and did a helluvah good job keeping the vibes going. The last time I saw him play was at Fall Massive in DC last year [2011]. He completely blew me away then, and did it all over again last night. Yet another impromptu guest appearance, this time by friend and fellow producer, Tittsworth, made the crowd go even wilder. Unfortunately I wasn't able to watch Bare's entire set, but I think it's safe to say he threw down hard the whole night!
All in all, I'd give Avalon Hollywood two thumbs up and a gold star (the kind you used to get from your teacher in first grade). Hopefully we'll be invited back for more, because once definitely wasn't enough!
Peace and Good Vibes,
Nathan Beer/alphaGraph