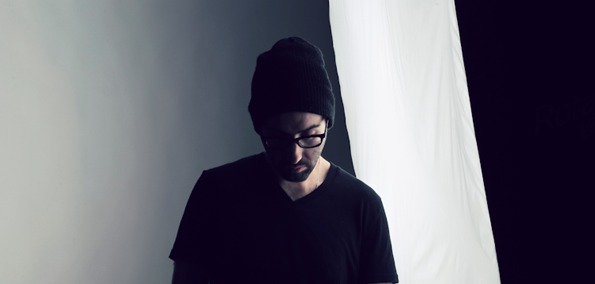 After one too many days turned nights in candle light and a serious craving for some good vibes and music, I crossed bridges on a jam-packed impromptu J/Z line turned NYC bus to see Colorado native, Alex Botwin. Better known as Paper Diamond, a moniker that stems from the idea of taking a single or complex element and making it into something greater than the sum of its parts. As Mr. Botwin puts it "It's like taking nothing and turning it in to something, or taking something that could be simple or complex, based on your own personal take on the thing. So if you have a piece of paper, whatever your diamond shape is, whether simple or complex, that's your art form. So for me musically speaking, whether it's simple or has a lot of layers, it's my self-expression. So basically the name means my art."
Paper Diamond is a man of many hats, label owner, producer, DJ, violinist, extraordinary remixer, creative designer, curator of Elm & Oak Academy, there is no slowing down for this brilliant artist. I hold only the upmost respect for a man of this caliber. A man who that evening threw down one of the best sets my ears have heard to date at Brooklyn's famed, half bowling alley, half performance space, Brooklyn Bowl.
The night started off around 12:30 AM when the glasses donning Botwin took the stage. The name of his current multicity tour "Night Vision" actually originated from relentless questions about his glasses giving him superhuman powers of "Night Vision." While that would be a dope power the real power came through his rollercoaster set that evening. From dubstep, moombahton, trap, electro, Funk and Hip-hop, the mood-setting producer dropped beats and bass so powerful I felt it flow from my ears straight through my body. He spread an intoxicating vibe so contagious you felt it all around. His eclectic transitions so on par and music selection so superb, lets just say he won me over.
What a difference a year makes, I won tickets last year to see Alex at Webster Hall, yet this evening his diversity made me find a new appreciation for the Colorado native. (Shout out to CO becoming the first state to legalize the Mary J) As Mr. Marley once said, "Music and herb go together." Recent press calls his background in beat making a "blend of hip-hop, bass music, and electro, all with a whiff of ganja smoke blowing through it." Musical choices included the likes of Kanye West, Nero, Rusko, with a sprinkle of the infamous "Rick Ross grunt" throughout his set. In a recent interview with Life+Times Alex noted, "I'm just trying to learn and do a bunch of different styles. I've always been a multi genre producer, so for me, all these new sounds and ideas that these guys are coming up with is intriguing to me."
So what else has Botwin been up to these days besides touring the world and smashing sets? For starters, taking on the road a new stage design, that arose from a question surrounding the predictable LED stage. He confronted the problem of taking a conventional element, like a square, and making it into something uncommon. With that in mind, he joined forces with a creative team, and formed a completely new video stage setup featuring none other than his diamond motif. Besides that he recently joined a roster of tastemakers like Rusko, Major Lazer, Crookers, and Dillon Francis and he is one the freshest signee's to the boss man Diplo's label. Back in May he released his "Wavesight" EP on Mad Decent sub-label Jeffrees.
If that wasn't enough, his recent studio sessions involve a heterogeneous group of artists such as, Chad Hugo of The Neptunes to Mannie Fresh. He's not only working towards exploring assorted collaboration efforts, but also his choice of cities to produce in vary remain variant as well. From New Orleans to LA he jets around in search of "working with a bunch of different people." In the same Life+Times interview he remarked, "There's a bunch of really exciting collaborations coming up and music videos." While I wait in anticipation of a new EP expected this fall, his beyond dope tour inspired mini mix will have to suffice.
While effortlessly conquering his all-embracing music persona, he still manages to stay on top and run his Elm & Oak business. Like I mentioned Alex is a man wearing many hats and his store bares no difference, regarded as a design firm, record label, clothing line, and art gallery, everything he touches is a reflection of his self-expression and genius. Lastly he just launched Elm & Oak Academy on the Colorado Boulder campus alongside talented friends Big Gigantic. Their aim will be to teach art and music through a school-funded non-student owned group on campus. His business ventures are as groundbreaking as his music. Mr. Botwin said is best when he noted, "As long as people are pushing boundaries musically while still expressing themselves, it's relative. I've been taught that music is a conversation. I personally use music to express my voice."  And he just does that. He has mastered music, business, and ingenuity in a flawless manner. A manner I personally will take notes from.
For only a year and half aged project, Paper Diamonds affinity for diverse musical genres and fondness for a multifaceted production technique shined bright even in the darkest night last Saturday. It was a musical abyss that could only be found that evening through some real "Night Vision." With a fresh take and serious swagger your eyes and ears should stay tuned into Paper Diamond's glowing empire.