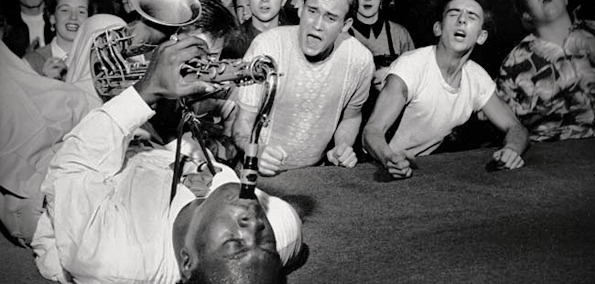 If you're seeking out something new and different, it should come as no surprise that Anticon is a good place to begin your quest. In the label's forthcoming release, the self-titled album from Bay Blue, producer Matt Chang takes a jazz-inflicted sense of improv and applies it to a sample-based LP, out November 13.
"I wanted to compose songs rather than just make beats," he says, "so in straining for a substitute for the emcee, it felt natural to study jazz musicians and the way instruments can become vocalizations. As a part of that process, many of these songs in a very organic way took on the form of jazz numbers, with frequent tempo changes (sometimes obvious and sometimes barely noticeable), subtle and shifting drums, minimal effects, and something like the thrill of improvisation."
Like a history lesson in 20th century American music, Bay Blue draws from everything from big bands to string quartets to jazz duos to create something that's actually quite contemporary. Below we're premiering the second track from this jazzy hip-hop record, "Don't Clap on the One and Three".
[soundcloud url="http://api.soundcloud.com/tracks/62228009" params="auto_play=false&show_artwork=true&color=000000" width="100%" height="166" iframe="true" /]