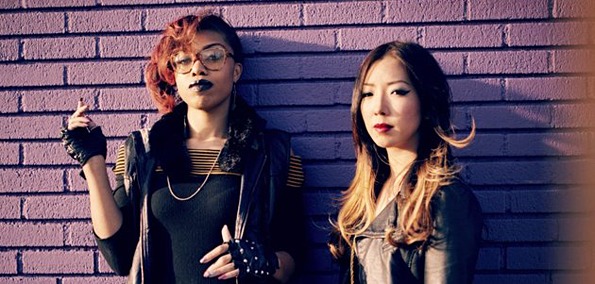 What began as sharing music with one another, from one email inbox in Philly, where singer-songwriter Suzi Analogue is based, to another in Los Angeles, where producer TOKiMONSTA resides, has grown into a new project entirely, taking a life of its own as the hip-hop-electronic outfit Analogue Monsta. The two are relishing in the release of their recent 11-track EP, Boom which came out in July of this year and took a moment to speak with Scion A/V about producing music together as individual artists.
Due to the EP's success, the two found themselves fielding requests for live performances, a concept which strangely enough, never occurred to them. Probably because theirs is a musical feat that is still being realized. It speaks to the huge shift of artists finding that sweet spot between hip hop's edginess and versatility and the experimental nature of electronic music. Admittedly some are better at it than others but what this twosome has is a desire to find fearlessness and honesty in making music. Guided by these virtues, we find these two women have scaled the wall between the two genres with uncommon grace and undeniable success.
And in other exciting news, Scion A/V and EARMILK are giving away Boom on vinyl (!) to ten readers. If you love Suzi and TOKi, follow these instructions and qualify to win an EP:
1. Tweet to @scionAV and @earmilkdotcom with #AnalogueMonsta.
2. Send an email to contests@earmilk.com with "Why I Love Analogue Monsta" in the subject line. Tell us why you should win the contest and don't forget to include your name, phone number and address.
The deadline is Monday, October 17, 2012. Good luck!