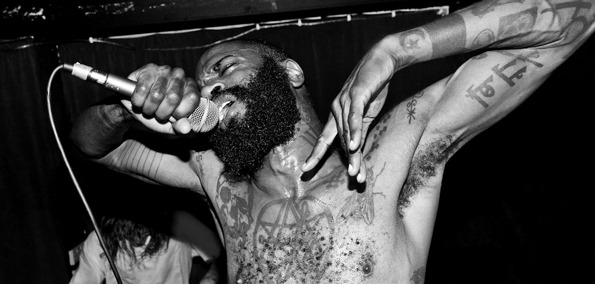 The moment the cover of Death Grips' NO LOVE DEEP WEB graces your eyes, you already know what your ears are in for. In other words, a dick pic is the visual equivalent of NO LOVE DEEP WEB's sound. And that sound is pure punk fucking rock. 
More than Death Grips' music itself being punk rock, even the way in which the album was "released" (read: leaked) was all in punk spirit. The story goes that the band was frustrated with their label, Epic, for delaying the release of the album, so they decided to release the entire album on their own terms. You know, Art vs. "The Man" and all that amazing hippie stuff your parents won't shut up about. 
Only NO LOVE DEEP WEB is anything but hippie stuff. I imagine the album was recorded in a psychiatric ward on Mars and then, during the playback, they lit the speakers on fire and just recorded that. NO LOVE DEEP WEB is slathered with sporadic synths, stilted minimal grooves, drum beats that could have only been executed by Animal (or Zach Hill), and word vomit that's coming out so hard vocalist Stefan "MC Ride" Burnett probably popped a blood vessel in his eye. 
One my favorite aspects of the album is the juxtaposition between Burnett's aural terrorism and what he's actually saying. Even from NO LOVE DEEP WEB's opener, "Come Up and Get Me", you're presented with this warped beat that basically makes your stomach feel like an elastic band being stretched and loosened over and over. But then the lyrics come in and Burnett says something about being in Jimmy Page's castle and suddenly you're not so scared anymore because the lyrics don't make enough sense to match the terror of the underlying beat. And this dissonance happens throughout the album, like on "Hunger Games" when Burnett shouts about a swingset. It certainly doesn't take away from the album, but it definitely makes it more accessible (or just accessible, period). 
Listen to "Come Up and Get Me" and the album's first single, "Deep Web" below. Maybe invest in a punching bag while you're at it. 
-01-Come-up-and-get-me--EM1012
Download:
Death Grips - Come up and get me
Download:
Death Grips - Deep Web