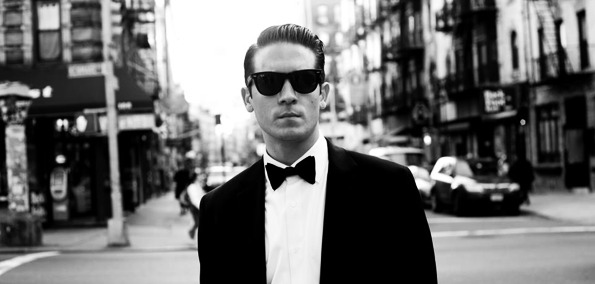 G-Eazy
MUST BE NICE
Self-Released
September 26. 2012
G-Eazy is dreamy. Dreamy in the "walks into the party, runs his fingers through his hair, and makes icy blue eye contact with you" kinda way. Dreamy in the "makes your knees weak, he's all you can think about shut up everyone because nothing is as important as this Don Juan" kinda way. And his latest album, MUST BE NICE, is no exception. 
MUST BE NICE paints a perfect portrait of this young Oakland-born twenty-something as he dives head first into the rap game. It's flashy, but a little unsure. He's a big talker who's clearly playin' a few fields, but hey if it's a source of inspiration for his suave raps then he gets the green light from me, and I might even nod my head a lil bit as he passes Go. 
The most noticeable thing about G-Eazy though is his seeming awareness of a "fake it 'til you make it" attitude. We've all done it. I mean Drake was in a wheelchair 5 nights a week on Canadian primetime before he was HYFR-ing at his Bat Mitzvah for Christ's sake. I mean Moses'? Either way, G-Eazy understands the business of flaunting an attitude and a swagger before actually developing one, and MUST BE NICE lays the perfect foundation for him to earn it with flying colors. 
Below are "Stay High" and "Breathe", two standout tracks on the album that'll give listeners an idea of its overall theme. "Stay High" is a calm, chill jam that has G-Eazy ridin' through the city with a bad bitch, gettin' trippy, while "Breathe" boasts a little more confidence on top of a villainous beat. Grab the whole album over at iTunes.
G-Eazy is currently on the Excellent Adventure Tour with Hoodie Allen, and then will be headlining his Plastic Dreams Tour. Tickets and dates are available on his website.  
Download:
G-Eazy - Breathe
Stay-High-(feat.-Mod-Sun)--EM0912
Download:
G-Eazy - Stay High (feat. Mod Sun)