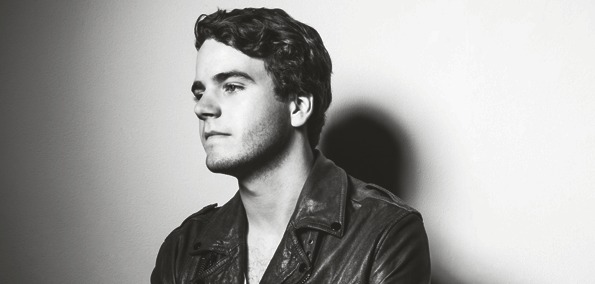 Maple syrup ain't the only sweet thing that comes from Vermont. That's right. I'm talking about American DJ and electronic producer Pierce Fulton, a recent favorite on the dance pages here at Earmilk. To complement the interview we did a few weeks back, we have for you a bit of a mixed media sampler, featuring a tour video, an hour-long mix, and a quick update on some previous items.
Part 4 in his video series chronicles Fulton's tour for 10 days, a snapshot of life on the road during his journey from Las Vegas to Florida. Citing a magical night at Electric Forest in Michigan as one of his favorite performances, Fulton, like a traditional DJ, emphasizes the fact that his sets represent a blend of personal taste with an awareness of the crowd's energy. The thing I am most looking forward to from the video: the soundtrack, which is comprised of Fulton's upcoming release on Cr2 Records, "Mr. Mime".
Recently featured on Tiesto's Club Life radio channel on SiriusXM!, Fulton's 4th episode of his monthly radio show, Get Weird, demonstrates the artist's refreshingly eclectic choice in music. While the debate rages on about identical playlists, spontaneity vs. production value, et. al., this mix delights the ears with a virtual smorgasbord of sound. It moves from slightly dark and electro to disco and bouncy, then all out banger to uplifting progressive house; Fulton even includes his throwback dubstep remix of the Gorillaz. It's the cross-genre surprise of each song that makes the mix exciting and definitely repeat-worthy.
Finally, a quick update on two items we mentioned before: first, his remix of Usher's "Scream" landed on Beatport last week. It's a melodic electro house banger that captures Usher's smooth vibes and will surely heat up the dance floor. Lastly, keep an eye out for Pierce on Wolfgang Gartner's Love & War Tour, with dates all over the USA. If you're in the Bay Area, make sure to get your tickets for The Warfield in San Francisco on October 27. See you there! 
A---128---Usher---Scream-(Pierce-Fulton-Club-Mix)--EM0712
Stream:Usher
- Scream (Pierce Fulton Club Mix)