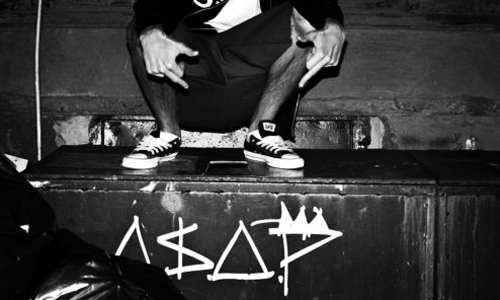 After all the anticipation the wait is finally over; A$AP Rocky and his A$AP Mob have dropped their long-awaited mixtape Lords Never Worry. We'd already heard a few early tracks from the tape: "Bath Salt" featuring Brooklyn crazies Flatbush Zombies and "Work" by A$ap Ferg, but as you listen to the project you realize that was only the tip of the iceberg.
-A_AP_Mob-Purple_Kisses_Feat_A_AP_Rocky_Prod_By_VERYRVRE--EM0812
Download:
A$AP Mob - Purple Kisses (Feat. A$AP Rocky) [Prod. By VERYRVRE]
-A_AP_Mob-Bath_Salt_Feat_A_AP_Rocky_A_AP_Ant_Flatbush_ZOMBiES_Prod_By_P_On_The_Boards--EM0812
Download:
A$AP Mob - Bath Salt (Feat. A$AP Rocky, A$AP Ant & Flatbush ZOMBiES) [Prod. By P On The Boards]
Coming in at 18 tracks, Lords Never Worry features guests like Danny Brown, Raekwon and Jim Jones, not to mention the production talents of Clams Casino and AraabMuzik. Fans of the A$AP crew should have this hold them over until A$AP Rocky's debut album, LongLiveA$AP, hits stores on October 31.
-A_AP_Mob-Freeze_Feat_A_AP_Rocky_Jim_Jones_Prod_By_Clams_Casino--EM0812
Download:
A$AP Mob - Freeze (Feat. A$AP Rocky & Jim Jones) [Prod. By Clams Casino]
-A_AP_Mob-Thuggin_Noise_Feat_A_AP_Rocky_Prod_By_Silky_Johnson--EM0812
Download:
A$AP Mob - Thuggin' Noise (Feat. A$AP Rocky) [Prod. By Silky Johnson]