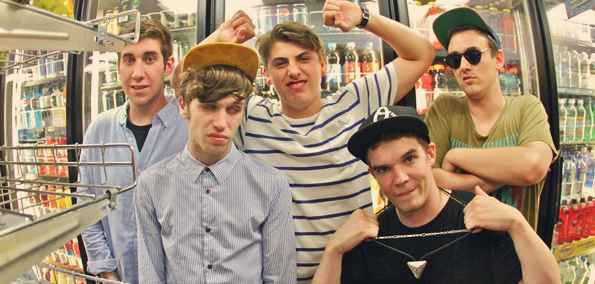 In the wake of a resurgence in hip hop production, young fresh faces are popping out from the underground and making a name for themselves. Artists like Lunice, Baauer, Hudson Mohawke, and Machinedrum are all gaining popularity throughout the world for their intricate drum patterns and endless musical creativity, yet these artists are just the tip of the iceberg. Dive deeper and you will literally find hundreds of other equally talented producers. If you happen to already be plenty acquainted with the former selections, might I suggest Boston's own M|O|D crew?
The rare underground collective known as M|O|D are one of the brightest up-and-coming hip hop producers today. In the past five months they have already accumulated enough music for three full mixtapes, on top of putting out their own releases. M|O|D are made up of 5 separate future hip hop producers, combining crushing 808 beats with trippy future hood sounds. The members of the crew include Trap Arnold, REWROTE, LiL TExAS, C.Z., and Yung Satan, all of whom have their own distinct sound and yet fluently mesh perfectly with one another. It's apparent that they are the best of friends and yet each keep a competitive edge to improve and one-up the others.
A few weekends ago I was invited to come hang out with the group to see what they were all about, rather than sitting on my computer and shuffling through Soundcloud accounts and endless Tumblr pages. I was first greeted by Trap Arnold and the first obvious thing I noticed was the thick gold chains he was wearing around his neck. After meeting everyone else in the M|O|D 'Space Cave,' I finally got to find out how they kicked it. We chilled, drank, passed around a joint or four, and listened to some new tracks they had been working on. We also discussed why I should give Lil B a chance, which I did afterwards, and all I have to say is, he's pretty... based. After hours of drinking and falling in and out of consciousness I decided to call it a night.
The party was far from over though. The following night they took me out to what would have to be the coolest spot in Boston. The Cloud Club in downtown Boston is a hippy artist's haven. Designed and created by Lee Barron to look like a dysfunctional treehouse, he uses found everyday objects and turns a simple attic into an astounding piece of artwork. This place was the setting of REWROTE's weekly RWD.fm DJ set. REWROTE and C.Z. both took turns spinning, alongside other local talents.
In mid-September, Earmilk will premiere the fourth mixtape in the M|O|D arsenal. This will include plenty of new material from the five as well as for the first time, tracks from other producers.
After a week long stint of playing New York City shows, M|O|D is back home. If you happen to currently be in the Boston area, be sure to check out one (or all) of their sets around town. This Thursday, August 23rd M|O|D will be playing at the Brighton Music Hall alongside Kitty Pryde & Big Digits and on September 9th they will be opening for Rustie at the Middle East Downstairs, with a number of new shows on the way.
Trap Arnold
REWROTE
LiL TExAS
C.Z.
Yung Satan