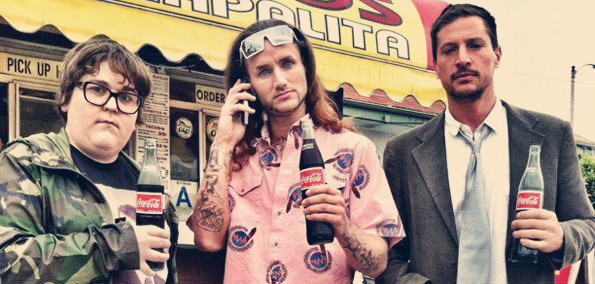 I'm used to getting a wide assortment of music submissions. These submissions have ranged from good to bad to "Am I really listening to this?" However when I was hit up by Ben from Shoot To Kill Music with the possibility to premiere "We Are Farmers" by Three Loco, let's just say I was unsure of what to think. The problem was that I had never heard of Three Loco (my apologies to their members), but with 6 magical words I was immediately interested. Those words were "Dirt Nasty, RiFF RAFF (aka Jody Highroller), and Andy Milonakis". If that doesn't sound like an eclectic group of personalities right there, then I'd love to pick your brain as to what is eclectic in your mind.
Now before you dismiss this trio as just some wannabe comedy rap group, I advise you to reconsider. You may be inclined to think that what is about to grace your speakers is just a hodgepodge (did I really just use that word?) of music, but surprisingly there is talent behind each guy. You may not see it at first, but the personality of Andy, of RiFF RAFF, and of Dirt Nasty shines through with each's respective verse. What they are exactly saying in their verses may not be the most refined of words, but sometimes you just have to say "f**k it" and just let your primal nature take over and enjoy. With the underlying beat of the track being the Farmers Insurance Group and main production attributed to DJA, the track is engaging and upbeat. Combine that with Diplo actually hopping on at the end to make his (possibly) rap debut, this track just keeps getting better and better.
So while a few of you may be laughing the entire time the track is playing, I think quite a bit of our Earmilk audience will appreciate this as legit music. I certainly do, and I want to give props to Three Loco for what they are doing. Below you'll find the video premiere for Three Loco's "We Are Farmers" along with a glimpse into the minds of the Loco members courtesy of a quick email interview. Be on the lookout for Three Loco's upcoming self-titled album coming out on September 4 on Mad Decent.
http://www.youtube.com/watch?v=FR30nlIhfVw&feature=youtu.be
Download "We Are Farmers" 3 track sampler pack: http://bit.ly/ThreeLocoSampler
---
EARMILK INTERVIEW: THREE LOCO
Each guy answered a couple of questions, and what you read below is the unaltered and complete answer of each individual. Reading these answers made me laugh, yet at the same time provided me insight into their respective minds. Prepare to be entertained.
EARMILK: For Earmilkers who may not have heard of you guys, how would you each describe Three Loco's style and/or sound?
Andy Milonakis: It's hard to describe because we don't go for obvious jokes like gimmicky comedy rap, but we all write lyrics that are somewhat funny. I think we all have a very different flow so it's hard to describe a certain sound.
Riff Raff: iT iS THE SOUNDTRACK FOR OUR NEW MOViE & TV SiTCOM THAT WE HAVE COMiNG SOON, iT SOUNDS LiKE DOVES HUGGiNG iN THE MiDST OF A MARSHMELLOW FiGHT.
Dirt Nasty: Our sound is kinda like Martha Stewart giving birth to a chalk board.
EM: Three Loco has to be one of the most eclectic, but entertaining, comedy rap groups I've heard about. Tell me how the group formed?
AM: Thanks, I don't feel like we're a comesy rap group but most people probably look at us like that…just because I rhyme eat sushi with sake bombs with eat the coochie of soccer moms….i wasn't joking, so it's not comedy….we've all been hangin out for awhile, it took us a long time to actually all make a song together and then it just made sense….but the only problem is that it doesn't make sense.
RR: i THiNK ALOT OF PEOPLE CONFUSE THE FACT THAT WE MAKE SOLiD GOLD RECORDS WiTH THE FACT THAT WE MAKE GREAT MOViES & TV SHOWS … i WOULD RATHER SAY THAT WE FORMED BASED ON THE FACT THAT OUR BRAiNS ARE NATURALLY CONNECTED TO EACH OTHER BASED UPON COMMON iNTEREST iN THE FACT THAT WE DON'T HAVE MENTAL LiMiTATiONS BUT WE LiKE SUSHi.
DN: We formed similar to Voltron, sending mega waves throughout the galactica. When combining trace elements, we make hits.
EM: When it comes to your tracks, is there any special preparation y'all go through to come up with the lyrics or is it more of a freestyle?
AM: We just listen to beats and start writing. Since I can't make beats I try to come up with a lot of samples to pitch to the producers…like Jump Rope, I picked the sample from Shelly Duval's song in Popeye and We Are Farmers I plucked just from luckily not fast forwarding on my DVR fast enough.
RR: RiFF RaFF FREESTYLES ON EVERY SONG … DiRT NASTY & ANDY ARE VERY STRiCT AND STRATEGiC STUDiO DWELLERS WHO THRiVE ON TECHNiCALiTiES AND PERFECTiON WHiCH iS NEEDED BECUZ WiTHOUT EXCELLENT BUSiNESS SAVVY OF THE 3 iNDiViDUALS THEN THE PROGRESS WOULDNT BE AS GREAT AS iT iS.
DN: Riff freestyles a melody over a beat andy co produced with Diplo then I rap on it and ruin it but they act like I killed it.
EM: Each of y'all have had various previous forays into the entertainment industry. How do you think these past experiences have shaped y'all as a group, and as individual acts?
AM: I've done a lot of writing and comedy, I'm an all or nothing kinda guy, when i make a song or idea for a video, I try to bring all my skills to the table. I think the other guys are the same way.
RR: i DON'T FOCUS ON THE PAST ALTHOUGH iT HAS BUiLD STRONGER RELEVANCE FOR MY FUTURE.
DN: The past? Thats so last year. 
EM: What can we expect in the future from Three Loco? Is this an act to stay with long-term projects in mind?
AM: we're definitely trying to turn it into a tv show and possibly a movie.. I also want to pump out tons of music videos and sketches and I would be really happy if we got some live gigs over seas. Also, i want to make a lot of money so I can marry a mermaid and invent a pussy for her…we will live in Atlantis and dine on fatty tuna and sea urchin…(the ones that aren't her cousins.
RR: WE WiLL BE DROPPiNG A SOLiD ALBUM EVERY YEAR … WE WiLL HAVE A TV SHOW SOON .. AND WE WiLL HAVE A MOViE IN THE THEATRES EVERY YEAR.. EXPECT EVERY ViDEO TO HiT 1,000,000 ViEWS BEFORE WE DROP THE NEXT .. AND THE DiRECTORS WE WORK WiTH ON OUR PROJECTS ARE WORLD FAMOUS .. #ThreeLoco !!!!!!!!!!!!
DN: This grammy winning album is simply a bridge to our palatial mansions were gonna do drugs in after we write Three Loco, the off Broadway play thats gonna win a Tony Danza.