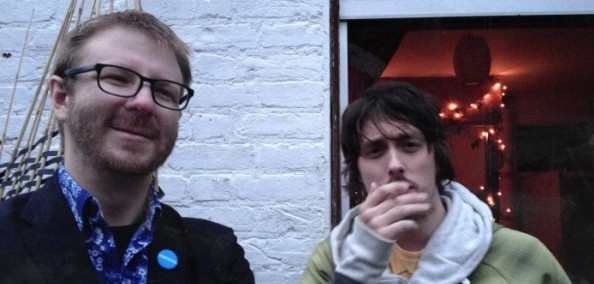 Building on the article posted the other day about the new album from Greeen Linez, we have an album walkthrough from the duo, taking the listener through the making and feelings behind every track. The release is a 12-track, full length album on Disktopia that is set to be released digitally on August 13 and August 23 for vinyl. Follow along the walk-through with the clips below on Soundcloud.
"March 12th Street" – This track was partly inspired by the atmospheric intro and interlude pieces that Isaac Hayes used to have on his 70s albums – but perhaps even more so by the 90s Bristol musicians who introduced us (and I daresay many others of our generation) to that sound. We very much wanted the album to feel like a cinematic journey of sorts, and this track was produced specifically to open that journey.
"Palm Coast Freeway" – This is the oldest track on the album and was influenced by mid-period Herb Alpert tracks such as "Rise", as well as early 90s R&B and "G-Funk", to a certain extent. The track is particularly significant for us, as it was the first one on which we made major use of shimmering/chiming DX7 electric piano sounds, which didn't really feature on our first EP, but have since become a bedrock element of our sound.
"Courtside Daydreams" – This track has a New Jack Swing beat, but perhaps more than actual music in that style, it's influenced by jazz/music session musicians and soundtrack composers' takes on that sound and other "urban" styles. A good example of this is Ben Sidran's score for the classic documentary, Hoop Dreams, or, on a slightly different level, the incidental music from The Fresh Prince Of Bel-Air.
"Hibiscus Pacific" – This is the track on the album most overtly inspired by 80s Japanese "City Pop", as well as French pop music from the same period. Both these styles use a similar sound palette of crystalline digital synths and breathy vocals, and both also combine lush breeziness with a sense of wistful melancholy, which is something we tried to convey throughout the album.
"Fantasy Glide" – Also influenced by French music, but this time from a different era (and one that we actually experienced first time round). The 90s revolution in French dance music – Daft Punk, of course, but also artists such as Cassius and, particularly, the "Super Discount" releases – was a fairly pivotal period for us musically and we aimed to capture some of that music's sense of nocturnal adventure and sophistication with this track.
"Cubic Mentality" – Right down to the title, this is a tribute to artists such as Future Sound Of London, who changed dance music forever in the early '90s. Similar to what someone like Lone has been doing in his recent recordings, we wanted to convey the feeling of hyper-real euphoria that this music had, and the way it utterly transported us when we first heard it as kids.
"City Cell 1" – The two "City Cell" tracks are probably the most overtly "cinematic" on the album. Like many other current artists, it seems, we had our minds blown as youngsters by films such as Heat, Manhunter and Blade Runner – and, needless to say, their amazing soundtracks. The two tracks are also inspired by the frankly surreal experience of living in a big Japanese city, particularly as a foreigner.
"Forgotten Shores" – This track is based around a guitar part recorded about 10 years ago on, literally, the crappiest guitar imaginable. Again, Michael Mann (and his use of music) was a big influence, but here it was more his standing-thoughtfully-on-a-beach moments, rather than his glittering cityscapes. I guess the track is vaguely Balearic, but rather than purely blissed-out relaxation, there's an undercurrent of unease and confusion.
"City Cell 2" – Going even further into the futuristic urban dreamscape world that we mentioned earlier. We wanted the album to convey a sense of rising and falling, and of changing moods and atmospheres. The earlier tracks are quite breezy and fresh; then the album gradually builds up in tempo and excitement, before the "rush" gives way to a darker sense of night-time mystery and paranoia.
"Knowledge (feat. Awa)" – This track is really all about Awa's amazing guitar part. We wanted to create a backdrop that was quite spare and spooked, in order both to showcase his brilliant playing and slightly subvert it away from straight-up jazz "fuzak". Again, 90s Bristol was an influence, but also the weirdly foggy and uneasy sensation you get from 70s loner soul/funk albums like There's A Riot Goin' On and Shuggie Otis' Inspiration Information.
"Frisk" – Like "Fantasy Glide", this track was heavily influenced by 90s French producers like Philippe Zdar and Étienne de Crécy, but this time by the way in which they filtered and mangled 80s US R&B, making it even more intoxicating and dreamlike. We wanted the album to convey a sense of nostalgia, but also one of "otherness", as often the nostalgia is for things that we didn't actually experience first-hand.
"Lift Off" – A real DX7-feast to close the album. Throughout writing and recording these tracks, we gradually became more and more obsessed with music from Japan's "bubble" era, and the porous boundaries between genres as disparate as jazz, supermarket music and teen chart pop. Perhaps even more because we didn't actually experience it first time round, the music of this period seems imbued with an aura of fantasy and otherworldliness, and we really tried to capture some of this atmosphere on this track and the rest of the album.
Remember to pick up Things That Fade on August 13, available on CD and digital formats.