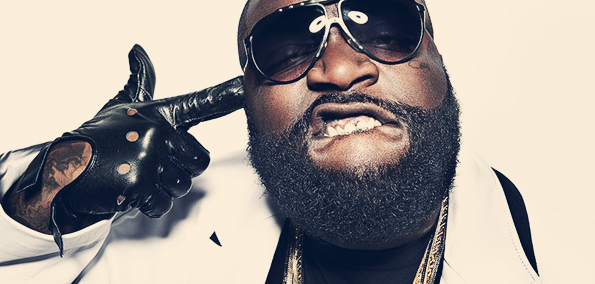 Despite being hard at work on the forthcoming Jimi Hendrix biopic All Is By My Side, the enigmatic André 3000 found time to pop up and make an appearance on "Sixteen" which will be included on Rick Ross' highly anticipated  upcoming album.
While 3000 has mercilessly teased listeners with brief yet memorable quick strike features on countless records for other artists in the wake of last Outkast album, for his latest collaborative track Ross the world-class lyricist treats listeners to more than a quick 16.
André 3000 is no stranger to stealing the show with his brief featured, however 3 Stacks outdoes himself this time around as he coolly takes center stage on his latest feature by laying down some serious bars. The rapper-turned-actor cruises ever so smoothly over some saxophone and guitar laced production provided by the J.U.S.T.I.C.E League and delivers an extended verse while echoing Rick Ross' lament that "16 (bars) ain't enough". With 3000 rapping for most of the song, Rozay is relegated to the role of bystander on "Sixteen"as he provides the track's opening verse and some complementary ad-libs.
"Sixteen" is the latest leak off of Rick Ross' fifth album, God Forgives, I Don't which is due out July 31 on Maybach Music Group/Warner Bros. The album boasts production by Harry Fraud, Cool & Dre, Pharrelll Williams, Cardiak, and Jake One and guest spots filled by Usher, Meek Mill, Drake, Ne-Yo, Dr. Dre, Jay-Z and several others.
Rick-Ross---Sixteen-(Feat.-Andre-3000)--EM0712
Stream:
Rick Ross
 - Sixteen (Feat. Andre 3000)