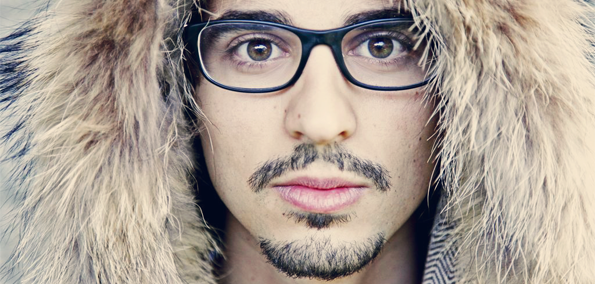 There are not many things in life that are certain. Achieving success in the music business is not only uncertain, but due to the relentless nature of the industry, highly unlikely. Many artists will never receive the recognition they deserve, which is why we here at EARMILK strive to shine the spotlight on as many up-and-coming artists as we can. Today, we are excited to introduce BYRAM, winner of the EARMILK x Warner Bros. Kimbra Remix Contest.
Growing up with both parents being musicians, BYRAM (born Benjamin Byram), has had musical talent running through his veins since birth. "I was basically singing since I came out of the womb and started singing professionally on feature films, commercials, and pop albums as a child, anything that needed a boys choir in it." Some of these appearances included the films Peter Pan(2003), Christmas With The Kranks, High School Musical 2 & 3 and Camp Rock 1 & 2 along with participating in the boys choir that sings in the bridge section of the song "Move Along" by The All American Rejects.
Although focusing his attention largely on singing, it wasn't long before BYRAM was pushed to broaden his musical talents. "I was also forced to take piano lessons at a very young age by my parents. I hated it, just like everyone else does but thanked them for it later."
After completing high school, BYRAM traveled to Europe to attend theology school. While in England, he met two other talented musicians, and the collective started a band called The Lost Farmers. The band fused together a myriad of genres, including experimental, folk and indie--although a far cry from BYRAM's current work, the experience proved to be invaluable."That was really the start of my producing career. I had been an artist my whole life but this is where I really learned to find a vision, shape the vision, and use what you have to turn that vision into a reality."
Back in the US, BYRAM is currently attending California State University, Northridge, where he continues to create music he loves, at the highest caliber possible. This dedication and proficiency have paid off, as BYRAM was chosen by pop-superstar Kimbra as the winner of the "Settle Down" remix contest. As compensation for his achievement, he will see his remix receive an official release on Warner Bros. Records UK, along with the proper servicing campaign.
 Asked about his remix, BYRAM said,
"I started arranging in a way that would be refreshing and new but also amplify the meaning and true emotions of the song that are obviously built into the lyrics. For example, in the first verse which is pretty chill, Kimbra sings "I want to raise a child" which is a very very bold but sensitive thing to say, so it was amplified in the music with the entrance of some of my own back up vocals and some nice piano. Also, in the second verse she starts expressing her frustrations towards another girl coming into her significant other's life and the music starts going a little bit haywire rhythmically and the instrumentation is stripped for a little bit which could represent going back to primitive feelings that anger evokes."
The ability to conceptualize a song and its emotions is one thing, but translating these ideas into a concrete work is where many artists fall short. With his remix of "Settle Down", BYRAM was successful at surmounting this barrier, transforming the sentiment of the lyrics into a visceral experience for listeners.
With ambitions of becoming a music producer, winning the EARMILK x Warner Bros. contest may prove to be the opening catalyst for BYRAM to turn his goal into a reality. For now though, BYRAM will continue to focus his attention on his studies, resolved to complete his Music Industries studies at California State University of Northridge.
There are not many things in life that are certain, but due to his commitment and passion to music, BYRAM has taken the odds of success into his own hands and turned them to his favor. To keep up on the latest news about BYRAM, along with the hottest tracks in Hip-hop, Electronic, Indie and more, check back at EARMILK.