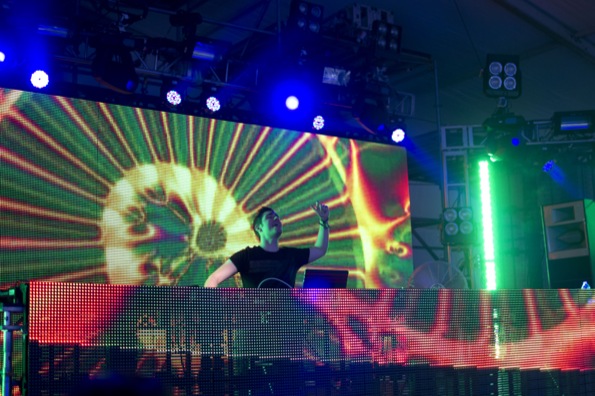 We have some good news and we have some bad news for EARMILK readers around the world. Which would you like first? Well, we'll start with the good news: 3LAU has just released his new album Dance Floor Filth 2 (DFF2) today. This means we all have brand new, re-edited, and previously released 3LAU tracks to vibe with. The bad news? This album will likely close the mashup/bootleg stage of 3LAU's career. While he plans on continually making them, his primary focus from here on out will be on finishing his original progressive house releases, as he has quite a few in the works. All that said, he's not going away, just changing his focus for the time-being. We can live with that.
DFF2 encompasses four brand new tracks, two re-edited tracks, and six previously released tracks. Our favorites so far: "Guilty Pleasure" and "H8". "Guilty Pleasure" is phenomenal blend of artists featuring Paris & Simo, Archie, Anna Yvette, Krewella, Pendulum, and Dada Life. "H8" is another great blend of artists featuring Steve Angello, AN21, Max Vangeli, Zedd, James Egbert, and Rihanna. Both tracks (well, actually, all of his tracks on this album) are upbeat, mixed flawlessly, and a true tribute to who 3LAU is as a producer and artist.
3LAU has been consistent throughout the past year releasing tracks that fall into an epic category of their own. The samples he chooses are blended together so flawlessly that it is difficult to notice (unless you are familiar with each sample individually) that it is not an original piece. He has been blessed with an ear music that a lot of EDM artists & producer up & comers lack. 3LAU has truly grown exponentially in a short period of time, and his successes thus far are a testament to where he will be five years from now. We are excited to continually share in his victories along the way.
The album is available for download through his Facebook page. Click here to be automatically directed to the download site.
While waiting for the download to finish, we urge you to listen to a couple of our favorite tracks off the album below and check out his teaser video:
Guilty-Pleasure-(3LAU-Bootleg)--EM0712
Stream:
3LAU
- Guilty Pleasure (3LAU Bootleg)
H8-(3LAU-Bootleg)--EM0712
Stream:
Steve Angello, AN21, Max Vangeli, Zedd, James Egbert (Feat. Rihanna)
- H8 (3LAU Bootleg)
Btch-City-(3LAU-Bootleg)--EM0712
Stream:
3LAU
- B#tch City (3LAU Bootleg)
Set-Fire-(3LAU-Bootleg)--EM0712
Stream:
Michael Calfan (Feat. Adele)
- Set Fire (3LAU Bootleg)
http://www.youtube.com/watch?v=FSap7eYPmxo&list=UUdCWh6Kw9tNKOon5lnf09bg&index=1&feature=plcp