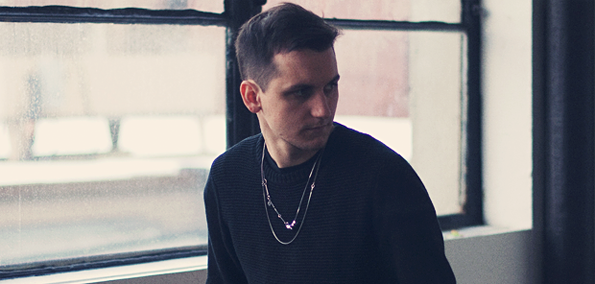 Montreal artist Jacques Greene returns after inaugurating his own Vase imprint with the Concealer EP earlier this year. This latest effort which was released on Martyn's 3024 is quite a bit different from what we have come to expect from Greene but still shows the definitive traits of his sound. Greene has a handful of very well received releases ("Another Girl" and a remix for Radiohead) but an already-established sound that gives him a distinctive identity in a genre where producers often lose themselves trying to make use of too many sounds across their tracks. His studio and live setup would be many a producers wet dream, a bunch of synthesizers and drum machines that give his tunes that distinctive warm sound that is refreshing and his own, yet still beholden to old house and techno. 
The title track is slightly different from previous Greene fare, which is more directly indebted to techno, with woodblock drums and Burial-like treated, indiscernible catchy vocals that soon become embedded. It begins tame enough, however after just over a minute the track becomes quite the 4×4 roller. Those acid synths that are a staple of Greene's sound weave in amongst the percussive kicks and propel the track into its heavier moments. There are comedown moments on here for sure, but it's never long before the pace picks right back up. "Ready" shares a few things in common with Joy O & Boddika's "Mercy" but whereas that tune is more stripped back, Greene's effort has his trademark warmth and perhaps a bit more welcoming and accommodating due to its undulating restraint.
Greene's knack for addictive arrangements is exhibited again on "Prism". There is a certain exquisiteness with Greene's tracks, and this track is no different. A staple R&B vocal again is weaved amongst tension-filled yet delicate haze of hollowed drums. The enveloping atmospherics created by passing bouts of reverb serve as a perfectly arranged backdrop for the vocal pop in and out of. To put it simply, another solid track.
"Dakou" is a digital exclusive, which is a bit of a shame for the vinyl-heads as this is yet another worthwhile track. It adopts the same fuzzy atmospherics as the previous tracks with a more exposed vocal sample from Bei Maejor's "Trouble". This track really comes into its own at the half way point, acid keys fire through the track and carry the track to its magnificent. I liken Jacques Greene t0 xxxy in their masterful build-ups that warrant and grab your attention through their subtle growth and their conclusions are always worth it. Serious euphoric business here.
This EP comes with a very strong recommendation, this is another incredibly commendable addition to Greene's catalogue and one of the best releases this year, hands down. Ready EP is out now, stream previews below: