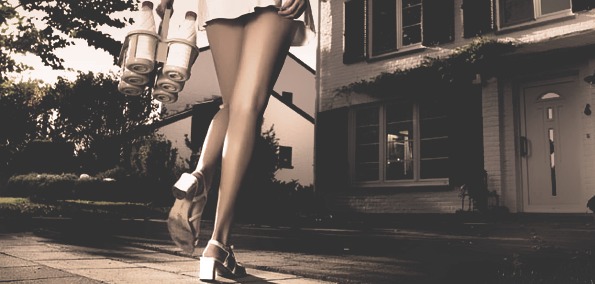 This is your Daily 2% – Chilled and Ready to Serve. We will try to bring you one "chill" track every day. This is for when you get home and you are trying to unwind. You reach for that glass of wine or that unlit Black & Mild or maybe you reach for something more herbal. This track is for those times. We are just your milkmen and I'm here to make a delivery. Chill…
Today's deliver is brought to you by Telemetry Orchestra. They are a Sydney-based electronic music group composed of members Steve Scott, Gavin Angus-Leppan and songwriter Charlotte Whittingham. The trio makes beautifully lush, sophisticated electro-folk, built on melodies that defy musical gravity. Their album Children Stay Free is a perfect display of chillout brilliance. The album doesn't rely on shoddy, inane sampling but instead it builds upon its clean-cut production and original musical composition. And Jeremy Allom from Massive Attack's Blue Line had a hand in mixing the album which is probably why it sounds so damn good.
"Under The Knife"  is one of the more memorable tracks off Children Stay Free. It mezmorizes you with its steady bassline while Whittinghams voice guides you through a psychedelic autumn land cape. Perfect music for when you just want to get lost in the moment and forget all your responsibilities.
I was introduced to Telemetry Orchestra via their animated music video, "Suburban Harmony" back in 2007, which was featured on a video podcast called Channel Frederator. I've been listening to them ever since and am forever thankful.
<p>
--Under-The-Knife--EM0712
<strong>Download:</strong> <a href="http://files2.earmilk.com/upload/mp3/2012-07/–Under-The-Knife–EM0712.mp3"><strong>Telemetry Orchestra</strong> – Under The Knife</a></p>
Buy/Download Telemetry Orchestra – Children Stay Free