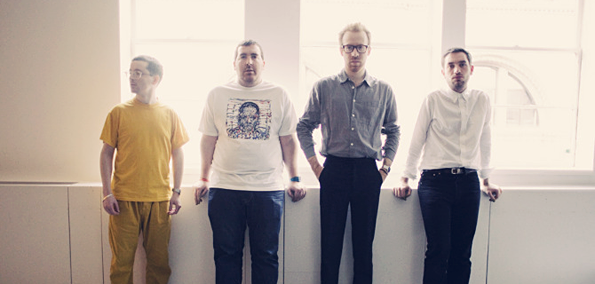 This is your Daily 2% – Chilled and Ready to Serve. We will try to bring you one "chill" track every day. This is for when you get home and you are trying to unwind. You reach for that glass of wine or that unlit Black & Mild or maybe you reach for something more herbal. This track is for those times. We are just your milkmen and I'm here to make a delivery. Chill… 
Today's delivery is brought to you by Hot Chip. This English electronic band is no stranger to EARMILK, and we couldn't resist bringing them back in all their glory. This quirky band has touched many people's ears all around the world with their innovative and unique style. They like to throw twists and turns in their heavy beat-driven tunes which create a resonating tone and fills listeners with excitement and awe. Their style definitely calls for the clichéd saying "expect the unexpected". Today, we bring you "Let Me Be Him", which is off of their latest album, In Our Heads. "Let Me Be Him" is uncharacteristically long for Hot Chip, clocking in at around at almost eight minutes. It's a chill journey that you would definitely thank yourself for listening until the glorious end. In comparison to their other works, the tune is less spontaneous and actuality helps you downshift after a hard day's work. They incorporate atmospheric and ambient effects into the tune, which sends you into a whole other world while the soothing vocals gently touches your face.   
This song by no means lacks energy. It's more in the tone and mood it provokes from within that helps you find that catalyst for mellowing out. Hot Chip is known for their unique style and particulars in each of their tracks. "Let Me Be Him" is no different.
So loosen that tie and un-tuck those shirt. Check out this track and chill….
Download:
Hot Chip– Let Me Be Him