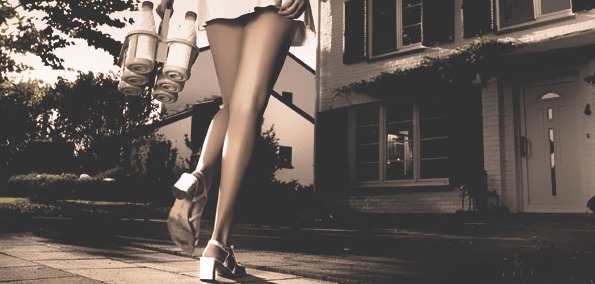 Here at Earmilk, we regularly provide you with interviews with artists you love, and some of them do happen to run a label or work closely on aspects of music beyond DJing and production. But it's been rare, I think, for us to produce content that actually focuses on what it's like to be the one running the show. That's why I think this interview is special -- Deville is the man behind Senseless Records, an imprint out of London, UK that's seen releases from Zebra Katz & Boyfriend and Space, Ladies that we've posted here and plenty more (names like Starkey, Warrior Queen, Brenmar, and Max Romeo might ring a bell), all under the umbrella of "technicolour bass music."
The latest from Senseless Records is the Synesthesia #3 compilation that's out today for direct digital release. Below, Deville talks to us about the origins of the label, the ins and outs of running a label, and what's churning over at Senseless.
[soundcloud url="http://api.soundcloud.com/tracks/50167990" params="show_comments=false&auto_play=false&color=000000" width="100%" height="81" iframe="false" /]
EARMILK: How did Senseless Records come about?
Deville: Senseless came out of the sound-system culture of Leeds, UK. The place has an amazing vibe and musical history, so a few of us got inspired to start a label. Initially it was grime, then early dubstep, but in the last few years we've expanded the sound quite a lot, concentrating on quality over one style.
EM: Can you describe quickly what you guys have your hands in for readers who might not know?
D: We've released over thirty releases on vinyl, cd and digi from a whole load or artists. Ranging through producers like Jack Sparrow, Poirier, Kanji Kinetic, Rossi B & Luca, Starkey, Brenmar and many more. We've also done a lot of vocal work including Zebra Katz, Warrior Queen, Foreign Beggars, YT, Max Romeo and others. All our releases are up on soundcloud.com/senselessrecords. We also do a lot of work with visual artists for covers, videos and posters.
EM: What ties together the releases on Senseless?
D: We call it technicolor bass music, so we're looking for colourful, exciting music that draws on the UK bass heritage of dancehall, jungle, garage etc. But we also like to look round the world for music that's referencing those sounds in new contexts so we've had stuff from Africa, South America, The Caribbean and more. 
EM: What's the biggest challenge with running a label?
D: There's a lot of unglamorous admin! But that's not exactly a challenge, just boring. The biggest challenge is the sheer workload, ranging from A&R right through to production there are a lot of things to oversee and we really like to work closely with our artists so it's all quite involved, but in a good way. I wouldn't be doing it if I didn't love it. 
EM: What's your favorite part of running a label?
D: Discovering new music and helping it get out there for other people to experience. Although sales are not in the best place across the music industry, when I think about the many thousands of people who have danced or listened to our music over the years, it's quite humbling. We also love the live side, showcasing the sound as raves, festivals etc.
EM: Do you make music or DJ yourself?
D: I do, under the name Deville. I play a lot as a DJ and have been lucky enough to play all over the world in the last few years. For production I've done a few things in the past but have done a lot of work in the last year on new tracks so am looking forward to getting those out later this year on Senseless and other labels. 
EM: How's it feel to reach the five year mark with Senseless?
D: Feels really good, the label is better than ever and we're having our biggest year with probably 14 releases before the year is out. I'm more passionate about the music we release than ever and we have some great artists on the current roster.
EM: What goes into putting together a compilation like Synesthesia?
D: A lot more work than a normal vinyl release! We print all the sleeves by hand in our London studio so that literally takes days. Then there's printing the posters and, of course, having three artists to work with, not just one, on each release. But the end result is worth it, the feedback from peeps who have bought them has been amazing. 
EM: What're the biggest things coming up with Senseless? 
D: Well, Synesthesia #3 featuring Poirier, who we have wanted to work with for a while, plus amazing tracks from Lenkemz and Walter Ego. After that, Reilly Steel, a really exciting producer from San Francisco, we have an amazing remix package on that one too and an even better video. Later in the year, more music from Zebra Katz, Mak & Pasteman, Venice Calypso, Ghosttown and lots more. Watch this space.
EM: What would you most like to be involved in that you haven't been before?
D: I think our music tends to be mostly heard in Europe and the USA, having traveled to other parts of the world I'd like to really make sure that we get our stuff out there to places we're not reaching. If you are reading this, watch out, we're coming!
EM: What would be your advice to budding labels?
D: Make sure you're in it for the right reasons, it's definitely not a get rich quick scheme. A&R is a 24-hour job, but it's also the fun part. And don't give up on physical products just yet!