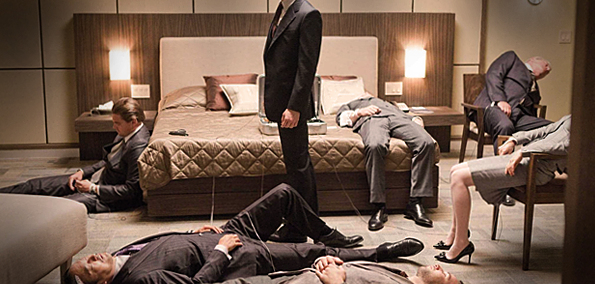 This weekend in Toronto, more than 75 DJs descend on Canada's music capital for what is sure to be one of the highlights of the summer. Names like Kaskade, Afrojack, Richie Hawtin, and DuckSauce headline Digital Dreams Music Festival June 30th & July 1st, from 12pm-12am each day. Get your tickets here, or buy at the gate this weekend. With already over 15,000 tickets sold for this 4 stage affair, you're guaranteed to celebrate Canada Day in a big way.
EARMILK'S PICKS: SATURDAY
The action kicks off at noon on Saturday with Toronto's own Torro Torro, a name that if you're not familiar with yet, you will be soon. Early adopters of the moombahton movement across North America, and founders of the Toronto moombah monthly SLOWED, the duo have also seen recent success with electro bangers like their "Go Deep" remix that we featured here a few weeks back. These boys know how to get a party started, and I think everyone here at Earmilk would agree, this is the perfect beginning to what is going to be an incredible weekend of dance music.
Wax-Motif-Feat.-Neoteric---Go-Deep-(Torro-Torro-Remix)--EM0612
Stream:
Wax Motif Feat. Neoteric - Go Deep (Torro Torro remix)
Another Toronto native we've become rather fond of here at Earmilk is Giddy. He'll be opening up the Canada Stage Saturday, so if I we're you I'd start there to catch his set quick, then head over and join the fun at the main stage. Lots of home grown talent here, with many of the headliners calling Toronto home.
Giddy---Collapse-(Original-Mix)--EM0612
Stream:
Giddy - Collapse (Original Mix)
Later in the day, Montreal-born A-Trak makes his first appearance of the weekend, and if his recent productions are any indication, we're in for some kinda heavy. His Justice remix just popped this week and, well, have a listen.. Its GOOD. Later in the evening A-Trak makes his way back up to main stage where he'll meet up with Armand van Helden to form Duck Sauce. The duo have seen enormous success with tracks like "Big Bad Wolf" and "Barbra Streisand", and their set is one you do not want to miss. 
A---127---04-Justice---New-Lands-(A-Trak-Remix)--EM0612
Stream:
Justice - New Lands (A-Trak Remix)
Closing the night out on Saturday is none other than Canadian techno legend Richie Hawtin. A founder of the Detroit techno movement in the 90's, Richie has since gone on to become one of the world's most recognizable DJs. Consistently headlining the biggest shows on the planet, Toronto gets a real treat when the Windsor-grown talent takes the stage. While Afrojack's set is sure to get a bigger crowd, its Mr. Hawtin that I'm most excited for. Steve Lawler, Boris, and Guy Gerbereach have sets that evening to set the mood just right for Richie.
EARMILK'S PICKS: SUNDAY
Sunday afternoon begins with Marcus Schossow, who's progressive house has been a steady feature here on Earmilk's The Club. Certainly a different approach then Saturday's opener Torro Torro, Marcus' trance background sets him apart from most of the performers at the inaugural Digital Dreams, with melodic synths and steady buildups that uplift the crowd into euphoria. While it may be a little early for that, you can be certain he will make sure you came ready to dance.
A---128---Marcus-Schossow---Never-Say-Never-(Original-Mix)--EM0612
Stream:
Marcus Schossow - Never Say Never (Original Mix)
At 3 in the afternoon, just as the Euro Cup Final gets under way (they will have a Heineken tent with screens showing the game), another Canadian export Art Department takes to the Echo Beach stage for some home grown deep house grooves.  Its great to see how far some of Toronto's own have come, and to have them headlining a festival in their hometown would be a dream come true I'm sure. Perfect for a Sunday afternoon beach party, Art Department plays ahead of names likeMark Knight, Nic Fanciulli, and Sci+Tec to make for an outstanding day of deep techno andhouse tunes that gets the heart pumping.
Over on the main stage, yet another Toronto duo, Autoerotique will throw down. Fresh off an EP Release with a few incredible bangers that are getting massive attention around the world, these guys are ready to explode. Have a listen to "EKG" and tell me this doesn't have rave written all over it. Very excited to see these guys take the home crowd into a state of dance.
A-or-2A---95---Autoerotique---EKG-(Original-Mix)--EM0612
Stream:
Autoerotique - EKG (Original Mix)
Finishing off the weekend is none other than Kaskade. My pick for must see artist of the weekend goes to the man that's currently on his Freaks of Nature tour selling out stadiums across North America. Arguably one of the most talented producers in the scene right now, crafting up everything from drum & bass to melodic progressive house, Kaskade hits Toronto full steam ahead. While the fireworks are going off, it will be Dubfire + Carlo Lio as Sci+Tec on the Echo Beach stage, and Kaskade ending the weekend in a big way over on main stage, with 10+ thousand fans dancing on.
Usher---Climax-(Kaskade-Remix)--EM0612
Stream:
Usher - Climax (Kaskade Remix)
If you see an Earmilk-er this weekend say hello and grab a sticker! Enjoy your weekend, and be safe!