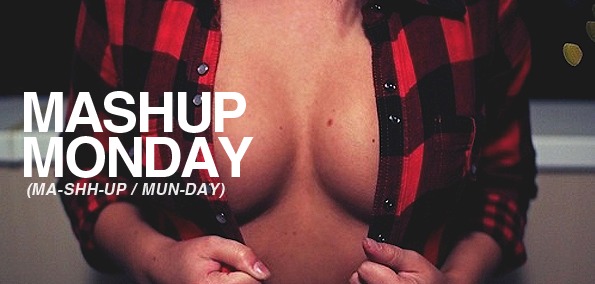 Mashup Monday – We're back again with some of the freshest mashes to start your week off right. These are the mashes that are worth hearing, so stop you're searching and instead settle down at your computer… turn up your speakers… and get ready for that sweet nectar that only EARMILK can give ya. Let's GO.
Well it has certainly been awhile since the last Mashup Monday. I owe all of you guys an apology, but life events have kept me away (unfortunately). Having been busy with moving to Chicago, finishing studying for the LSAT, taking the LSAT and more…searching for music was put on the back burner. However, I got 30 tracks and an album for y'all to check out for this session.
I highly recommend taking a listen to DJ Bahler's and Frail Limb Purity's XOXO: The Glitch Mob x The Weeknd. Easily one of the greatest mashup projects I've heard this entire year, and quite frankly it'll be played thoroughly the rest of the year. If I had to highlight individual tracks that I think are must listens, I would advise you to check out the GRiZ track titled "You Got To Change", Constantinos Saradis' "Euphoria Children", LeeDM101's "Let Go of the World", and Mashup Germany's "The day the music died". All 4 have different vibes and sounds but I was quite impressed with each sample pairing, making each track really stand out on their own.
Keeping it extremely short writing wise just due to the sheer amount of music that is posted below. If you manage to get through the entire set in one sitting, I'll make sure to give you a personal shout-out someway, somehow. Hit me up in the comments with your favorite tracks, and I'll have another week of mashups ready for y'all next week for sure.
DJ Bahler and Frail Limb Purity XOXO: The Glitch Mob x The Weeknd
Individual Mashups
GRiZ---You-Got-To-Change--EM0612
Download:
GRiZ – You Got To Change
Loreen-VS-Dave-Darell---Euphoria-Children-(Saradis-Mashup)-1--EM0612
Download:
Loreen VS Dave Darell – Euphoria Children (Constantinos Saradis Mashup)
LeeDM101---Let-Go-Of-The-World-(Dragonette-vs-Alex-Metric-vs-The-Ting-Tings)--EM0612
Download:
LeeDM101 – Let Go Of The World
Mashup-Germany---The-day-the-music-died--EM0612
Download:
Mashup-Germany – The day the music died
Gramatik-Vs.-The-Beatles---Dont-Let-Me-Down-2012--EM0612
Download:
Gramatik Vs. The Beatles – Don't Let Me Down 2012
The-Soul-Sister-Has-Still-Got-It-(Justincredible-Mash-Up)--EM0612
Download:
Train vs. Tyga feat. Drake – The Soul Sister Has Still Got It (Justincredible Mash-Up)
The-Otherisde-of-the-Edge-(Henry-Fong-Mashup)--EM0612
Download:
Swanky Tunes & Hard Rock Sofa vs. Red Hot Chili Peppers – The Otherisde of the Edge (Henry Fong Mashup)
Scott-Melker---Message-In-A-Bottle-Vs.-Mercy-(The-Police-Vs.-Kanye-West)--EM0612
Download:
The Melker Project – Message In A Bottle Vs. Mercy (The Police Vs. Kanye West)
Rohr---Trap-House-(Kaskade-x-Axwell-x-Baauer)--EM0612
Download:
RohR – traphouse
Robo-Jello-Booty-(Snobs-Mashup)--EM0612
Download:
Opiuo vs Far East Movement & Rye Rye – Robo Jello Booty (Snobs Mashup)
Nero-Kill-The-Noise-Skrillex-Zeds-Dead---Dream-(5-A-Dime-Bootleg)--EM0612
Download:
Nero, Kill The Noise, Skrillex & Zeds Dead – Dream (5 & A Dime Bootleg)
Dotcom---Dill-the-Motto-(Notorious-B.I.G.-x-Dillon-Francis-x-Tyga-x-Drake-x-Dev-x-Lil-Mama)--EM0612
Download:
Dotcom – Dill the Motto (Notrious B.I.G. x Dillon Francis x Tyga x Drake x Dev x Lil' Mama)
Everyday-Slam-Piece-(Ego-Mashup)--EM0612
Download:
Rick Ross x Zedd – Everyday Slam Piece (Ego Mashup)
Nammo-DiBella---Beautiful-Like-Nobody-Else-(One-Direction-x-Chris-Brown-x-30-Seconds-To-Mars-x-Dimitri-Vangelis-Wyman)--EM0612
Download:
Nammo & DiBella – Beautiful Like Nobody Else (One Direction x Chris Brown x 30 Seconds To Mars x Dimitri Vangelis & Wyman)
N3AKO---Forever-In-Dubai-(Ferry-Corsten-X-Blake-Jarrel-X-Tom-Fall)--EM0612
Download:
N3AKO – Forever In Dubai (Ferry Corsten X Blake Jarrel X Tom Fall)
Klitormix---Purple-Players-Anthem--EM0612
Download:
Klitormix (Minnesota vs UGK vs Gucci vs Snoop) – Purple Players Anthem
Klitormix---Fist-Up-Its-The-Return-of-the-Legends--EM0612
Download:
Klitormix (Gramatik vs Biggie vs Tupac vs Mark Morrison vs Snoop vs DRE) – Fist Up! It's The Return of the Legends
Jhene-Aiko---Runaway-(A-JAYBeatz-Mashup)--EM0612
Download:
Jhene Aiko – Runaway (A JAYBeatz Mashup) (Feat. The Weeknd & Frank Ocean)
Frail-Limb-Purity-(FLP)---Yellowcard-v.-Lykke-Li-Gigamesh--EM0612
Download:
Frail Limb Purity – Yellowcard v. Lykke Li & Gigamesh
DJ-MashHawk---Still-High-For-This--EM0612
Download:
DJ MashHawk – Still High For This
DiBella---We-Are-A-Teenage-Wasteland-(Fun-x-The-Who-x-Hardwell-x-Tiesto-Showtek-x-Phil-Collins)--EM0612
Download:
DiBella & Johnny Mac – We Are A Teenage Wasteland (Fun x The Who x Hardwell x Tiesto & Showtek x Phil Collins)
DeeM---Lets-Groove-The-Magic-Bass-(Earth-Wind-Fire-x-Dev)--EM0612
Download:
DeeM – Let's Groove The Magic Bass
Alex-McGhee---Hello-Redline--EM0612
Download:
Alex McGhee – Hello Redline
A-Flock-of-Seagulls-vs-Lady-Gaga---I-Ran-(So-Far-Away)-To-The-Electric-Chapel-(DJ-BgM-Mashup)--EM0612
Download:
A Flock of Seagulls vs Lady Gaga – I Ran (So Far Away) To The Electric Chapel (DJ BgM Remix)
Sweekuh---Mollys-Strange-Behaviour-(1)--EM0612
Download:
SweekuH – Molly's Strange Behaviour
Fear-of-Dawn---Teach-Me-How-To-Alabama-(1)--EM0612
Download:
Fear of Dawn – Teach Me How To Alabama
Original-Don-VS.-Butters-Theme-(BTN-Edit)---Major-Lazer-x-Flosstradamus-x-Sazon-Booya-(1)--EM0612
Download:
BTN – Original Don VS. Butters Theme (BTN Edit) – Major Lazer x Flosstradamus x Sazon Booya
Lucky-Date-vs.-Adventure-Club---I-Crave-Wild-Girls-(ST.PE-Mashup)--EM0612
Download:
ST. PE` – I Crave a Wild Girl (Lucky Date x Adventure Club)