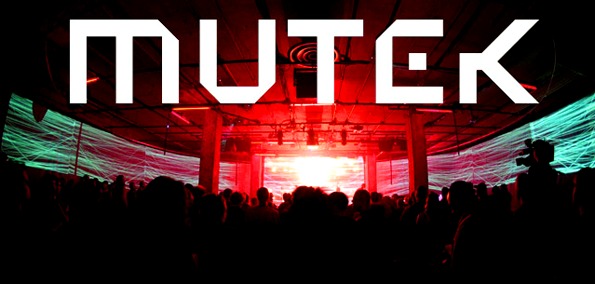 Contemporary was in the air at MUTEK festival, nested in the adorably self-conscious city of Montreal, and rightly so. The lineup had a unique taste in diversity piecing together a collage of overhyped marvels, breakthrough acts, and underground recluses (see our top 12 crushes). But it was really the allusive things that strung the lineup together and made for a great festival. Captivating visuals (at times overwhelming), stout sound systems, and of course alluring venues filled with a crowd willing to accept forward thinking ideas even though they may taste bitter at first. The latter being a bit of a rarity as the money hungry music industry expands their waist line with consumption over creativity.
And you might ask, at the expense of? What makes MUTEK Montreal stand out in North America is a childlike sense of discovery and it's ongoing beyond the last act as you come home to dig through catalogues of leftfield names trying to capture a bit of what you just saw. The experience was as much educational as it was entertaining, a must in anything exposing you to stimulating sound in a stimulating environment. Here are the artists we managed to catch that did just that.
---
Shlohmo
When it comes to charm, Shlohmo has it under control -- we'd like to cop some of his dance moves. The Friends of Friends family member (how complicated is that relationship?) killed it with his Mutek set, dropping his take on everything from harsh hip-hop to "Genie in a Bottle," and the crowd all fell in love. For Mutek, Shlohmo's set was unique -- perhaps not as esoteric or introspective as many of the other performances -- but amid three days of deep thought and focus, sometimes you just need that bounce.  - Alyce, photo by Caroline Hayeur. 
Monolake
A multifaceted performance that showcased Germany's jack of all trades. In a festival rampant with ingenius composers Robert Henke can add engineer, software developer, and audiovisual designer to his resume. His performance with artist Tarik Barri was the cover letter as the duo brought conceptual techno from their Berlin home to the Metropolis stage in a stunning array of impacted soundscapes with strung graphics to accompany. This was an act that held as much esteem for what you see and what you hear. Key to being a noted performer at a contemporary festival like Mutek. The shelling of senses was the perfect precursor for a treasured legend about to take the stage. - Lukas, photo by Caroline Hayeur. 
Jeff Mills
It was clear that Detroit's Jeff Mills was going to be one of the festival's highlights prior to its unraveling so it was no surprise that he left Montreal with its jaw hanging on the floor the whole weekend. Scheduled early in the lineup he set the bar so high people just tossed him aside as some celestial being. An alien from outer space that took Mutek to the moon. Playing on 5 decks fueled by a suitcase of CDs at his disposal Mills gravitated between the depths of sanity and space. And as he stood to man the wheel of his trademark 909 the crowd erupted and the dance floor fractured. It was 3am and all we need is drums. Punching toms, obnoxious snare rolls, and a kick that was sure to be the rawest sound to boom out of Metropolis. Questioned out of electronics but the answer that night at nocturne was all natural. - Lukas, photo by Caroline Hayeur. 
Salva
Directly following Shlohmo, Salva continued to provide the most positive possible representation of the USA at a festival where it sometimes felt terrible to be American (comparing Mutek to our numerous bro-fests made me want to cry). Luckily, Salva represented the states in full form, bringing his heavy set to a crowd that was clearly thirsty for some real dancing. Don't get me wrong, the deep artistic spirit of the festival is what made it special, but sometimes awesome hip-hop remixes that you can't even decide how to move to and mixed-up-tempos that feel perfect next to one another are just what the doctor ordered and Salva knows how to deliver this unique art form. Can we start calling him the bass music pharmacy? Bonus points for his sweet tripped-out, Internet-inspired visual accompaniment. - Alyce, photo by Caroline Hayeur. 
Kode9
Hyperdub's label honcho Kode9 dipped his hands in the lineup twice in one lucrative evening at Mutek festival. First laying down the sound for a collaborative rework of the classic sci-fi Le Jeteé narrated by Ms. Haptic with Berlin video artist MFO on aesthetics. Set in an underground dystopia, the animated film touched on the clash between human needs and the limitations of technology. After the picture wrapped up it was time to head to the Red Bull Academy stage where he later played one of the most cultured sets of the weekend. Not only revelling in the gloomy sub bass and ripe low-end he's fostered his acclaim for but also brushing up against even higher tempos and hacienda house. Cued up classics like "Strings of Life" being a definite highlight. - Lukas, photo by Miguel Legault. 
Nicolas Jaar
There were positives and negatives to seeing Nicolas Jaar at Mutek. A negative, I suppose, would be the aggressive crowd -- more aggressive than any other I experienced at the festival -- but that aggression was also a reflection of just how excited everyone was to fill Metropolis and get as close as they possibly could to one of the most exciting new artists gracing the lineup. To be honest, while I had an appropriate appreciation for Nicolas Jaar before, I never quite got as excited about him as everyone else seemed to be. After his Mutek set, a live performance accompanied by a guitarist and saxophonist, I was sold. The set was often subdued with occasional bursts of house-y energy.  - Alyce, photo by Caroline Hayeur. 
KiNK
Saturday called for showers so the clubs opened their doors early and the festivities moved indoors. Live techno junkie KiNK flipped the depressing forecast on its side with his nutty stage presence and energetic performance. An act that kept the whole crowd grinning by making them do the work. We jammed to our own acid lines as he tossed midi pads to the front row to program some heat of the moment melodies. His antics made for an interactive experience and a light-hearted one that reminded us how ridiculous music actually is. Not to mention his lack of computer use brought the live aesthetic to its head, set completely to the side and barely looked at. It made for an organic vibe that many acts need to take more precedence over. - Lukas, photo by Miguel Legault.
A Guy Called Gerald
Okay, so admittedly, my brain wasn't 100% present during A Guy Called Gerald's set and 24-hour-time isn't my forte, so somehow, I managed to think that previous act Roll the Dice just happened to look very similar to A Guy Called Gerald and play insanely awesome music out of nowhere. I didn't know that much about A Guy Called Gerald prior to the festival, other than having listened to his productions and mixes intermittently, and I had an inkling beforehand that he'd end up as a festival highlight, but it's sort of nice to know that he stole the show even without his reputation to precede him, and that he definitely did, playing everything from his signature acid house to a new genre he dubbed "stepno" that kept the highly varied, fun-loving crowd on their toes. - Alyce, photo by Miguel Legault.
Krause Duo
Since I had to leave for Boston on a bus Sunday morning, Saturday night's festivities were my final stretch of Mutek, and by the time I arrived at Metropolis circa 3:30 am, my fatigue seemed insurmountable: the idea of either falling asleep standing or finding a nice corner to curl up in sounded more tempting than anything. However, when Krause Duo took the stage, my body and soul were revitalized, and they came out of nowhere with a killer set that revived even the stiffest of limbs. As far as sets that were entirely a surprise, this ranked high, and as my friend said, this was "some after-hours shit." For serious. - Alyce, photo by Miguel Legault. 
Mathew Jonson & Minilogue
Canada's after hours virtuoso Mathew Jonson made quite the noise at Mutek reigning in Nocturne 4 with a marathon of minimal improvisation and techno experimentation alongside Swedish duo Minilogue. The stars must have aligned for the three on stage that night, as they were given a shipful of  passengers with plenty of time to travel anywhere their souls desired. Taking in the stunning visuals that swallowed the players on stage with the booming sound of Metropolis it became obvious that performances like this were gems outside of Berlin. One of those surreal moments at the edge of the universe, their collaboration was seductive enough to dock their long trip back to Montreal with everyone still up in the AM wanting more. - Lukas, photo by Miguel Legault.
If you're 10 deep, on the dance floor at Metropolis, there's no way you're making it to the bathroom.