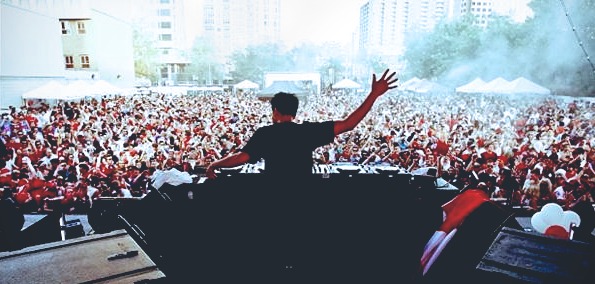 Today we officially announce the next evolution in Earmilk contests for upcoming producers and DJs: Earmilk's Opening Set at Escapade Music Festival DJ Contest. We've teamed up with Ottawa's leading events company, DNA Presents, to give one talented DJ an opportunity to play a set at Escapade Music Festival alongside Avicii, Afrojack, Eric Prydz, Excision, Zeds Dead, Alesso, Dada Life, Sander van Doorn, Gareth Emery, Chuckie, Thomas Gold, Dillon Francis, Tommy Trash, and many more. Set on the grounds of the Canada Aviation & Space Museum, Escapade features 3 stages with over 40 DJs over the course of the weekend, and YOU could be one of them. If you're simply a fan go enter to win 2 tickets for the weekend here, then tell all your DJ and producer friends to enter this DJ contest so that you can see them live next to the worlds biggest names in dance music.
Earmilk is looking for the next upcoming producer to represent us at Escapade Music Festival AND to feature on the site with an artist editorial. Simply record a mix and send it to us. Judging will be based on creativity and originality: We want to see your own productions (bootlegs, mashups, edits, remixes, originals) and creative setlists... We want to hear a set that can capture the vibe of Canada Day long weekend perfectly.
CONTEST DETAILS
PROCESS 
Record a live mix (15 minutes minimum) that features music you might play at Escapade Music Festival.
Include bootlegs, mashups, edits, remixes, and original productions.
Upload your mix to your own Soundcloud, Youtube, Mixcloud, etc.
Send the link for the mix to contests@earmilk.com before June 13th, 2012 11:59pm.
JUDGING
On June 14th, 2012, each mix will be posted to Earmilk's Facebook page & DNA Presents' Facebook page.
5 of the top 10 will be based on how many votes the post can accumulate before 11:59pm on June 21st, 2012.
Details on how to vote will be provided on June 14th.
The other 5 of the top 10 will be judged by an Earmilk panel looking for originality, creativity, and overall effectiveness in the mix.
Priority will be given to the mixes that include quality original productions.
The top 10 will be announced on June 22nd, 2012.
The Earmilk judging panel will then take all 10 mixes and chose the winner, based on a combination of fan voting and Earmilk judging.
The winner will be announced Monday, June 25th, 2012.
PRIZE
The winner will play a set at Escapade Music Festival in Ottawa, Canada on June 30th, 2012.
The winner will receive a full artist feature post on Earmilk.com prior to the festival to build up some hype for the artist.
WINNER NOTIFICATION
The winner will be notified on June 25th through an email addressed from Earmilk
Winner will have 3 days to respond to email. Failure to respond will constitute grounds for disqualification, in which case the 2nd place contestant will be notified.