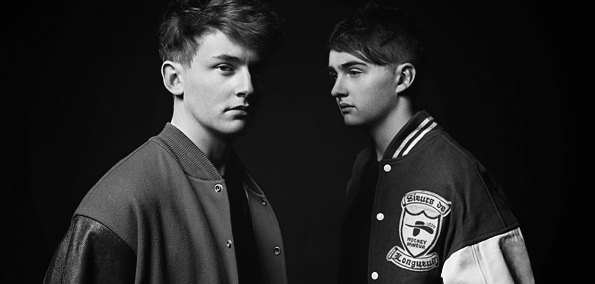 Disclosure's The Face EP dropped yesterday and is shaping up to be the breakout soundtrack of the summer. The latest offering from the impossibly young brothers, Guy and Howard Lawrence, has already reached number 1 in the UK iTunes electronic music chart. The groovy, bright, danceable music created by these South Londoners might just be the sound that brings sophisticated house music to the masses. Having already garnered accolades from electronic elite such as Radio 1, Pitchfork, FACT, Fader and The Guardian, The Face EP cements the 17 and 20 year old brothers as UK's most exciting new producers.
Infusing deep house bass lines with hip-hop influenced sampling and soulful vocals, "The Face" is a genre-defying blend of musical styles and influences that toes the line between underground vs. accessible, club vs. earphone music: "We're working around house tempos," Guy explains, "but we're not setting out to make house music just for the club. It's more about the chords, melodies and vocals. We want a warm sound; a jazzy sound."
Opening track "Boiling" features fellow Britain Sinead Harnett's soulful vocals shimmering over the tracks deep pulsing baseline. "Control" jumps back and forth from dreamy house to bouncy club beat with Ria Ritchie's beautiful voice following suit. "Lividup" is a sun-drenched funky dance item and finally last but not least 'What's In Your Head' with its already infamous fan-made video of half-naked girls frolicking is a bonified club anthem.