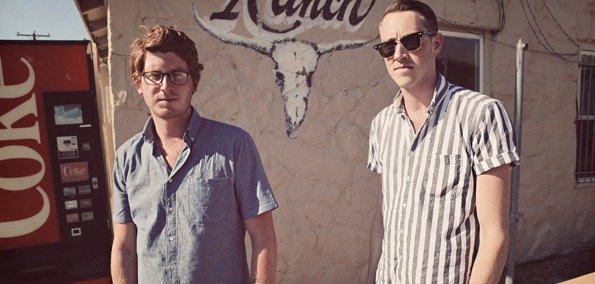 Apparently Passion Pit's frontman isn't the only one doing cool solo stuff. Their drummer, aka Shuttle, churns out some funky tunes, most notably his latest work - a remix of indie up-and-comers Burning Hotels' single "Always"
[soundcloud url="http://api.soundcloud.com/tracks/48708175" iframe="true" /]
Shuttle's remix of 'Always' takes the track, throws it through an intergalactic blender and spits it back out as a completely different animal, bringing a much darker, dubbed-out feel to the joyous tune. It's Shuttle's last solo project before going back on tour with Passion Pit to promote their new album, and it's not a bad product to finish on.
[soundcloud url="http://api.soundcloud.com/tracks/48708176" iframe="true" /]
As for the main track in the set, "Always" is a great demonstration of the Burning Hotels' talent. Their debut self titled LP is easily one of the best projects from a new artist over the past year, but for some reason it flew completely under everyone's radar. With plans for a new string of EP's, and flirtations with the idea of a new album in addition to tours, Burning Hotels are following up their self-titled LP with a big 2012. Their sound was described perfectly by the Dallas Observer last year, stating
Fort Worth's Burning Hotels remind me of something, but I just can't put a finger on it. Which is a good thing; this crew hides their influences well enough to avoid the derivative tag, but you can still feel enough familiarity to stay in the groove."
 Check their tour dates below and see if you can catch them when they're in your area:
TOUR DATES:
6/08/12 – TREES – DALLAS, TX w/ WHAT MADE MILWAUKEE FAMOUS
6/12/12 – LOWBROW PALACE – EL PASO, TX
6/14/12 – SKY BAR – TUCSON, AZ
6/15/12 – THE MINT – LOS ANGELES, CA w/ FUTURE PEOPLE & DOUBLE DUCHESS
6/16/12 – THE SATELLITE – LOS ANGELES, CA w/ SARAH JAFFE
6/17/12 – THE RUBY ROOM – SAN DIEGO, CA
6/18/12 – TIN CAN ALE HOUSE – SAN DIEGO, CA
7/13/12 – FIRST FRIDAY ON THE GREEN – FORT WORTH, TX w/ AIR REVIEW