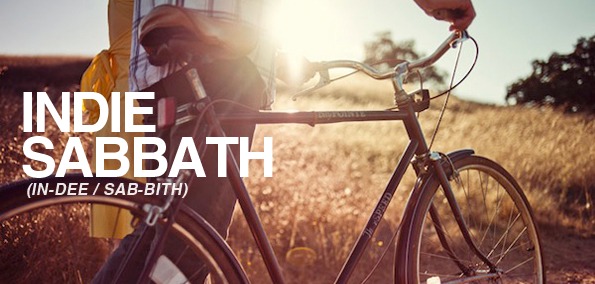 A Quick Word from the Author:
EARMILK is currently in the gradual and delicate process of refining our features, aiming to provide more than just lists of tracks, but solid editorials. A big part of this process is creating a feature that tailors to you, the fans, and your needs. In the comment section below, we'd love to hear some feedback on what you think we're missing from our Features (use the Sabbath as your template). This could be anything from a News section (which will be incorporated next week), to more editorial content. Give us your suggestions - we'll consider them all.
In addition, We're always keen to submissions for the Sabbath. If you're an Indie artist who would like your NEW content to be up for consideration, submit it to me and I'll give it a gander. Please only submit tracks that are current (no more than a week old, preferably), and free to download. SUBMIT YOUR WORK
---
http://youtu.be/xn5dsvSwb64
The Indie Sabbath is back, with new specs and some major changes. First off, it's on Thursdays now. "SABBATH on a Thursday?? That makes no sense!" Yeah, well, get over it. Traditionally, we've used the Sabbath to feature the best new [free] Indie music around the web each week -- and that isn't changing. But we've added a few things, including a Video of the Week, Album of the Week, and a brief recap of the best Indie posts featured here on EARMILK every seven days. Our goal is to provide more than just a list, leaving our readers with not only new music, but visuals, information and albums to explore with friends. That being said, let's get on to the eclectic array of Indie excellence.
---
THE INDIE GIFT BASKET
Big thanks to writers Visile and Connecticutter for helping me put together the Sabbath this week - it wouldn't have happened without them. They say it's officially Summer, but some may beg to differ. Regardless of what it looks like out your window, the peak of the music season is upon us. There will be more music released over the next few months than any other time of the year, which means that there's a whole lot to sift through. We ventured into the pastures of the Indie realm, and came back with some deliciously satisfying results. Here's twenty (or so) samples of that milky goodness, ripe for the picking. Fresh looks on new material from Revolution, I Love You, Yeasayer, Zulu Winter, Princeton, AVAN LAVA and Radiation City. Milk away, my fine-haired friends.
Download:
Revolution, I Love You - Cotton Shirts
That-Bird-Has-A-Broken-Wing--EM0512
Download:
Sun Kil Moon - That Bird Has A Broken Wing
Download:
Radiation City - Find It Of Use
Download:
Husky - History's Door
Silver-Tongue-(THE-DARCYS-Remix)--EM0512
Download:
Zulu Winter - Silver Tongue (THE DARCYS Remix)
Download:
Synthcake - Alice
Download:
My Great Ghost - Plain Sight
Download:
Apollo Cobra - Feel Like It
Download:
Yeasayer - Henrietta
Download:
Trails and Ways - Nunca
Download:
Blind Betty - No Honor
Download:
Still Flyin - Travelin' Man
Grand-Rapids-(RAC-Remix)--EM0512
Download:
Princeton - Grand Rapids (RAC Remix)
Download:
Cruiser - The Fritz
Download:
WITCH - Introduction
Download:
Elisa Luu - Se Fosse Per Me
Download:
Trent Dabbs - Follow Suit
Rotten-Tropics---Scour-Patterns--EM0512
Download:
Rotten Tropics - Scour Patterns
Faith-in-Free-Part-I--EM0512
Download:
The Michael J. Epstein Memorial Library - Faith in Free Part I
Download:
AVAN LAVA - Feels Good
(Dont-Look-At-The)-Pink-Lightning--EM0512
Download:
The Shrouded Strangers - (Don't Look At The) Pink Lightning
Tiptoe-Through-The-True-Bits--EM0512
Download:
Los Campesinos! - Tiptoe Through The True Bits
Download:
Pompeya - Wait
---
MILKY FRESH
Here's a five track flashback of the best in Indie this week on EARMILK. Take a sip, and enjoy the dishes -- these are certified fresh.
Download:
Save The Clocktower - Like That
"Your body won't  deny the sway-able groove here." (Original Post)
---
Easy-Bones-(Inspired-Flight-Remix)--EM0512
Download:
Tango In The Attic - Easy Bones (Inspired Flight Remix)
"The Inspired Flight remix of "Easybones" turns that new sound back a notch, creating a drifting, echo-filled soundscape, which floats along until about midway through Inspired Flight imprint a downtempo electronica break." (Original Post)
---
 [soundcloud url="http://api.soundcloud.com/tracks/46914562" iframe="true" /]
"Don't get me wrong, I love the original tune, but sometimes these ambient tracks can be launched into something even more enjoyable, and Helios has successfully done it without losing the integrity and the style of Engineers." (Original Post)
---
 [soundcloud url="http://api.soundcloud.com/tracks/47915786" iframe="true" /]
"Highlighting Jhameel's musical finesse, "A Maiden Calling" works with the fist two installments to exemplify Jhameel's ability to transform his aural compositions without distancing himself from his fans." (Original Post)
---
 [soundcloud url="http://api.soundcloud.com/tracks/47260310" params="auto_play=false&show_artwork=true&color=000000" width="100%" height="166" iframe="true" /]
"Reducing the reverberated guitar edges and replaced with light-hearted bounces, 5Kinandbone5 created a blissful summer anthem. It's now that one song you can shamelessly dance in your underwear in." (Original Post)
---
VIDEO OF THE WEEK:
It may seem like the easy choice, but there really wasn't anything that came close to M83's video for "Reunion" this week. Yes, there was a new Flo video that displayed her glowing genitals, and a delightful flick from The Walkmen -- but nothing can touch the paranormal children in this video. A classic tale of good and evil, shit goes down and the good guys win. Take a gander:
I had to throw in a runner up this week, if not simply because we failed to recognize it on the site when it was released. Little Comets recently released a new single via the video below titled "Jennifer," a delightful tune, serving as the lead single off of their recent EP Jennifer and Other Stories. [Purchase the EP here]
---
ALBUM OF THE WEEK:
Sigur Rós - Valtari

Valtari ('Steamroller') is the sixth studio album from ethereal Icelandic post-rockers Sigur Rós, following their critically acclaimed 2011 live CD/DVD set Inni. Allegedly the product of a protracted and difficult gestation, the album has been described by the band as 'more electronic' than before. It includes the single "Ekki Múkk", which returns to the epic, plangent, heartbreakingly beautiful sound of their classic breakthrough records. It's a bit more out there than previous works (if that's possible) - but with Sigur Rós that's never a bad thing. Full review this Monday on EARMILK's Straight From the Teet. Purchase it on iTunes here.
---
Other Noteworthy Albums:
Edward Sharpe & The Magnetic Zeros
-
Here
---
Upon this day, I declare that Indie music is leaps and bounds more pure than anything else, and the term "Indie" means not that a band isn't mainstream, but that a band has been able to hold on to its roots, even through fame and fortune. While the wonderful thumps and womps of other genres get me grooving, it will always be the sui generis of Indie that guides me to the homeland. And for that -- I both thank it and applaud it -- for it has brought me great pleasure in the past and will so in the future.