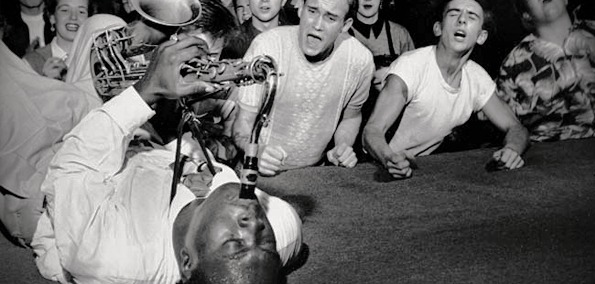 During a fairly recent Bandcamp hunt I had the pleasure of stumbling across a gem of a project from up and coming South Dakota-based producer/musician Iota. Iota's pet solo project Rhythms and Sounds is an almost self-explanatory body of work.
Iota---Rhythms-and-Sounds---01-Funkenstein--EM0512
Stream:
Iota - Funkenstein
The ten track album features some nifty compositions that showcase Iota's sampling and production skills. With an almost Google-proof moniker as Iota it was a pretty tough task gathering some info on Iota and his latest project. After searching the internet high and low I took the next logical step and reached out to the man himself to gain some insight into his instrumental album Rhythms and Sounds.
I have been a drummer since the single digits. So, naturally, when my band members moved out west this year I had to become an actual musician. I realized this whilst engaging in a freestyling session with my associates, which takes place strictly within the confines of my 2000 Camry, on what some would call an "L-ride". After a serious lack of instrumentals, we came to the conclusion that there are too many emcees and not enough beats. So, next thing I knew I constructed a lab and locked myself in it until I emerged with a handful of rhythms and sounds. -Iota
Stream three pretty smooth joints off the album and follow the download link to head over to Iota's Bandcamp page to name your price in exchange for a digital download of his latest album. Also, peep the artist links below and keep an eye out for more music from Iota.
Iota---Rhythms-and-Sounds---07-The-Don--EM0512
Stream:
Iota - The Don
Iota---Rhythms-and-Sounds---09-Mile-High-Club-Feat.-Wifey-Beats--EM0512
Stream:
Iota - Mile High Club Feat. Wifey Beats
Download: Iota - Rhythms and Sounds [Album]