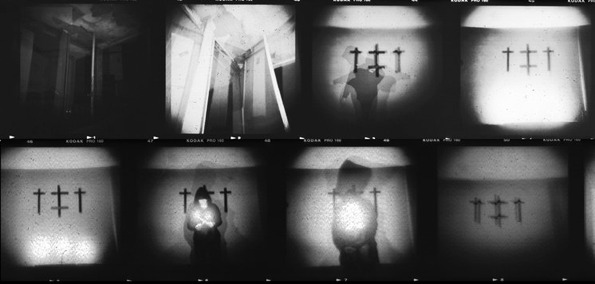 Culturally, in Mexico, witchcraft is a very common thing. After Ritualz composed Ghetto Ass Witch last spring he has developed a strong hate and irritability when speaking about witch house. "If you want to listen to 'witch house' do a Soundcloud search for the endless Salem clones, you're not gonna hear that shit from me," said Ritualz, after being pestered by cult fan boys on Twitter. Truth of the matter is, the 90s trance sound will be forever associated with the modern witch house sound. I know Ritualz is trying to create the post-witch house sound and this is slowly being done, but in my book this EP is just a sub-genre of  witch house or drag music.
Aside from that, this EP is brilliant. Ritualz did a great job staying true to his Hispanic roots as you can hear elements of latin drum fills and other components from that culture. The dark trance chords and pads mixed with the drums are a perfect fit for Ritualz. It seems that he feels very comfortable making this sound. As in this is what he wants for his sound. Aside from the first track on the second he adds a more ravey feel with claps and jungle fills. The flute in this track is very tranquil.
[soundcloud url="http://api.soundcloud.com/playlists/1985961" params="auto_play=false&show_artwork=true&color=ff7700" width="100%" height="450" iframe="true" /]
The last track on the EP titled "MELANCHOLIA" has an amazing video piece. After watching it a few times there are many meanings that you can obtain from this video. The one that sticks out most is just that everything can be art, as they take this fountain and make it an epic art show. Make your perceptions for this art piece. I'm very pleased with this EP.