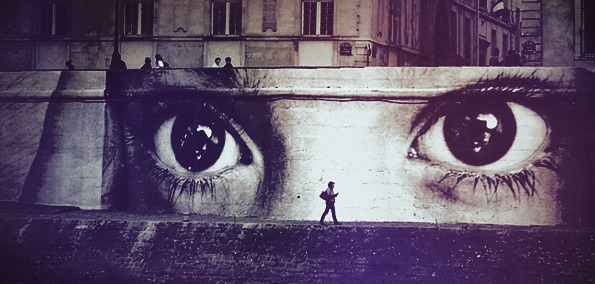 There is something inherently intriguing about the unknown. Mysteries such as what is behind the closed door or where the tunnel will lead have piqued human interest for millennia. The concept of bands harnessing the power of secrecy for their own exposure is nothing new, with collectives such as The Residents, Daft Punk, or more recently The Weeknd using the sense of mystery to their advantage. With the ease of releasing music anonymously thanks to the internet, we have seen an emergence of newly formed bands rewrite this decades-old technique, allowing them to create a whirlwind of exposure before even releasing a full-length LP. The latest band to employ this approach is the enigmatic Brooklyn band MS MR.
Download:
MS MR - Hurricane
MS MR were first introduced to the music world with their self-released Ghost City USA EP last June. The EP debuted MS MR's ominous take on pop, displaying dark powerful vocals soaring over booming drums and orchestration. While not much is known about the band, lead MS MR vocalist certainly exhibits a UK flair, warranting a befitting comparison to Florence Welch. Ghost City USA is a phenomenal first release, and is available as a free download on MS MR's Bandcamp.
Earlier today, MS MR dropped their next single "Hurricane," which builds off the forceful foundation set by the EP. The track showcases our mystery songstress' chilling echos, subjecting listeners to the dark, inner workings of her mind. The song is as intoxicating as it is haunting, something not accomplished very often. MS MR's veil will soon be lifted, as they are set to embark on a summer tour supporting Marina & The Diamonds. Residents in the Brooklyn area can also catch MS MR ahead of the summer tour, when the play at Glasslands Gallery on June 1st. Peep the dates for the tour below, enjoy "Hurricane," and check out a few streams from Ghost City USA, which are available for download at their Bandcamp.
Stream:
MS MR
- Bones
Time-of-My-Life-(Cover)--EM0512
Stream:
MS MR
- Time of My Life (Cover)
6/01 – Brooklyn, NY @ Glasslands Gallery
7/10 – Los Angeles, CA @ The Fonda Theatre*
7/11 – San Francisco, CA @ The Fillmore*
7/13 – Portland, OR @ Aladdin Theatre*
7/14 – Seattle, WA @ Showbox at the Market*
7/15 – Vancouver, BC @ Commodore Ballroom*
7/18 – Denver, CO @ The Summit Music Hall*
7/21 – Chicago, IL @ Park West*
8/14 – Washington D.C. @ 9:30 Club*
8/16 – New York, NY @ Webster Hall*
8/17 – Philadelphia, PA @ Theatre of the Living Arts*
* w/ Marina & The Diamonds