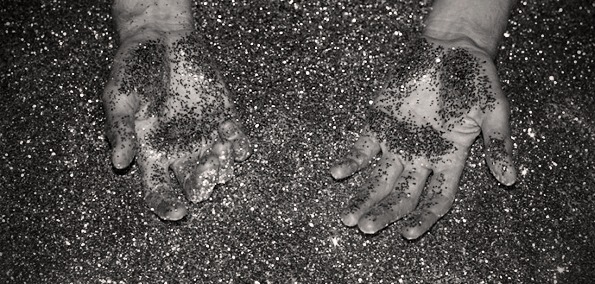 That awkward moment when you realize the music you've been bumping for weeks... was written by someone who spends most of his time RIGHT DOWN THE HALL. That was my experience with Eppard (aka Kevin Messinger) (a.k.a. lives on south campus, but chills in Barrows [my dorm] almost exclusively) (aka fellow Oberlin 2015-er). Oops, my bad for not noticing.
My bad for not noticing because he's a really good producer. Like, on his way to Star Slinger or Clams Casino level good. Self-genred on Bandcamp as "witch house," "chillwave," "post-dubstep," or (my personal favorite) "passing fads," Eppard doesn't pigeonhole himself a-la so many other producers who are caught up with the aesthetics of a particular genre.
Tracks like "Drop With Care" (feat. Nora, who I'll get to later) exemplify that. Genre-bending with vocoded vox, Clams-ish white noise, and bit-crushed synth swells, "Drop With Care" is the track that got me hooked on Eppard, right before his release of his double EP P.S. Friend/Love Cheap (April 2012).
Here's where Nora comes back, she sings on a few of Eppard's most choice tracks (and I still have no idea who she is) like "Pictures of Success," arguably the strongest track off the double release. With backwards guitar samples, fluttering synths, and a start-stop hi-hat heavy beat, it catches you from the start, and that's before Nora comes in with her strikingly beautiful timbre and harmonies shared with Eppard.
(I've put some of my other favorites off P.S. Friend/Love Cheap for download, but–if nothing else–download "Pictures of Success.")
Then, there's the latest release: The Same With Everybody. And I think everybody should go pay for it on Bandcamp, because it's Eppard's strongest effort in his incredibly short/prolific career. Really though, "Some Other Way" is haunting. With pitch-shifted vox, machine gun snares, and veiled in wetttt reverb, it's the best thing next to xxyyxx's latest. 
So, verdict: If you like any of the artists/bands I've put in bold, you're going to like Eppard. And if you don't, too bad, listen to it anyways. Enjoy.
From Drop With Care (Single):
Download:
Eppard & Nora- Drop With Care
Highlights from P.S. Friend/Love Cheap:
Download:
Eppard & Nora - Pictures of Success
06 I Would Like Somebody Too
Download:
Eppard - I Would Like Somebody Too
Download:
Eppard - Were We
Highlight from The Same With Everybody:
Download:
Eppard - Some Other Way