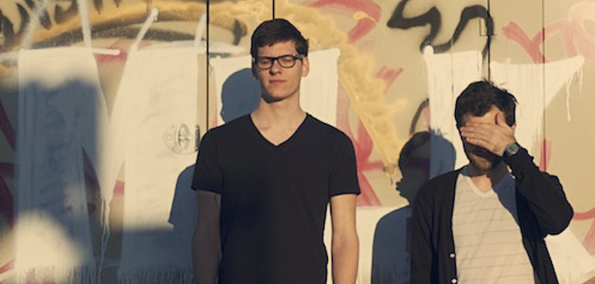 A couple of weeks ago, there was a pre-summer celebration at The Bell House hosted by our favorite Brooklyn label Paper Garden Records and promoter Cara Bella. It was a two-night festival (Braincave) accompanied by the local DIY music scene. Among the many indie rock acts, Brooklyn's newest quartet Conveyor brought impressive smiles to the audience once again. I say again because we've had the fortunate opportunity of watching these men perform several times in the past. One including an acoustic rooftop session, captured and ready to be exposed via Gold Flake Paints coming soon.
The week prior to Braincave, Conveyor released a single titled "Mane" and last week, We Listen For You premiered the B-Side of their record "Maine". All the attention on Conveyor shines brilliantly on the band and each of their warm personalities. Conveyor carries radiant instrument harmonies as well as voice congruity. Their music is a soft mingle of folk, pop and rock, topped with a distinctive charm. For a proper introduction of the band, Conveyor talked to us during their sloppy joe break before their set at Braincave. Enjoy the read below.
Download:
Conveyor - Mane
Alan Busch Jr: Our name is Conveyor. My name is Alan. This is Evan, TJ and Michael. We are four men. We all live in Brooklyn, New York but we all met in Central Florida when we were all going to University. 
EARMILK: What made all of you move to Brooklyn?
ABJ: We all moved for separate reasons. Most of these guys moved for school. NYU and Pratt are represented here. I moved here, personally, to work in the theater industry. I think we all had, in the back of our mind, ambitions to pursue music when we were up here. It was not "the" reason to move up here. We didn't form this band until we were all here and we all moved in between three years of each other. It sort of just came to be, yeah. 
EM: Tell us about the new song that just came out, "Mane".
ABJ: Well, we just put out a new song called "Mane" from our upcoming album, which is coming out this summer. The single is coming out of Gold Robot Records, from California. They're great. Hunter is a really swell guy. The B-Side is called "Maine" but Maine the state. It will be on a white 7" vinyl.
EM: Is there a reason why the track titles have a similar name?
Timothy John Masters: We wrote a song called "Mane" as in the mane of a lion. When we got the offer from Gold Robot to put out a single on a vinyl record, we thought this would be a really good opportunity to actually write specifically  for the B-Side instead of just calling from the music we've already written. So we decided to sit down and write a song especially for this release. The idea to also call it Maine but the state was just a way of tying it altogether. 
Michael Ryan Pedron: It was also a starting point for the song.
ABJ: Yes, I think we actually called it "Maine" before we actually wrote it.
EM: Is there any connection to Maine the state?
TJM: Oh yes, the song is about the wilderness and the outdoors. Maine is a great place to do that. To do the outdoors.
EM: Have all of you been to Maine together?
MRP: Nope, never together. 
Evan Michael Garfield: I've been to Maine, once, not with any of these fellows. It's a really pretty. Pretty good coast. I went on a sailboat. Good trees.
EM: Cool. This next question is about the, well, there is screaming in your band. Where does that come from?
MRP: That's amazing. No one has ever acknowledged that. 
EMG: We're really inspired by Thursday.
ABJ: We listen to a lot of He Is Legend.
EMG: I'm sorry, those are not real.
ABJ: I do not listen to a lot of He Is Legend.
TJM: I think the singing is just singing louder than you can sing. When you think of screaming, you think about a lot of really heavy bands, sort of hardcore kind of stuff and stuff that is constantly screaming. But I feel like the way we use it is when you're at a level 10 in terms of emotions, when you're emoting on stage and you need something to kick it up one more notch, why not let out a yelp? 
MRP: But I think you particularly have a very nice scream.
EMG: My dad thinks that too.
TJM: My mom says "I don't like it when you do that".
EM: As a pretty new band, what do you want to do?
TJM: We're about a year on our birthday. Our one year birthday.
MRP: I don't have an ultimate goal. I think it's kind of what's in our immediate future. That's kind of the ambition we have, one thing at a time. Now, it is a full length record but we're already looking passed that and getting excited about the tour. 
EM: What about the tour?
MRP: We're going all over the country and a little bit to Canada. We're doing some shows with another Paper Garden band Fierce Creatures. 
ABJ: Besides that, it's all up in the air. Everything is in the planning stages right now. 
TJM: We're still booking and filling things. We'll be on the road from June, 30th until August, 9th. So around summer. It'll be a good opportunity to get out of the city.
EM: How do you feel about New York?
EMG: I like it.
ABJ: Positively.
EMG: We like it a lot better but I think one thing that we feel is lacking, at least musically, is a tight knit community of bands.
MRP: We're also new to it.
EMG: Yeah, maybe not lacking but we haven't gotten to the place where we feel a community of friend bands that we can play with.
TJM: I know personally, I'm eager to put bills together with bands we really love. To curate shows and develop relationships.
EM: Can you name some bands you really love and would like to do that with?
ABJ: Lucius
TJM: Yeah, Lucius is awesome. We got to play with them at SXSW. Bear Hands.

MRP: We're excited to play with Spanish Prisoners tonight, finally. Also, some other friends of ours,Illuminator. They put out our first single from the upcoming EP on a 7", "Muckraker". We have those tonight on a clear vinyl.
Conveyor: We're playing at Mercury Lounge on June, 28th, our album release show for the full length LP. Be there. We're also playing in Grand Central station on April, 21st for Earth Day. This is off of Vanderbilt and 42nd. Be there if you like the Earth.