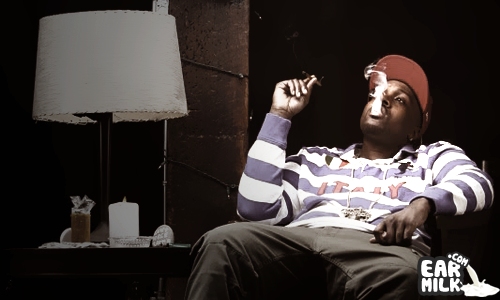 Smoke DZA definitely has an emotional attachment to weed, and with a nickname like "Kush God" and album names like George Kush Da Button and Rolling Stoned it isn't rocket science to figure out what one of his specialities is; it would seem though that rapping is another forté.
Cuz I Felt Like It is a short, 16-minute experience with no musical direction, using recycled beats and created entirely on impulse within a couple days. That should already tell you that this isn't DZA's best work to date, and I'll tell you this now, he definitely lives up to his name in the lyrics department, however, you'll get something fresh and maybe even surprising like DZA's singing on the end of "Imaginary Member" or his verse over Azealia Banks' energetic "212" on his own "Two One Two;" whilst both of these were completely unexpected they were more than welcome additions amidst the rapper's usually mellow selection of music. 
Regardless of Smoke DZA's "same-old" lyrical topics his steady flow over mesmerizingly smooth beats doesn't get old and can only be rivalled by fellow Jet Life Records artist, Curren$y.
01-Smoke_DZA-2_AM_Monday_Night
<strong>Download:</strong> <a href="http://files2.earmilk.com/upload/mp3/2012-04/01-Smoke_DZA-2_AM_Monday_Night.mp3"><strong>Smoke DZA</strong> - 2 AM Monday Night</a></p>
<strong>Download:</strong> <a href="http://files2.earmilk.com/upload/mp3/2012-04/06-Smoke_DZA-Two_One_Two.mp3"><strong>Smoke DZA</strong> - Two One Two</a></p>
03-Smoke_DZA-E.T_s_Finger_Feat_Jae_Millz
<strong>Download:</strong> <a href="http://files2.earmilk.com/upload/mp3/2012-04/03-Smoke_DZA-E.T_s_Finger_Feat_Jae_Millz.mp3"><strong>Smoke DZA</strong> - E.T.'s Finger (Feat. Jae Millz)</a></p>
Download: Smoke DZA - Cuz I Felt Like It