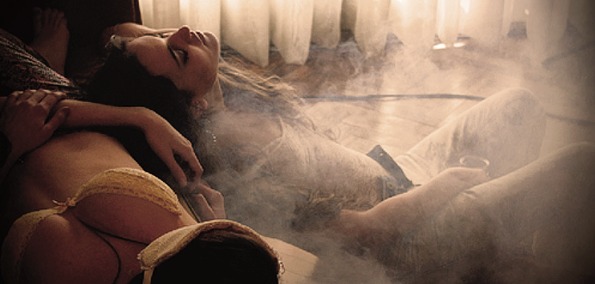 What's that? You like experimental music? Like who? Oh...you like Aphex Twin. Anyone else?
DIDN'T THINK SO.
Music that jars you awake, lulls you to sleep, lo fi keys, and atonal surf riffing. Dropping 99 Problems lyrics in a psycho-acid freakout track titled California Punk on Speed 1981. That's Wovette for you. Their latest–an eponymous record–is probably the most out there thing I've ever posted on Earmilk.
Album highlights (the songs I've up for free) couldn't be more dissimilar in their genre-bending/melding structure.Realizing is aprog-ish, lo-fi number with some pretty haunting vox and a crazily distorted guitar riff. Oppositely, Creep Soda starts off with verbed out twang (see Beach House) and opens into some atmospheric, fluttering synths, ending on a Beck-like note. (I've already told you about California Punk on Speed 1981) And my favorite Native Tectonics is a swelling track, with backwards guitars, spacey, echoing synths that wax and wane with the sea sick drum beat and smooth bass line.
I can't help the over description. I love Wovette. I think we're boyfriend/band (but we don't like labels). Pick up the eponymous record for free (or you could pay) on Bandcamp. Enjoy.
Download:
Wovette - Realizing
Download:
Wovette - Creep Soda
08 California Punk On Speed 1981
Download:
Wovette - California Punk On Speed 1981
Download:
Wovette - Native Tectonics