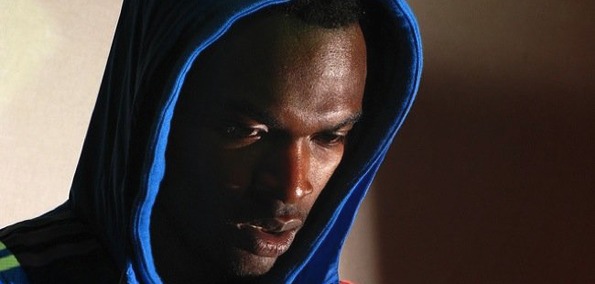 South London producer Darren Cunningham, also known as Actress, is one of those eerily elusive figures that has made quite a name for himself in recent years. His 2010 album, Splazsh, was my introduction to his genre defying arena of experimental electronic sounds and patterns. Those familiar with Actress know his soft spoken genius has received blessings from all the important DJs and even ruthlessly pedantic musical critics of the internet. But don't take their word for it—you may not hear what everyone's raving about on the first listen, but his eloquent style and simplistic approach breeds a genuine feeling of true musical vision and craft upon further listening.
Actress follows the building successes of his past releases with a fifteen-track album entitled appropriately after spatial and textural emptiness he explores in the tracks, R.I.P. In the words of the man himself, R.I.P. was inspired by John Milton's Paradise Lost, and following suit, is arranged in a similar biblical order, building from vast ambient string textures to the sharply defined 4x4 track "N.E.W." that concludes the album. Most notably, the album was constructed entirely of physical machinery, meaning no laptops or plugins. It is easy to hear the scrupulous arrangement and manipulation of the sounds, with some textures pushing ardently to the front of the track leaving others to cross and amalgamate into distinctive and at times monotonous moods that pull the tracks in different emotional directions.
I'm just an instrument, I'm completely dead when I write. 
From start to finish,  R.I.P. is a voyage from dreamy, beatless concepts to more ubiquitous and familiar minimalist structure. The upcoming album is a testament to the talent of Actress, and builds on his star-studded portfolio of thoughtful and unique production. Actress once again casts himself against the status quo of electronic music, transcending the abyss of forward thinking sound and traditional production. R.I.P. pushes a unique and unparalleled style of production seems almost nostalgic of a time and level of music production that never existed in the electronic music world. Given his dying approach and progressive vision, listeners are cast into a world of unconscious rhythmic movement while drifting in and out of the astral music journey created within R.I.P.
You can listen to previews of R.I.P. from all the major online record outlets. Pre-order R.I.P. on double LP 12" or CD for release on 20th April 2012 via Honest Jon's.
Actress - R.I.P.
1. R.I.P.
2. Ascending
3. Holy Water
4. Marble Plexus
5. Uriel's Black Harp
6. Jardin
7. Serpent
8. Shadow From Tartarus
9. Tree Of Knowledge
10. Raven
11. Glint
12. Caves Of Paradise
13. The Lord's Graffiti
14. IWAAD
15. N.E.W.