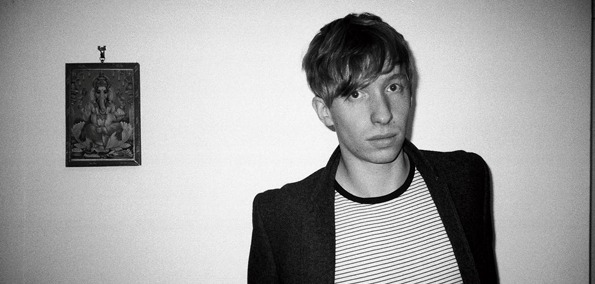 It's official. That which we had all suspected has been proven, the working week is getting longer. Sure you may still arrive at 9 am and leave at 5 pm but those hours have been elongated bit by bit. The average working day now is now 12 minutes longer with our weekends sped up by a full hour to compensate!
Therefore we must savour every minute, and with this in mind, I present to you Daniel Avery's new mixtape Divided Love. It must be easy for a DJ to get carried away with a mix these days, with the digital format only the size of your hard drive and your upload limit reign you in.
However Daniel Avery, aka stopmakingme, has bucked that trend, pulling a blank cassette from down the back of a sofa named the 80s. The rules are simple: 2 sides, 45 minutes a piece, not a moment to spare. If that doesn't pique your interest he's also taken it upon himself to cram the tape full of exclusive tracks and white labels so this elegant white cassette can sit even more proudly in your collection. 
Daniel has been a mainstay of the scene in London for years now through his Fabric residency and seems to be on the bill of all the best nights coming fresh from Bugged Out at Fire with Chemical Brothers. It's no surprise that the DJs he admired most in his early days are now recognising his talent too: Erol Alkan; "(Daniel's) turning into one of London's best DJs, mark my words." and Andrew Weatherall: "he makes gimmick-free machine funk of the highest order."
Side A is intense, danceable but with the underlying moodiness of a bus driver on the school run. Astronomer's remix of "Slow Oscillations" by Zombi serves as the real focal point here, which is fitting as Astronomer (Alex of Skull Juice) himself claims it took just a day to make. That is the sort of efficiency we can all appreciate in the current climate.
Slow Oscillations (Astronomer Remix)
Download:
Zombi - Slow Oscillations (Astronomer Remix)
Side B is the scenic route home led by your mate who never knows when to go home. It's a sonic detour unbridled by genre or a fixed tempo but momentum is never compromised.
Limited to 100 copies and selling fast there really is not a moment to lose. Divided Love is out now.
[soundcloud url="http://api.soundcloud.com/tracks/29179956" iframe="true" /]
[soundcloud url="http://api.soundcloud.com/tracks/29792026" iframe="true" /]