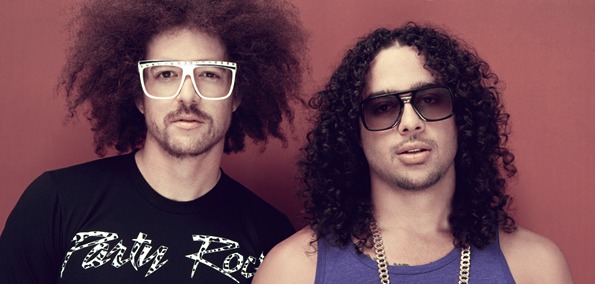 Every year there is a band that captivates the hearts of drunken college students everywhere. This band provides a newfound inspiration for these rambunctious young chaps, serving as the anthem for the ABC party Eleanore held last friday, or the beer pong tournament AXP is throwing tomorrow -- the list goes on. For the past couple years, that band has been LMFAO.
The kings of Party Rock are going on tour with plans to bludgeon eardrums across the United States, and thanks to our friends over at Livenation we've got 5 pairs of tickets that would look mighty swell in that pocket of yours. The tickets are for the tour itself, so check the tour dates and see if their coming to party anywhere near you. Click on the image below for dates and for presale tickets.
Presale for the tour start March 1st, and fans who RSVP to the presale event get early access to tickets. You can access the Presale RSVP at  www.livenation.com/lmfao.
To enter into the EARMILK contest, like us on Facebook and send an email to [email protected] with the title "LMFAO's Sorry For Party Rocking Tour" and include your name and phone number with a brief description of why you should go. We'll get back to you soon with your tickets (fingers crossed).