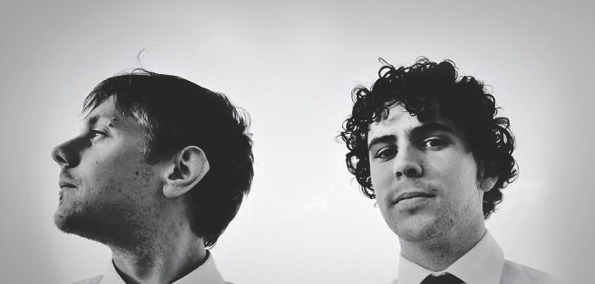 The weekend has landed and all that matters now is clubs, drugs, pubs and parties. You've got 48 hours off the 9-5, it's time to unbutton your hustle and breathe vigor back into life. Whether it be through losing your soul on the dance floor or grooving to it, we have your soundtrack covered. The EARMILK Weekend Selector, an exclusive guest mix series where we invite the latest budding talent from behind the booth to usher you through all the boozie and jam. From your morning bedside to tonight's evening social, your weekend selector is here to fill a void of good taste and allow fresh connections to flow vicariously.
(WKND12) EARMILK Presents: Weekend Selector - The Loops Of Fury
Two Brisbane boys rise to this week's occasion, cueing up a set of brutal tracks sure to tout some red lining. Arming the decks, The Loops Of Fury are a duo based out of London noted from their sweat drenched remixes that support the likes of Sound Of Stereo, Steve Aoki, and Moby. Amongst other successes such as basking in the Beatport Top 3 with their single debute "Flick the Switch", the two have been honoured by their household heros Armand Van Helden, Erol Alkan, The Bloody Beetroots, and even graced with an edit of their track "I Need" by none other than 2ManyDJs. But dubbed by the Dewaeles is just the start, The Loops Of Fury are gearing up for future projects of a bigger scale. Exploring divergent avenues of sounds while drumming up the right package for the peak time dance floor. Their diversity branching out of their gritty electro decor can be heard in a remix featuring TWR72's percussive heavy minimalism and other selections like the sinister techno rerub of the 2010 summer hit "Lemonade" by Paris' 4am menace Gessaffelstein. Germany's Lektroluv makes it's presence well known with the boys dishing out the thrashing label's latest work from Mumbai Science and Modek while Ed Banger Records provides the tape with timeless licks from Justice remixed by Brodinski and an overlooked original by (rest in peace) Carte Blanche. A mix not to be taken lightly and definitely on the hard edge of this series. The transitions feel seamless and continue to break expectations as each drop ousts itself in energy and jive. Diving deep into acid waters the tape swims out with a head smashing original by Tommy Trash and closing with one of their own, a cheeky but effective mashup between the Chemical Brothers, Boys Noize, and Bart B More. Grab the bootie below and sip while we talk LPs vs. singles and the state of electro music.
[soundcloud url="http://api.soundcloud.com/tracks/33255439" params="auto_play=false&show_artwork=true&color=000000" width="100%" height="166" iframe="true" /]
EARMILK: The Loops Of Fury have been known for an edgy overdriven take on electro house, looking at acts that matchup to you two stylistically like Zedd, Porter Robinson, Felix Cartal that are blowing up with massive appeal where do you think this sound is heading and where do you guys fit in as everything opens up to the masses?
Jimi: That scene is definitely getting bigger and bigger, especially over in the states. We don't really do the cut up complextro sound that's really blowing up at the moment, so it's hard to say how we fit into that side of things. I think we have a pretty distinct sound but it's not really based in a single genre. I'd say we sit somewhere between techno, electro and rave, but not really the purist versions of any of them. We just try to write good music that makes you want to jump around!
EM: I can see that in the tracklist as you have a lot of electro but also some techno and small stemmed niches like acid house, so do you guys dig deep to keep up with these other genres? Name me some artists outside of electro that have really caught your eye.
Max: Yeah for sure, our tastes are quite broad so we try and get some different stuff in there. There's a ton of stuff that we both like that just doesn't fit in our sets right now, but we draw a lot of inspiration from it. People from Hudson Mohawke and Birdy Nam Nam to Tagteam Terror and BS1. There's a lot of real forward thinking stuff coming out at the moment!
EM: I heard you guys were bandmates before you sat down in the studio and later started DJing, talk to me about how this whole transition happened and will there ever be a return to the old ways of playing live in the future?
J: Yeah we used to have a live act way back in the day. It was lots of fun and is definitely something we'll be getting back into. It all kind of stemmed from the old Prodigy "Digital Punks" video, we saw Liam rocking these raves and thought "Yep thats us!". So we did that for a while in various guises, learning how it all works really. But after a while we felt that we needed to make music that could be played by other people to move forward and get noticed. So we got into DJing, which is way less stressful and you don't have to lug all that gear around.
EM: There's been some rumours through the grape vine that The Loops Of Fury will be doing  collaborative project with Moby, can you expand on this and clue in to what's on the drawing board?
M: Can't really talk about that at the moment, but there's some exciting stuff happening right now. What I can say is that we're putting together a compilation album for U&A which is focussed on the future rave stuff we're really in to at the moment. Got some tasty remixes of our tracks and exclusives from various artists we like, as well as some new original bits from us. So definitely keep an eye out for that, we're quite excited about it!
EM: Seeing that you guys have only put out remixes and EPs do you think it's necessary for an artist in the dance music scene to release full length album at some point in their career? Are there any plans of putting one out yourself?
J: Doing an album has always been on the cards for us, it has really been a matter of building ourselves up to a point where it's worthwhile doing. I don't think it's as necessary as it once was, at least for the majority of DJs, but it's a special medium and a great way of expanding your musical horizons. We certainly won't be writing a straight-club album, nor will it be a cheesy radio album. I don't think we really know what will happen when we sit down to write it and that makes it really exciting! 
EM: I just want to say much love for taking the time to sit down and flesh out this mixtape, I'm sure our readers would say the same.
JM: Cheers man!
TRACKLIST
01. Sound Of Stereo - Volt (Original Mix): Lektroluv
02. Monsters Of Rave - God Damn (The Loops Of Fury mix):  CDR
03. Modek - Dust (Original Mix): Lektroluv
04. Mumbai Science - Researchers (Original Mix): Lektroluv
05. Housemeister - Weird Friends (TWR72 mix):  Boysnoize Records
06. Keith and Supabeatz - Grip (Tony Senghore mix): Southern Fried Records
07. Carte Blanche - Black Billionaires (Original Mix): Ed Banger Records
08. The Loops Of Fury - I Need (Soulwax edit): CDR
09. ?????????? - ??????????: ??????????
10. Elite Force - Be Strong (The Loops Of Fury mix): U&A Recordings
11. Felix Cartal - Domo (Original Mix): Dim Mak Records
12. Baskerville vs Henzel Disco Nova - Ho Lander (Original Mix): Secure Recordings
13. Mumbai Science - Commandments (Original Mix): Lektroluv
14. Erol Alkan & Boys Noize - Lemonade (Gesaffelstein mix): Phantasy
15. Justice - On 'N' On (Brodinski mix): Ed Banger Records
16. Phuture - Acid Traxx (Green Velvet & DJ Pierre mix): Afro Acid Digital
17. Tommy Trash - Future Folk (Original Mix): Musical Freedom
18. Chemical Brothers, Boys Noize, Bart B More - Yeah Girl Swoon (The Loops Of Fury VIP bootleg): CDR