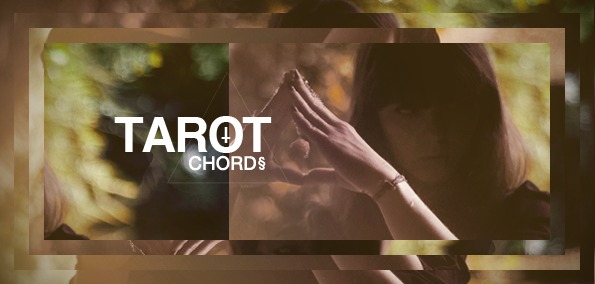 Tarot Chords lay before you to conjure more than what we currently have. They tell of a future unlike our own. A future we're in dire need of. The tale of renaissance and the cold rediscovery of the creative spirit. Witch house, drag, ghost drone, dark wave, dark snyth, witch bass, zombie rave and sometimes even seapunk will find their way into the notes of this feature. These sounds are brought to "life" by composers who not only to test the boundaries of music today, but most importantly the paradigms that envelope it.
I'm really working on keeping this feature interactive and changing it up each week. Luckily, I was able to peer into the mind of music icon Pictureplane (Travis Egedy). He coined what we call "witch house" and now keeps on reaching new boundaries in the music world with unique sounds. Also, Pictureplane just booked a tour in Asia. And he recently did a mixtape titled "You are a Terrorist, You are a Poet" for Gucci Goth.
[soundcloud url="http://api.soundcloud.com/tracks/35727786" params="auto_play=false&show_artwork=true&color=131a17" width="100%" height="166" iframe="true" /]
EARMILK: What is a Pictureplane?
Travis Egedy: Simply put, it is the two dimensional plane that the surface of a picture sits on. 


EM: Are you magical?
TE: 
Why, yes, yes I am. 
EM: Asia or Europe?
TE: 
Well, I have never been to Asia. And Europe has been responsible for a lot of culture that I am interested in, so Europe.
EM: Is there life after death?
TE: 
There is existence after death. But it is very different than what we know as "life" here in the 3rd dimension on planet Earth. 
EM: What will go first: people or the earth?
TE: 
I believe that "people" who look just like us exist all over the universe. That we dont just exist on Earth. That being said, I think Earth will outlive earthling humans. 
EM: Where do you find the samples that you use in your music? What's the weirdest thing you've sampled?
TE: 
If something catches my ear, and I think it would work good in a song, I will sample it. I made a rap song in high school where I sampled an Echo and the Bunnymen song. 
EM: What's your song-making process look like?
TE: 
Me dancing around in my bedroom alone.
EM: What's your live performance philosophy? What makes live performances different from recordings?
TE: 
A good live performance should be a pure energy continuum between the performer and the audience, where both are completely consumed by the sound and the moment. Performance is a live art form. It involves the body. It can never happen the same way twice, you can't go back and re edit a performance. That is the main difference with recording. 
EM: Who do you think is making really progressive music right now? What's the next big thing?
TE: Grimes is going to be big. And I want witch house to come back haha. But I really don't know. I hope Pictureplane is the next big thing. 
EM: How does visual art influence your music? Along those lines, who are some of your favorite visual artists?
TE: Visual art informs how I relate to and present my music conceptually. I think of my music and creative output on the internet as artworks. I am a huge fan of Ryan Trecartin, I think Tim and Eric should be considered contemporary artists, Thunderhorse Video, Harmony Korine, I love painters like Christopher Wool, Neo Rauch, I don't know, there are so many. I love art, I can talk about it a lot. 
EM: You have a really distinct style, how do fashion and music work together?
PP: 
Fashion is everything.
Back to your weekly ritual.
[soundcloud url="http://api.soundcloud.com/tracks/36790908" params="auto_play=false&show_artwork=false&color=131a17" width="100%" height="166" iframe="true" /]
[soundcloud url="http://api.soundcloud.com/tracks/36231199" params="auto_play=false&show_artwork=false&color=131a17" width="100%" height="166" iframe="true" /]
[soundcloud url="http://api.soundcloud.com/tracks/36816419" params="auto_play=false&show_artwork=false&color=131a17" width="100%" height="166" iframe="true" /]
[soundcloud url="http://api.soundcloud.com/tracks/35926493" params="auto_play=false&show_artwork=false&color=131a17" width="100%" height="166" iframe="true" /]
[soundcloud url="http://api.soundcloud.com/tracks/36156510" params="auto_play=false&show_artwork=false&color=131a17" width="100%" height="166" iframe="true" /]
[soundcloud url="http://api.soundcloud.com/tracks/17276740" params="auto_play=false&show_artwork=false&color=131a17" width="100%" height="166" iframe="true" /]
[soundcloud url="http://api.soundcloud.com/tracks/33553476" params="auto_play=false&show_artwork=false&color=131a17" width="100%" height="166" iframe="true" /]