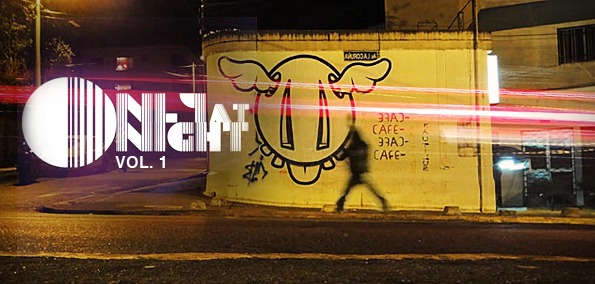 A couple of weeks ago, we announced the release of Only At Night - Vol. 1, the first volume of what is planned to be an ongoing series. If you missed it, please check out the original post - and stream the album, download etc.
For the rest of us who have been listening to this inaugural release from the OAN crew, I just wanted to take a bit of time and do a follow up, check out some of the artists that were compiled within this release, and hammer home that "download now" message ;)
As you may or may not remember, the full album download will only be available until February 21st - so DOWNLOAD IT WHILE YOU CAN. We'll be removing it from the server, and all of these tracks will be stream only etc etc - the idea here is that the artists regain ownership of the tracks, so hopefully they can find a home on some respectable label (and maybe we'll report on the track a 3rd time then heh).
But to bring a different perspective on the release, we talked to a few of the artists that were involved with OAN - Vol 1. to bring a little backstory, enjoy the history & some choice tracks.
---
3 A.M.
A project of 3 Torontians, 3.A.M has been giving away free originals and remixes for the past few months. They've had some decent attention within the blogsphere and are hoping to build on it with this latest entitled "Almost French". Expect some official releases and more free tracks from these guys very soon.
Download:
3.A.M. - Almost French
[soundcloud url="http://api.soundcloud.com/tracks/24395287" iframe="true" /]
---
BΔSSCULT
From producers Kill Them With Colour comes BΔSSCULT. Although a definite divergence from the norm for this Toronto operation, one can still hear familiar tones, sub-bases, and that proven quality that layers all these tracks. KTWC has lead itself down a musically-unworldly path sought out by very few in an effort to bring bass to the mortals (so they say), but give it a listen & "Grab a Hold" of something.
Download:
B∆SSCULT - Grab a Hold
With a strong initial release like "Grab a Hold", I hope to hear much more from B∆SSCULT, especially looking forward to the first EP which I've heard is "coming soon".
[soundcloud url="http://api.soundcloud.com/tracks/36383361" iframe="true" /]
B∆SSCULT - Ask The Mountain [OFFICIAL VIDEO]

---
Blue Neptune
You can hear that Minhaj Hossain has had his ear in dance music for a long time and as Blue Neptune, he has created has a varied catalog of moody remixes that touch on prog house, minimal, and, at times, indie glitch. Enjoy.
Born in 1988, Minhaj and his family moved to Canada around age 6. There he started watching Electric Circus on TV and started to listen to the radio which allowed him to fall in love with electronic music. In 2005, Minhaj and a friend picked up Cubase and completed their first track together under the moniker, "Nightscape". Together , they found that their biggest influences always were drawn from late 90s era. After a time, the two went their separate ways and Minhaj later started his new project, Blue Neptune. He released his first EP under the ambient digital label, Silk Sofa and since then, has been incorporating his ambient style into house and techno music.
Download:
Blue Neptune - Breathe
[soundcloud url="http://api.soundcloud.com/tracks/34453625" iframe="true" /]
---
For the full EP streaming checkout the original post: Earmilk Presents: Only At Night - Vol. 1
or go straight to the LP and: