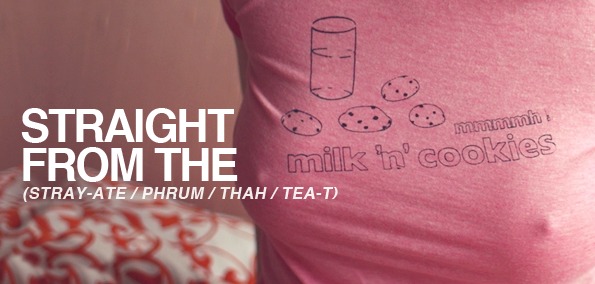 True fans of music spend countless hours searching for that next great song, album or artist, whether it be online or in a local record shop. The beautiful thing about music in today's age is that technology has created an infinite supply of great music that is available to us at the click of a mouse. How perfect is that? We can discover a brand new artist on the opposite side of the globe in seconds without a radio or a music television channel. It only makes sense that a website so dedicated to this gorgeous universe of music would want to celebrate the greatness and share it with anyone who is looking.
My name is Eric (Connecticutter), and I am your host of Straight from the Teet, where I will delve into 7 new albums per week and let you know which tracks I loved from the albums I listened to. I hope that my exploration through this never-ending sea of music will help satisfy that hunger for the brand new tracks you have been seeking.
---
The 7 albums I listened to last week:
Monday: Message to Bears - Folding Leaves
Tuesday: Portico Quartet - Portico Quartet
Wednesday: Tennis - Young & Old
Thursday: Air - Le Voyage Dans la Lune
Friday: Glass Kites - Glass Kites
Saturday: The Life and Times - No One Loves You Like I Do
Sunday: Ryan Teague - Field Drawings
---
Message to Bears - Folding Leaves:

Message to Bears is the creation of Jerome Alexander, a solo, multi-instrumentalist who combines the ethereal beauty of his electronic soundscapes and haunting acoustic guitar scales. On his debut record Departures, Jerome was able to create this unfamiliar landscape in his mind using just his instrumental talents and he did it practically better then anyone I had ever heard. I have personally been tossing and turning for a new release from him and now, 3 years later, the waiting has finally payed off. Folding Leaves sticks to the themes of acoustic, ambient sounds but now Alexander has added these precise vocal arrangements that are so vivid and angelic. The harmonized vocals add this brand new dimension to his music that really soothes your soul when listening. Ambient music has always been a very wide open genre, but artists like Message to Bears are putting a greater emphasis on stringed instruments now more then ever. We now have this up and coming genre known as modern classical because of it's use of classical arrangements and melodic undertones. Alexander is able to cleverly manipulate his music and turn it into this sadly, epic, visual piece of true art. It's the kind of music you can walk around the world to and everything just seems to sync up around you and although there's an argument that you can do that with anything, it's almost true perfection when you do it with an album like Folding Leaves. The album just has this dreamy quality where you can just go anywhere in your mind and escape, maybe be free from whatever forced you there in the first place. Especially on tracks like "Farewell, Stars" and "Daylight Goodbye" where the electronics, pianos, guitars and drums just come together like they were meant to be far before the songs were even written. Alexander just continues to show his true talent when it comes to composition and as his abilities continue to grow which is why this album sits atop my favorite albums of 2012 list so far. I hope you can pause to enjoy the spell his music can put over you as it's truly worth every second.
Message To Bears - Folding Leaves - 05 Farewell Stars
Download:
Message To Bears - Farewell, Stars
Message To Bears - Folding Leaves - 01 Daylight Goodbye
Download:
Message To Bears - Daylight Goodbye
---
Portico Quartet - Portico Quartet:

I remember it was a few years back when I first decided that it was a necessity to begin discovering Jazz music for the first time. I don't come from a very musical family. My mother and father were Beatles fans but they never got rolling with the rest of the musical train and my grandparents were certainly Frank Sinatra fans but who wasn't? It wasn't until I got into college where I started hearing all these fantastic indie bands that I began obsessing over new music. After a few years of that though, I knew I had to evolve my musical palette. Electronic music and experimental music were surely there but what about Jazz music? I had always been a fan of those old jazz night clubs where you walk in, take your coat off, and sit down with a nice glass of scotch as the piano player delivers some Count Basie tunes. Even though I hadn't accumulated all the knowledge I needed, I was still very interested in those jazz piano riffs, those wild saxophone cliches and those rangy blue note vocals that just seemed to melt all your problems away. It was shortly after that where I discovered nu-jazz, a more free form type of jazz music that also incorporated some electronics and downtempo type compositions. Portico Quartet is basically that in a nutshell. They have been making music since around 2007 and their sound is very indicative of old fashioned jazz music with a very modernized spin. Their newest, self titled LP, was released on January 30th and it is probably their most experimental album yet. The sounds are much more droning then ever before but the old school jazz influence still flows through each track, especially on "Spinner". The double bass on this track explodes along with the subtle drums and this provocative saxophone that howls in the background. These jazz moments are just so utterly sexy in a way that guitars just can't match.
Download:
Portico Quartet - Spinner
---
Tennis - Young & Old:

Tennis jumped on the indie circuit early last year with their debut record. After graduating college, Alaina Moore and Patrick Riley set sail for the open ocean to enjoy their recently achieved freedom from the classroom and to escape the future of career and job. The husband and wife duo returned with more then just memories though as their trip had set in motion a booklet of songs that would soon become the delicate, Cape Dory. The album basically relived the fond memories the couple had on the open ocean and used 60's pop influence to do so. Moore was so bright with lead vocals and her voice sounded exactly like it was ripped right out of a Shirelles song. The nostalgic sound though, was surprisingly not made as popular as I thought it would be. I adored their debut album and was excited to hear that their follow up record, Young & Old, would be released this year. The album itself explores some new sounds but still sticks to the wistfulness that made their debut record so incredibly catchy and flat out pretty. Moore's vocals continue to be the stand out but the instruments that flow around the lyrics have improved with more beating drums and surfer guitar patterns. I love feeling like I am in 1960's Hollywood when I hear their music and the beach driven sound is just so warm and inviting that I can't help but keep my stereo blasting. "It All Feels the Same" is the opening track to the record and even though it doesn't show much of an evolution of their sound since their first record, they continue to grab you with their sincerity. "Petition" is probably my favorite track off the new record and I think it's their most energetic, soulful song yet. The song structure is much more up tempo with a simple, yet terrifically beguiling piano riff that really gets things going into the most catchy chorus of the year. Pop bliss right here...
Download:
Tennis - It All Feels The Same
Download:
Tennis - Petition
---
Air - Le Voyage Dans la Lune:

If you're a fan of indie music or electronic music, you've most likely been a fan of Air almost without question. Nicolas Godin and Jean-Benoit Dunckel formed Air in 1995, generating a huge buzz with their debut LP Moon Safari in 1998. Since then, the duo has released a string of records but none have really reached the pedestal that Moon Safari so firmly concreted itself. It has almost become a disadvantage for the electronic duo as the public expects every release to reach the level of accomplishment that they had achieved years ago. Luck has not been on their side since however. Records such as Talkie Walkie or 10,000Hz Legend were actually quite good but somehow just didn't take the reigns off their debut. Now, years later, Air has decided to take their creativity to an all new high. Le Voyage Dans la Lune is inspired by the 1902, silent film of the same title which in English translates to "A Trip to the Moon". The film was incredible for it's time when it portrayed a group of astronomers shooting themselves to the moon and returning back to earth after conquering it. The film has been re-released with an original score done by Air which coincides with their latest LP. The album itself is much more classically driven and involves more ambient sounds then Air has ever practiced before. With the focus of the album revolving around the 1902 silent film, it's no wonder that the band decided to use a more drone technique when approaching the structures of the songs. In fact, most of the tracks on the album are very slow and ominous. I am pretty impressed at the nature of this record but as a stand alone LP, I just can't help but think it's yet another step in the wrong direction for a once, energetic and colorful band. Although I am not terribly fond of the album, the track "Lava" really does serve as a great culmination to both the album and the film.
Download:
Air - Lava
---
Glass Kites - Glass Kites:

Progressive music is a rapidly dying genre. When you think about good progressive music, your chances are basically slim to none for finding a band that can meet the requirements. That being said, i was happily surprised when I mysteriously came across Glass Kites, this 5 piece band from Canada. Their sound is very 1970's Yes or maybe a bit more intense version of Genesis. Some of the material on the album is even jazz related especially on the track "Soothsayer", where the tempo is counted off on a nice, well established guitar rhythm along with piano. The pop oriented sounds really help bring this track around to become rather catchy. Although Glass Kites aren't quite as complex as a progressive band such as Porcupine Tree, they still encourage their listeners to reflect upon the music itself, slowly but surely evolving the level of knowledge for that listener. Progressive music is meant to do just that, progress the ideas and musical theories for a potential listener and that is exactly what Glass Kites accomplish on their self titled, debut record. "Terra" is probably the most powerful, layered track on the album. Leon Feldman is able to sing his vocals without restraint to a freely sorted piano riff and an outstanding, stand alone guitar lick. All the ingredients here make up a great piece of 70's progressive rock and the trip through time is quite enjoyable.
Download:
Glass Kites - Soothsayer
Download:
Glass Kites - Terra
---
The Life and Times - No One Loves You Like I Do:
The Life and Times is clearly your generic, alternative band. They hit you with the 1-2 punch of power chord combos and reverb that makes your bass speaker shake. Although alternative music still has a huge following, some bands are just far greater than others. The Life and Times, from Kansas City, are made up of Allen Epley, Eric Abert, and Chris Metcalf. Rob Smith was also a part of the band until production finished on their latest release, No One Loves You Like I Do. The album explores not the romantic side of love, but the obsession and possession of the feeling. The record is played out like a narrative told in days but some of the days are left out. As for the tracks, they tell the melodramatic stories of a couple who has broken up but the man in the relationship is simply unable to live with it. He sets out to get her back but his controlling ways are just far too possessive to adhere. The music itself is loud and anything but romantic, probably sticking to this theme of being a head case. Back in 2009 when I first heard The Life and Times, I enjoyed the fact that they were exploring a post-rock sound to go along with their alternative roots but on their new LP, the post-rock ingredients have been totally removed. We are left with a simple alternative record that doesn't play with much enthusiasm. Even so, on tracks like "Day Nine" we get a very 90's, almost Queens of the Stoneage-esque rhythm where the bass does most of the work. This was my favorite track and I think it helped portray the album's narrative best.
Download:
The Life And Times - Day Nine
---
Ryan Teague - Field Drawings:
Ryan Teague is a composer, producer and multi-instrumentalist based in the United Kingdom. His background with classical arrangements and electronic, ambient techniques has led him to create some very unique, minimalist music on his latest release. Not only does his background include musical composition, it also includes a background in film and television music. Over the years, Teague has demonstrated a true knowledge of focusing his instruments to paint a vivid image in your brain. On his latest release, Field Drawings, he does exactly what the title implies. The songs all come together in essence and paint these pictures of voracious landscapes and rolling terrains that are so photo worthy. Modern classical music is a relatively new genre but it is quickly growing. Artists from all over the world are using new techniques to flourish in the epic sounds of old style instruments and Teague is doing no different. His songs are very electronic but he never forgets his roots of violins, cellos, flutes and horns. His keyboard is his best friend but the layers of heavy violin chords never dissipate. I for one, love this sub genre of ambient music and I really enjoy the way that Teague puts his productions together on some kind of musical canvas. Not many artists have the indefinite ability to paint a picture with their instruments, but Teague possesses this ability without question.
Download:
Ryan Teague - Prime Movers
Download:
Ryan Teague - Tetramery
---
After a pretty terrific week of album listens, I am ready for another week and I look forward to getting back to all of you readers next Monday. If anyone is interested in purchasing or simply hearing any of these albums online, I have linked them for you to make it simple. I hope you have enjoyed reading this weeks edition of Straight From The Teet and I look forward to bringing you a new group of records next week.