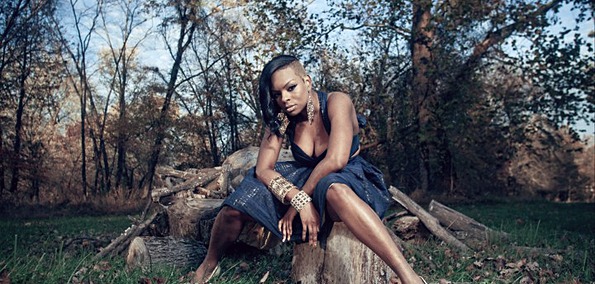 Her first name means "to have faith in a higher power even though he's not right in front of you" in Arabic while her last name is Abyssinian for "he made the call to prayer and he had the most beautiful voice." Ihsan Bilal's name is fitting, given her strength as a multi-talented vocalist and classically trained instrumentalist. A meld of Beyonce's smoldering pop-rock anthems with the funk force of a younger, female Bootsy Collins, Bilal makes her music her own with textured rhythms and soulful vocals. From California to Turkey to the East Coast, Bilal has experienced living in a variety of cultures, around the influence of different people from all walks of life. Growing up as a "military brat", her father's involvement in the armed services took her throughout the world. That and her father was also involved in a Gary, Indiana based-band with one of the Jackson 5 brothers. "Because of my dad, I listened to a lot of different types of music. I just grew up around music," she says during her recent visit to California where she performed in Los Angeles. 
Aside from her father's influence, Bilal takes cues from N.E.R.D whom she loves. "I would sit home and replicate their compisitions and their beats," she recalls, "I'd write out sheet music and imitate what they did." Big Red Box, Bilal's current album release, not only boasts 18 energetic tracks, many of which were written, produced and engineered by Bilal herself but an artistic vision throughout, incorporating themes of empowerment, identity and relationships. The "box" concept of the album title was meant to be a gift to her listeners, while the size of the box ("big") encompasses her tenacity for musical achievement as well as her natural ability to be a vibrant person ("red"). 
Staying with her knack for alternative rock and R&B, she has toured extensively with the North Virginia alt-rock band, The Danvilles, collaborating with their musical vision and they with hers. Last year Bilal traveled with the band to perform at SXSW last year and continues to play with them whenever they visit DC. Given her distinct musical style and studio know-how, Bilal is poised for attaining high heights in her musical career. Download Big Red Box for free off her Facebook page and follow her work through the subsequent social networks below.