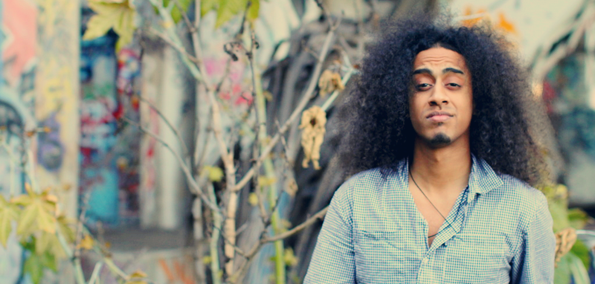 I was able to talk to the one of the most influential composers in moombahton, Munchi. Hailing from Rotterdam, Munchi's 2011 was huge and now he is a moombahton household name. He shared with me his thoughts on the future, his strong opinion on the Megaupload situation and football glory days. Expect 2012 to be even bigger.
EARMILK: What the hell do you keep in that backpack you carry around?
Munchi: It's basically my suitcase man, but it depends, you know. I just have it with me even if it doesn't have anything in it. Three things are always in there, a voice recorder for if some ideas pop up or nice noises that i wanna record, a book and beer. I ditched the Old English because I realized it tastes like laundry detergent. Now its all Mickey's Ice or Sapporo, haha.
Download:
Munchi - Me And My Bitch
EM: What did your parents listen to and how did that change your production?
M: Well, my mom always used to listen to Jose Jose when she cleans the house and shit. Now its 100% bachata though, and she ditched the Jose Jose tape only for the huge cleanings. So I basically grew up with Spanish ballads from the 70s and believe it or not, Jose Jose is a huge influence. Not only him though, basically all the greats from that time passed my mom's speakers. And they are all stuck in my brain for life. I don't know if that is a good or a bad thing.
Download:
Munchi - Yazzer Tin Air Max
EM: You gave many free promos away which lead to your growth, you could have also sold those tracks and done pretty well - was that just marketing or do you have more to say on free music?
M: I had loads of tracks in different genres just sitting on my PC, so I was like fuck it. Let's just put it out.  It really was only for my shit to be heard and I never would've expected this big of a change in my life just because of it. Obviously I'm a big supporter of free music. I wouldn't be out there without it and I wouldn't know of all these amazing musicians without it. Also the biggest cut goes to the label anyway, so why do that in the first place? Everyone downloads nowadays, including me, so it would be hypocritical to say, "yo dawg, buy my shit dawg. It's not cool to download it."  IDGAF to be honest, if you download it and like it decide if you'll buy the shit. If not, all good man, thanks for listening. Of course I will have releases, but it's only when I feel it's really worth it. Me, I buy shit only when I really like it. So it's basically some try before buy shit, haha.
EM: How do you think this whole SOPA/PIPA and all those sites like Megaupload affect the music industry?
M: That shit is fucking ridiculous. The whole thing will fuck up the internet in a way not even thinkable. On our side - they don't care about the music, creativity or anything affiliated to that. Pretentious bullshit reasoning to hurt people into thinking that it's out of good intentions. Nah my dude, it's all about the money, now all the people who were for the bill are backing up, because it will generate loss for them. It's not in their interest to be for it at this point. Good look, now we know that you are a lil bitch and your true intentions. And for fucking up Megaupload? Megaupload had some shit on there that was basically non existing on the Internet. Rare music that is old as fuck uploaded by the owners itself, yeah man. Good shit, now I can't download that swag shit anymore.
EM:  What can we expect next from you, any tours lined up?
M: Dude, I know it's cliche as fuck, but expect the unexpected. I'm very critical when it comes to my own music and I'm always on the lookout to keep me from repeating myself production wise. I never put shit out unless I'm 100% satisfied with it, or if it's just a preview, I'm really excited about lol (soundcloud). Definitely a lot of giggin' and collabos with some of my favorite artists! But most of all having fun!
EM: Moombahton (like dubstep) has seen a major resurgence in the past year, how do you see the future (if any) of moombah?
M: Had you asked me the question 1 year ago I would've said yes.  Now I'd have to say that I honestly don't know.
I feel that there is an exhaustion in the genre of the same shit. Let me repeat myself again by saying that I have been warning everybody about this since the start.  I've been in 3 genres before this that all went down 'cause of the same bullshit; money and mediocrity.  It's mostly the little things you tend to look over in order to keep a genre in the right path (to keep it interesting),  while you think you are too busy with the short term things, which in reality are less important.
At the moment there are so many things not on point with the genre and the point of it wearing out is closer then ever. On top of that, a lot of moombahtonistas are taking a break now from the genre, probably because they don't know where to take it anymore. This when Moombahton hasn't even come close to reaching its full potential yet. Caused by focusing too much on 1 or 2 sub-genres of moombahton – see dubstep.
And when talking about it I get the same lazy ass answer from everybody: "Lead by example." Well that's what the fuck Imma do then.
Download:
Munchi - Fuck This
EM: Your track "Fuck This" had some trap elements that people loved. Can we expect more trap like sounds from yourself?
M: Of course, I got trap bubbling for example and loads of other trap influenced tracks, such as the  track I recently uploaded on my Soundcloud that I made with my wife.
Itzel Xoco - Untitled (Produced by Munchi)
[soundcloud url="http://api.soundcloud.com/tracks/34571498" params="show_comments=false&auto_play=false&color=000000" width="100%" height="81" iframe="false" /]
EM: For someone that doesn't listen to moombahton how would you sell it to them with a description?
M: The most diverse genre ever.
EM:  Do you use anything to style your hair? Or is it all natural?
M: Nah dude, it's all natural.
EM: Do you follow European football? If so what is your favorite team, Ajax?
M: PSV.
EM: Did you play football? What position?
M: I started out as a defender, but I was way too aggressive, so one time there was no goalkeeper so I did the honors. It was fucking amazing so I kept doing that. I was the most aggressive goalie you've ever seen in your life, haha. I used to tackle strikers if I thought they would make a goal, then when they had the penalty I would catch it. Haha, fun times.
EM: When is that Flocka track coming out?
M: You'll see it popping up!
EM: What is the biggest track out right now out of any genre?
M: In my opinion? Yellow Claw feat. Mr Polska & Ronnie Flex's "Allermooiste Feestje". Check the video, it's hilarious. And my dude Ronnie Flex from my hometown is in there as well.
EM: Next upcoming moombahton producer?
M: Not moombahton, but it comes close. Rancido is this Dutch producer who makes incredible music, which actually reminds of moombahsoul. It's basically the moombahsoul that it always had to be but never succeeded to be. Check it out and you'll know what I mean. It's mindblowing. In moombahton terms though, I'd have to say my dude Danilo. You will see in a couple of months! He made a remix for Heartbreak's "e.l.m.o." and that was just warming up.
EM: I Know you like to be secretive about your releases, but can you tell us what releases you have coming out or anything around that?
M: Nope.