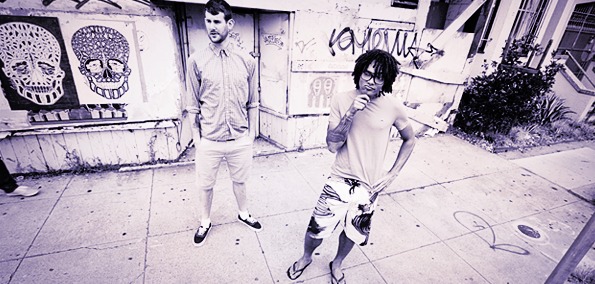 The weekend has landed and all that matters now is clubs, drugs, pubs and parties. You've got 48 hours off the 9-5, it's time to unbutton your hustle and breathe vigor back into life. Whether it be through losing your soul on the dance floor or grooving to it, we have your soundtrack covered. The EARMILK Weekend Selector, an exclusive guest mix series where we invite the latest budding talent from behind the booth to usher you through all the boozie and jam. From your morning bedside to tonight's evening social, your weekend selector is here to fill a void in good taste and allow fresh connections to flow vicariously.
(WKND09) EARMILK Presents: Weekend Selector - 5kinAndBone5


[soundcloud url="http://api.soundcloud.com/tracks/35479649" params="show_comments=false&auto_play=false&color=000000" width="100%" height="81" iframe="false" /]
For two dudes who's primary focus is churning out records as opposed to playing them, this week's Weekend Selector gels together with the finesse of seasoned DJ.  Cut from the same cloth as the likes of Nguzunguzu, Jubilee and their label boss Sinden, the mix echoes their production style where the lines between Hip Hop, Bass, Juke and UKG often get blurred plus a whole lot of stuff out of left field to keep us on our toes.  If you're not yet familiar with their work check the link here for a free remix courtesy of Sinden from their "Stomp" EP and the vid for what could very well be the hottest rap beat since The Neptunes early work.
5kinAndBone5: Stomp (Sinden Remix)
The mix goes into twerk mode right of the gate with DJ JayHood's "Got No Panties On".  Some other off the wall highlights include the instrumental of D4L's trap anthem "Laffy Taffy" and a brilliant edit of a chopped up DJ Deeon "Ride This MF" vocal over the instrumental of Ginuine's "Pony".  On the somewhat more serious side look out for some new Mele that's been getting big play from Annie Mac, Toddla T and Rinse FM, John Roman's forthcoming remix for Sinden's "Pull Up Wheel up" and of course  a ton of 5kinAndBone5 originals we'll hopefully be seeing soon.
EARMILK:  First off thanks for putting the 5kinAndBone5 stamp on our mix series.  For our readers that are just starting to get familiar with you guys tell us a bit about where you're from and how you linked up.
5kinAndBone5:  Linked up in Virginia. Met at an epic rave in D.C. After getting our minds blown by the sound pallettes of UK dance music we made a pact to craft the most futuristic music EVER. A key point of the agenda was to return the favour to cats in th UK which is just now starting to happen.
EM:  The Bay Area seems to be a bit of a breeding ground for new fusions of house and hip hop, from The Martin Brothers and the team at Dirtybird to your sound.  Any insight on why SF shies away from genre classification more than other scenes?
5&B:  Though we are somewhat familiar with the Bay Area's music scene we aren't natives and have had somewhat of a love-hate relationship with it. Socially the Bay Area is a totally strange mash-up. The extremely divergent interests of the local consumers definitely lends to the nature of the music. When we first came out to S.F. we struggled to find a club experience as intense as those of Washington D.C. Honestly, we are more in tune with the psychic energy levels of Los Angeles...turnt up 2 the muthafuckin max. No disrespect to the bay though.
EM:  When starting work on a track to you go into it with a mindset where you decide "This track is going to be for an artist" or "This is a 5kinAndBone5 track" or do you sort of figure out where a song is going along the way?
5&B:  We definitely decide whether the song is going to be for an artist or just straight 5kinAndBone5 dance music at the outset. The parameters are totally different if someone is going to voice over a track. That being said we do find ourselves adapting and merging tracks after the fact if an artist hears something they desperately want to fuck with.
EM:  You've been producing for a minute but DJ'ing is something you've gotten into more recently.  Are you touring much?
5&B:  After the co-sign from big homie Sinden the gigs have been steady so we are righteously mondo stoked about that.  It's some wild shit--the whole world of clubs and how tracks interact with said environments.  It undeniably influences what you produce for better or for worse.  Prior to gigging out we were pretty much isolated in the studio in a creative vacuum of sorts.  It's nice to get out though and see what joints elicit the dopest response and witness that whole dynamic in action.  Definitely new experiences for us.  Got some good parties on the horizon currently.  We will joyously celebrate the artistic mayhem of mashing up clubs worldwide with a fevered intensity equal to the unbridled visigoth bloodlust of yore.
EM:  Your EP Stomp FT. YG came out not too long ago on Sinden's Grizzly imprint.  That Renaissance man remix came out of left field.  How'd you hook up with them?
5&B:  Brother Sinden is boys with Switch and Renaissance Man happens to be on Dubsided so it was an easy connection.
EM:  Aside from your Grizzly EP and remixes for the likes of Mike Q, Brenmar and Ango you had produced one of our favorite beats of the year for Kid Sister and Riff Raff. Do you see yourselves continuing to produce for both yourselves and others?  The money must be a lot better in selling beats than on Beatport residuals.
5&B:  Yes, we will continue to produce tracks for other people as well as ourselves. Our main goal right now is to continue to crank out a variety of exciting music in whatever form possible.  We are on some psychotic shaman shit so immediate financial compensation is the least of our concerns currently.  Those things have a way of working themselves out.  All that matters to us is crafting wild ass shit that bangs hard as fuck.
EM:  You're in the studio a ton with Vin Sol on your side project Amen Brother including a collab with our friend Jubilee.  Any upcoming stuff from that?
5&B:  Yes. There's a 5kinAndBone5 remix of Jess's new release on Mixpak coming out soon.  Super stoked about that.  We are also teaming up with Vin Sol for some epic projects but we don't want to spill the beans 'em on just yet.
EM:  What's next for 5kinAndBone5?  Any stuff coming out soon that you care to let us in on?  
5&B:  Just wrapped up a lethal remix of Darq E Freaker featuring Danny Brown that we collaborated on with Sinden and we are planning on doing another Grizzly release in the near future.  We are presently wrapping up our follow up EP for Unknown To The Unknown too.  Oh and there's a 12" vinyl of "Make U Understand" on the way with UTTU that we obviously are stoked as fuck about.
With that said, we have been experimenting with more club-centric pockets these days so look forward to some fucked up bubbling/kuduro hybrids.  Definitely more rap stuff in the works as well and when the timing is right we're keen on doing some full blown concept album stuff.  So much terrain to explore! O the beauty of it all!
EM:  Thanks for this guys.  Best of luck in 2012.
5&B:  Thank U EARMILK it was a pleasure! :)
TRACKLIST
01. DJ JayHood - Got No Panties On (Original Mix): CD-R
02. DJ JayHood - Booty Bounce (Original Mix): CD-R
03. 5kinAndBone5 - WerkDatTwerkDatMerkDatHertDat (Original Mix): CD-R
04. Buraka Som Sistema - Tira O Pe (Original Mix): Enchufada
05. Code 9000 - Save Acid (Original Mix): City Wall
06. Phil Kieran and Jochem Paap - Wood And Organics Dept. (Original Mix): Electric Deluxe
07. Diamond Bass - Show Me (Original Mix): Enchufada
08. Gerry Read - Roomland (Distal Remix): 2nd Drop
09. D4L - Laffy Taffy (instrumental): Dee Money
10. Mele - Beamer (instrumental): CD-R
11. Roscoe Dash ft. Big Sean - Sidity (Original Mix): Interscope
12. Bert On Beats - Bone Dat (Munchi TrapBubbling Remix): Man Recordings
13. French Fries - Merel (Original Mix): Youngunz
14. Kill Light - Dumbo: LU10
15. UFO! - Pachanga in Space (5kinAndBone5 Remix) : CD-R
16. Joey Beltram - Shaking Trees (Original Mix) : Harthouse Mannheim
17. CRST - HeartBeat (Original Mix): Deep Thrills
18. Rick Wade - Primetime (Original Mix): Rush Hour
19. 5kinAndBone5 vs. Samename - ??? (??? mix): CD-R
20. Sam Walton - Aggy (Original Mix): Hyperdub
21. Ginuwine - Pony (Instrumental): 550
22. Sinden & 5kinAndBone5 - UKUS (Original Mix): CD-R
23. DJ Shaun-D - Alien Spaceship (Original Mix): CD-R
24. Sinden - Pull Up Wheel Up (John Roman Remix): Grizzly
25. Scuba - Flash Addict (Original Mix): Hotflush
26. 5kinAndBone5 - Black Matter Negronious (Original Mix): CD-R
27. The Future Sound of London - Glass (Original Mix): Virgin