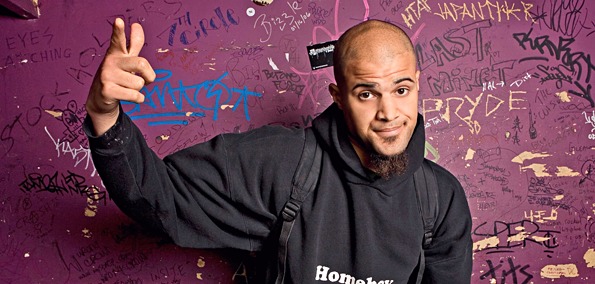 I remember listening to an episode of Gilles Peterson Worldwide where Homeboy Sandman was the guest selector. This was around February of last year and Homeboy had stated earlier on in his chat with the famed Dj that he was 30 years old. Gilles asked, "When did you first start rapping?". Homeboy replied, "I started rapping about four years ago". That would have made the emcee 26.
A lot of you reading this entry come to Earmilk because you're into dance, dub-step, witch-house and other electronic subgenre's. With that said, I understand that for some (not all) of you, hip-hop is a genre not often indulged, and in that, find it necessary to tell you the importance of Sandmans' age. So, in case you did not know, 26 is a very late age for someone to start rapping seriously, but that's not why his age is important. His age is important because the lyricisms in the track below, which was recorded passively in a night, sound like that of seasoned veteran who religiously followed and studied under the tutelage of a Nas or DOOM in their childhood. His age is important because it reflects a certain tenacity and dedication to a craft and, God forbid, a 26 year old reading this wakes up with the brilliant idea to become another rapper with no knowledge or skills all because their friend said so.
This year Homeboy will be 32, and the sum of his already notable work has added up to this; Subject: Matter, an EP of epically dope proportions. Sandman has a way with words that would probably intrigue Shakespeare, stringing together trains of seemingly broken thought that, once brought together, hold some profound metaphor or story.
Hootin and Hollerin/
Honoring tonight's Honorees/
Monopolies purple properties/
Papa don't preach/
Where papa at?/
Papa done peaced/
I's a bit peeved/
Political victories are just a dick tease/
It's Extreme/
Combine that with production from the likes of 2 Hungry Bros and Ben Grymm and you have a very stimulating body of work. This no name, exclusive track was made just this week. Although not on the EP, it was created in celebration of Homeboy's debut on Stones Throw. Lend your ear, you'll be glad you did.
[soundcloud url="http://soundcloud.com/stonesthrow/homeboy-sandman-subject-matter-out-now"]Homeboy Sandman - Exclusive Track commemorating debut of Subject: Matter
*Click on the album cover to purchase*
Keep Listening.