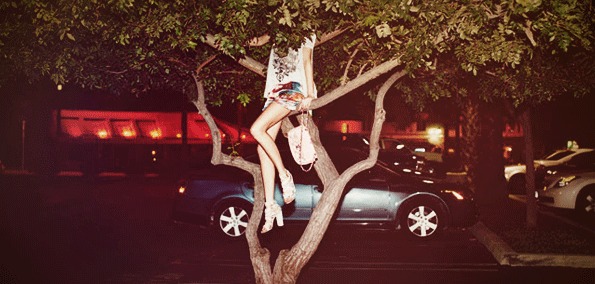 Austin, Texas is the home of an annual music festival with the name of SXSW but little did we know, it is also the home of Cameron Scanlon. Scanlon's solo project, Agent A creates an electronic jamboree of its own. He recently self released an album, Space Junk with 13 smoothly transitioned songs straight from his bedroom. The entire feel of Agent A is a complimentary mix of John Maus and The Flaming Lips. Imagine, all the weird yet vibrantly pop sounds from both bands, throwing confetti in a spinning psychedelic world. Below are a few samples of this Space Junk fiesta and a personal introduction from Cameron Scanlon to Earmilk.
"I started taking piano lessons when I was eight, but I didn't play music seriously until freshman year of high school when I met my musical partner, Michael Pace, who goes under the name Omae. I started a band with him and two other people called
Savoy Truffle
in which I played drums. We mostly wrote orignals, but we also played a wide range of covers all the way from
Devo
to
Modest Mouse
. After we graduated ,we ended up both going to the same college. We shared hundreds of songs together and eventually he sent me a demo he made in renoise. We decided to take our music writing to the next level by creating songs on our laptops rather than using only live instruments like we had been doing the past four years. We finished a 5 song EP called
Discotech Wavefilm
, and put it out on the web under our new name
Agent A & Omae
. Since 2009, we've released 4 albums. The most recent one we wrote and recorded all in 12 hours. You can check out our
bandcamp
 to see how much our music has evolved the last four years.
As far as Space Junk goes, it is the first album I've completed as Agent A. I started writing the songs for it about a year ago. At that point in time, I wanted the freedom to create something on my own, and I also wanted to experiment with several sounds and styles of recording music without having to rely on another person. This came after I finally stopped recording in Garageband and started using Ableton, which I found way easier to record and play with samples and effects. It completely changed the way I made music. The album is a lot more electronic, and a little less poppy than my previous releases. It's also the first time I started incorporating sampling into the songs I wrote by myself (Michael had always used sampling before, but I had not).
Right now I'm writing songs for a new Agent A & Omae release which will most likely be out by the end of this year (hopefully much sooner). We are also renovating our live set which will include several songs from Space Junk, and trying to book shows for this year's SXSW." 
Space Junk has been on replay since Sunday. Are you feeling this also?