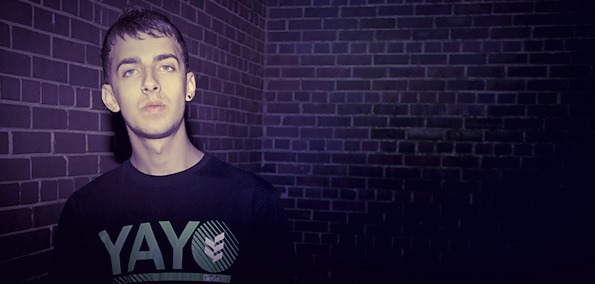 The weekend has landed and all that matters now is clubs, drugs, pubs and parties. You've got 48 hours off the 9-5, it's time to unbutton your hustle and breathe vigor back into life. Whether it be through losing your soul on the dance floor or grooving to it, we have your soundtrack covered. The EARMILK Weekend Selector, an exclusive guest mix series where we invite the latest budding talent from behind the booth to usher you through all the boozie and jam. From your morning bedside to tonight's evening social, your weekend selector is here to fill a void in good taste and allow fresh connections to flow vicariously.
(WKND07) EARMILK Presents: Weekend Selector - Kashii

[soundcloud url="http://api.soundcloud.com/tracks/33994643?secret_token=s-9OHvi" params="show_comments=false&auto_play=false&color=000000" width="100%" height="81" ]
London juvenile and grass roots beatnik Kashii takes control of the liberated this weekend in anticipation for the release of his next set of canny tunes on local label Southern Fried Records. With a new to the fold attitude, this bantom has bloomed a fresh clench on new school versus old school that chirps at pigeon holing preconceived genres. Couch surfing between house, garage, bass and 2-step Kashii represents a future work ethic that carries no bounds or limitations. The tape goes deep, drawing the curtains with the softer side of Romania's Cosmin TRG and blissfully flowing into a timeless remix by Bristol's Julio Bashmore. Joy reaches a peak when Kashii's crate dubs a chilled Justin Martin piano house classic stemming from unreleased Motor City Drum Ensemble that bellows underneath.
And of course Kashii doesn't let his original works slip away, serving up a collaboration with Kill Light and putting the weekend to a close with a track that showcases some of his greatest work yet. "House Culture" is the 90s in a nutshell, with a hint of insight into a forward thinking collision of driven techno and agile house percussion. Future connaisseurs can start digging on January 23rd when the EP hits the digital shelves along with a robust backing of deep house darlings and garage lullabies. Tracklist and interview where we talk gear and inspirations on the jump.
EARMILK: You seem pretty young, when did you start producing and DJing and what came first? 
Kashii: I started producing when I was 15 (8 years a go), but didn't start DJing until I was 17. When I first started producing I was into more electro house and garage, it wasn't until I started DJing out in clubs that I got into the deeper techy stuff.
EM: Your upcoming hit "House Culture" (out Jan. 23rd on Southern Fried) is shaping up to be a really big tune, I can hear a lot of dripping 90s house influences meshed in with an aggressive techno sound. So let me ask, what are your biggest inspirations from that golden decade in house and techno music? 
K: I think records had/have a bigger influence on me than the artists themselves. My uncle gave me a cassette with a house mix on it when I was about 10, I had never heard this type of music before and it interested me - although that repetitive synth sequence in "Your Love" by Frankie Knuckles used to scare me as a kid! There were a few tracks on that mixtape that after listening to again years later inspired me, like "Gabriel" by Roy Davis Jr. But I also grew up listening to alot of UK Garage, and the deeper stuff really appealed to me... for example the track "Pleasure Dome" - Soul II Soul (Booker T dub).
EM: Living in London I suppose you're surrounded by a lot of great names and talent. What are some of your favourites from the city and the smaller ones around it?
K: London is a great place to be for the latest trends in dance music, there's always a lot of new names popping up and nights showcasing them. A few of my favourite artists from London right now are Disclosure, Joy Orbison, A1 Bassline and Scuba. I lived in Brighton for just over 3 years and there are some talented upcoming producers down there aswell. But there's a lot of wicked music coming from all over the UK right now, some other artists im into at the moment are Midland and Youandewan who both hail from Leeds, and Eats Everything and Julio Bashmore from Bristol. 
EM: What's one piece of gear, software or hardware, that you couldn't live without? 
K: I think it would have to be Reason. It was the first piece of software I started producing with, back then I was using Reason 2 and to me it was an incredible program. My uncle gave it to me, then once I got the hang of it I introduced it to some mates who were into producing dance music aswell and none of us ever looked back. 
EM: What's your opinion on spinning DJ decks vs. midi and software? Which one do you use and why do you prefer it? Do you think spinning on decks is more "live" and authentic or is it a dinosaur technology that will eventually face extinction? 
K: Personally I prefer mixing with turntables, I have Traktor & 1210's set up at home but at the moment when I play out in clubs I use CDJs because I don't trust laptops! I've had so many people tell me about their laptop crashing mid set. I dont think mixing on turntables will ever die out, there are a lot of DJs that are loyal to using wax.
EM: I just want to say thank you for talking to us and of course churning out this tape, it's our deepest one yet.
K: Hope it's all good bro, all the best.
TRACKLIST

01. Cosmin TRG - Bijoux (Original Mix): Hessle Audio
02. Floating Points - Arp 3 (Original Mix): Eglo
03. Classixx - Into The Valley (Julio Bashmore Remix): Green Label Sound
04. Midland - Through Motion (Original Mix): Aus Music
05. Kuba Sojka - Magical Trumpeter (Original Mix): Mathematics
06. Motion City Drum Ensemble - Satellites (Original Mix): CDR
07. Justin Martin - Sad Piano (Original Mix): Buzzin' Fly Records
08. Kill Light ft. Kashii - It Could Be (Original Mix): Klub Kids
09. A1 Bassline - Why Do You (Original Mix): dirtybird
10. Roman Lindau - Sub Suggestion (Original Mix): Fachwerk Digital
11. Dj Assassin - Face In The Crowd (Intellidread remix): Cross Section Records
12. Joe Goddard - Gabriel (Seiji remix): Greco Roman
13. Disclosure - Tenderly (Original Mix): Make Mine
14. Kashii - House Culture (Original Mix): Southern Fried Records