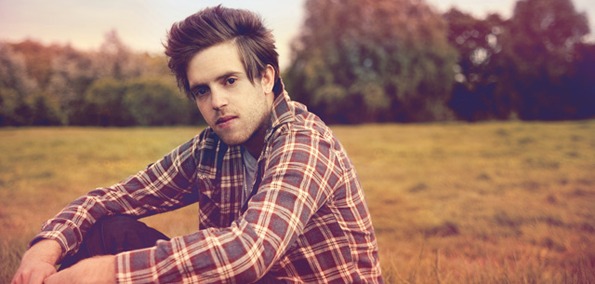 Benjamin Francis Leftwich is the poster child of hope, bringing a much yearned for clarity in these foggy musical times. He has managed to make a name for himself without selling out to a money drunk record label, and throughout his rise to fame in the UK he has managed to maintain every bit of artistic integrity he had when his career began. In fact, the label he is currently under, Dirty Hit, actually care about the artists they represent more than the money they can pull in from them. His critically acclaimed debut top 40 album Last Smoke Before the Snowstorm (2011) was cited as Album of the Week on Radio 1 and XFM, Album of the Day on BBC 6 Music, and was placed at No. 3 on EARMILK's top Indie albums of 2011. The debut single 'Box Of Stones' was marked as Zane Lowe's Hottest Record In The World, in addition to multiple Radio 1 Record Of The Weeks and a Maida Vale. session with Fleet Foxes. He sold out his 34 stop tour last October, and has plans to tour again this year, including a stint in the US -- the dates of which he will be announcing this Monday. He already has a tour locked in place throughout the UK, with shows arranged in London, Manchester, Bath, Glasgow and Cardiff -- yet unlike his 2011 tour, he will be traveling with a full support band, bringing an anthemic vibe to his already timeless stage presence.
Ben is kicking off 2012 with his new track "More Than Letters," which he is exclusively releasing through EARMILK. The track is exceptionally beautiful, flaunting Ben's ethereal vocals over his signature acoustic fingerpicking. As with any of Ben's music, "More Than Letters" provides a perfect backdrop for practically any occasion, with a paradisiacal balance of repose and vigor that will sooth your company without completely knocking them out. 
Download:
Benjamin Francis Leftwich - More Than Letters
Recently I was fortunate enough to be blessed with an opportunity to interview Ben. The interview dives into to science behind Ben's work, as well as his childhood and the unique interactions that shaped him as an artist. Enjoy the interview below, and be sure to check back into EARMILK on Monday for the complete lineup of his new tour. 
INTERVIEW: BENJAMIN FRANCIS LEFTWICH
Earmilk:
There is a huge rise in Indie musicians going on right now because there is no longer as much money in album sales due to leaks, torrents and the internet in general. The industry is a constantly changing organism, and what we are now seeing (thankfully) is a rise in talented musicians who can actually perform live, whereas 5 or 10 years ago it was all about who made the most marketable -- not necessarily the best -- albums, and who had the best producer/ connections. Because of this, artists like yourself -- who take pride in physical musical talent -- are going to be the successful artists coming into this next decade.
From your experience, working out of Yorkshire and gaining fame through live sessions with people like Jo Whiley and Dermot O' Leary, as well as opening for a band like Noah and The Whale, what has the journey from once performing in a small time band with your pals back at home, to now headlining your own UK Tour and getting the opportunity to play is a few excellent festivals -- What has that been like for you?
Benjamin Francis Leftwich: I think it's always important to be honest with yourself throughout the whole process of recording, playing live and pushing your music. Personally I still feel like I have lots to learn and get better at but my journey so far has been amazing. I never really expected my music to get this much attention but I feel that it has, simply because it connects with people. There is a lot of talk within the music industry of hype, coolness and originality but essentially all that is irrelevant in the context of good song-writing. I've always tried to stay focused on my songs and that won't change no matter what happens. I think whether you're into Slipknot, Bruce Springsteen or Jay-Z you get into a band or artist because of their songs right? All the great bands of the past and even today all write great songs. Of course not everyone's going to be into all the bands around, but the bands or artists that do the best in their own world are the ones that stay focused on their music and don't pay any attention to any of the bullshit around it. It is fairly simple really, but unfortunately there are a lot of idiots in the music industry who try and pull strings and con the public.
EM: I agree completely -- There is certainly a good amount of things within the music industry right now that I have to shake my head at, but I suppose it's always best to focus on the positive pieces. What are your plans with your music for 2012, in terms of tours and new content?
BFL: For me 2012 is going to be lots of touring. I'm in Holland at the moment about to play EuroSonic Festival and i have another European tour this month. Plans to go to Australia and USA as well which should be cool. And I'm doing my first UK tour of 2012 as well in February, I'm playing all the UK shows with a full band which will be awesome. I feel like the live set is really strong at the moment and I'm looking forward to touring and festivals this year a lot. I have a lot of new songs at the moment which I'm really proud of. Some of them are kind of different than the stuff I've done before but I'm looking forward to getting back in the studio soon and putting a new record out.
EM: To me, your music is not something to jump around to. It's the type of music I like to drive to, the type of music that goes along perfectly with a solo hike through the rocky mountains [which by the way, your album was my theme music on a hike a few days ago]. When you write your music, how do you envision your fans enjoying it. Is there a purpose with your music? Is it to help relieve stress, to calm down the wild beast that sometimes erupts inside us, or to make us reflect upon our relationships and understand love for what it truly is -- or is it meant simply to be interpreted by each listener in their own way?
BFL: I guess I never really sit down to write with a particularly specific theme in mind. Of course there are things I want to explore when writing but for me there is no real formula or plan to it. I think telling a really straight narrative in a song is really boring. All the songs I love are ones that take me somewhere or make me feel something ya know? To be honest I never really think about what other people are going to think or how they're going to interpret it. I just sit down with my guitar and vibe around until I'm feeling something.
EM: Often during artist's careers they experiment with different styles of music. Do you have plans to explore a new direction with your music in the future?
BFL: 
To be honest i don't really feel any pressure either way. I always try and do what's right for the songs I'm writing, and if that means a full band then that's cool but if it's just an acoustic track then I'll keep it that way... I mean, some of the new stuff is really chilled but a couple of the tracks are a bit more rocky.
R: You spent practically four entire years putting together your debut album Last Smoke Before The Snowstorm, building off of a handful of songs you wrote as a teenager. This commitment -- this... meticulous effort to be sure that each song is just right -- is something that is hard to find in the music industry nowadays. I feel like people nowadays come out with a new album every year, rushing in to get those next few stacks of cash. You call yourself a perfectionist. The work you put in is quite apparent throughout the album. Take me through the process each song undergoes, from formulating in your mind to emerging as the finished product.
BFL: There is no particular process really. My songs usually start on acoustic guitar and then from there I'll just keep working at it until I feel its ready. Sometimes if I feel that a song would be really cool with some instrumentation on then I'll jam it with my friends and/or in the studio. On [Last Smoke Before the Snowstorm] we re-worked a lot of the songs in the studio. Ian Grimble had some really good ideas too so it was a cool process. We tried lots of different versions of a song called 1904 for example. I guess songs just come together in their own time. (laughs) I don't think there is any way to finish a song by using any "rules" or "formula" really.
EM: You grew up on a diet of classic rock, listening to artists like The Rolling Stones, Bruce Springsteen and Bob Dylan. As you've stated before, it is artist like these that strongly influenced your music. Every musician, including myself, has been influenced by artists, especially the ones they love -- yet almost more importantly there is usually someone, some moment, or place -- that played a physical and substantial role in their choice of music as their career. Mine without a doubt was my friend Oliver. As for yourself, what physical part of your upbringing supported and helped turn you into the talented musician you are today?
BFL: To be honest it's always been pretty much my call. Of course there have been nice moments in which I've realized certain things but there is no particular one. I'm half Australian and have spent a lot of time over in Sydney. For me, being there was amazingly chilled and I had a lot of time to play guitar and vibe around and think. I really feel that if I hadn't had that space over there and been able to get away from everything here I would have made a much different record. Also, I've always surrounded myself with good friends and other musicians and generally chilled people so all of this alongside me growing up has definitely helped shape the record. But good music has been the most help.
EM: Interesting. You say that good music has been the most help. What album or artist was the most iconic for you, influencing you the most?
BFL: I'd say Bruce Springsteen is my biggest influence and inspiration. My favorite album of all time is "Nebraska". As soon as I heard it I fell in love with it, and in particular "Atlantic City". I went to see him by myself in Hyde Park in London and it was so incredibly insane. I really love how for Springsteen it's always been about the songs. He's released so many different sounding records but they always have this real sense of honesty and passion to them -- It's amazing.
EM: Let's bring this back to the good times -- childhood. Looking back on ourselves as children brings forth almost an embarrassing feeling, as we reflect upon how immature we were -- yet it is always good to think back when we had no responisibilities, and a stick on the side of the road could be the beginning of a new adventure. What were your hobbies growing up -- Were you a prankster, like, were you the class clown or the studious one in the room?
BFL: (Laughs) Erm... I played Football a bit. I was pretty good for a while but then I got unfit (laughs) and I definitely wasn't the studious one in the room. I do love pranks though. I grew up in York and went to college there too and it's an amazing city, I still love it and it's such a good place to come home to after being on tour. Growing up in York definitely gave me a lot of space and time to not rush anything and it probably sub consciously had a big impact on how I feel about music.
EM: So not a prankster, eh?
BFL: Well, when I was in primary school -- I think about ten years old -- me and my friend called up this guy in our year who was obsessed with Pokemon and said that he had one a big Pokemon competition and was being flown to Japan to meet the creators and get loads of free stuff (laughs). And he believed us and later that afternoon his mum called up saying that he was crying because he had found out it was untrue and she was so annoyed at us and we got in loads of shit at school. I felt so bad. So bad...
Ben is releasing the single for the hit track "Pictures" [off of Last Smoke Before the Snowstorm] on February 20th. The video for the track went viral on blogs around the world when it was released in January of last year, as well as the GZUS remix. Check them both out below.
Now that you've been acquainted with Benjamin Francis Leftwich, your hipster cred is going through the roof. A healthy investment to back up your 'I knew about him before he was famous' claims would be to follow Ben on his social outlets, which you can find links for below.