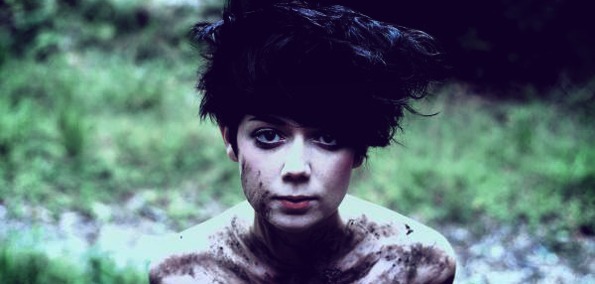 British pop band The Good Natured began their 2012 with an exclusive US tour in only New York and California. On this mini tour, they used Glasslands Gallery in Brooklyn as their second play station. We all know Popgun does it best with their incredible selection of booking the most upcoming talents, so it was only fitting that The Good Natured played at Glasslands in NYC. Before their performance on January 17th, the three eye catching members spoke to Earmilk and gave us a deeper look into their music. Take a look.
EARMILK: Can you give us a recap of your last year?
Sarah McIntosh: Last year was a momentous year. January, we got offered a record deal and in March, we got signed properly. Then, we went straight to SXSW festival and did about nine shows.
George: That was incredible.
SM: Yes, we had a really great time. When we went back home in April, we did a Wombats tour in the UK. That was really fun as well. In May, I broke my foot.
EM: How did you break your foot?
SM: We were playing in a place called Mojo in Liverpool. After the show, another blogger was coming down so I went to talk to him and I just tripped and fell over. I carried on walking over to him like I was fine but then we went to the AME afterwards and I wasn't fine. We had to cancel some gigs, which was a shame but it gave us a chance on writing. It was a year of sorting things out and mainly, a lot of writing. November, we did a tour with Oh Land in Europe, which was amazing. The audience were receptive in France, Germany, Sweden and Norway. Then we headed back home afterwards. 
EM: Are you excited about the New Year?
SM: Yeah, definitely.
G: Yes! We have SXSW again.
SM: Our album is coming out in September and our first single is out in April of this year. 
G: Back on tour in February, right?
Hamish McIntosh: Yes, we'll be supporting a band called The Whip in the UK.
EM: The Whip, what do they sound like?
G: Just super cool.
SM: They're quite indie.
HM: Three piece. 
SM: Just like us.
(A discussion of the school system in the UK and US took place. George ended that with an exuberant declaration of " I finished high school!")
EM: Hamish is the younger brother and you are the older sister. Growing up, have you ever beaten him up?
(dramatic laughter)
SM: I remember when I threw a TV remote at you once but we were quite young. 
HM: I was what, five?
SM: You wanted to watch something that I didn't so I was very angry and threw the remote at you. But apart from that, we don't usually argue, to be honest. 
EM: You and Hamish are related but how did the band form?
SM: Well, I started The Good Natured as a solo project. I would play gigs and ask Hamish to play bass since he plays bass. That came together fairly easy and then, I met George at university and we became a three piece. 
EM: Is there anything that set the spark?
SM: We all get along very well. We're all good friends.
EM: That's sweet. What is the difference between touring the US and touring back home?
SM: We've only done festivals in the US, SXSW and CMJ. We've actually never done random club shows before so we're really excited to be here and doing that.
G: The main difference is the travel. It takes ages to get anywhere back home. It takes like 6 hours of driving to get from one end of the country to the other. 
SM: We're going to San Francisco tomorrow night.
EM: When you were younger, did you ever think "Oh, I want to play in New York one day!"? What was that dream place?
SM: I don't know. It's great to just visit new places. New York is a great city though and we're happy to be here.
EM: Do you guys enjoy performing as a band? It seems like you are very interactive with your audience.
HM: It's definitely the funnest part. We get such a high off of doing it.
EM: What was the best show?
G: Last night was pretty fun.
SM: Yeah, last night was amazing at the Mercury Lounge. We weren't expecting it but it sold out at the end. We weren't expecting it to be that busy. 
EM: The Skeleton EP was about relationships?
SM: It was about a bunch of different things but yes, it was about being emotionally vulnerable to someone that you feel kind of naked. That's sort of the concept to the skeleton. 
EM: Can you take us through the creative process of this new album?
SM: This is our new debut album, "Skeleton" will be on it with "War" and Video Voyeur" which we just put out so that kind of gives a taste. Other than that, there are a couple of older songs being re-recorded so it's kind of a mixture of old and new stuff.
EM: Which was your favorite remix for "Video Voyeur"?
HM: Adrian Lux one for sure.
VIDEO VOYEUR _ ADRIAN LUX REMIX _ MS
Download:
The Good Natured – Video Voyeur (Adrian Lux Remix)
EM: How was it, working with him?
SM: It was really good and I've done a feature with him. Our album is mostly produced by a guy, Patrik Berger. He is from Sweden and he's really good friends with Adrian. While I was out in Sweden, Adrian came over and he played this track. I thought it was really cool so I wrote over it. We're not sure if it's going to be for us, Adrian or someone else but he decided he wanted to use it. I think that was good exposure for us since he's in more of a dark scene.
EM: Yes, now your music, it is under dark pop. Where do you get inspirations from the pop side and the dark side?
SM: Well, we all love pop music. Especially when I write, I really like pop melodies and pop hooks. But I always write when I feel emotional so that's where the darkness comes from. I guess when it's together, it turns out to be dark pop.
EM: I like it! The video for "Video Voyeur" has a stalker-ish theme.  I want to know if any of your fans have given off that creepy vibe to you guys?
SM: Um, I think we have a few fans that definitely follow us, quite strongly. We've never had a problem with them though. So not yet, we haven't had one of those.
G: Maybe someday soon. 
SM: All of our fans are really nice. 
Watch the video for "Video Voyeur" below