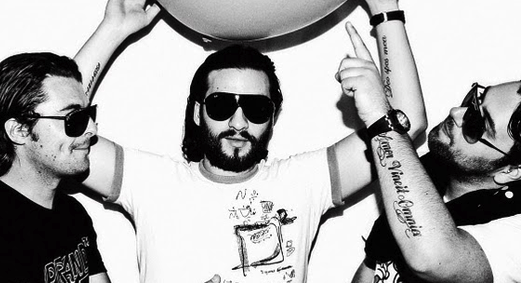 There are thousands of popular artists out there today making new singles all the time. With the increase of bedroom producers, though, the ability to simply download a whole studio that you can use right on your lap has made original songs more scarce. Now it seems that you're finding tens of thousands of remixes by artists with more and more ludicrous names, leaving you wondering, "Transexual Viking Sword Bro- what?" This weekly segment will bring you the popular remixes and the never heard of "Transexual Viking Sword Brothers" remixes of a (common) artist's singles. From all these bedroom producers we are seeing one thing, and that is absolutely fantastic, manipulated, warped remixes.
For the last couple of weeks I've been featuring major EDM artists doing 2 parts on each Skrillex and Daft Punk. Finding remixes of both was a lot of fun (don't get me wrong) but I feel "Artist Remixed" should also explore remixes of Artists you would never here remixes of, for instance "Artist Remixed - The Beatles". So after this week I'm going to try and veer away from featuring a 'already popular' EDM artist and focus more on something outside the norm. Until then though I couldn't help but make a "Artist Remixed - Swedish House Mafia".
For this week I decided to feature my top 10 favourite remixes along with my top 3 favourite mashups. Swedish House Mafia consists of Axwell, Steve Angello and Sebastian Ingrosso so naturally the remixes are based around the three's amazing production of mixing a uplifting melody with classic House drops.
TOP 10 FAVOURITE REMIXES
10. AN21 and Max Vangeli Remix
An21 and Max Vangeli are not new to producing house music, it was really expected that this remix was going to be a banger and I wasn't disappointed. Coming in just at number 10, their remix is a soft way to start my list off. The original of "Save the World" is built up as usual but cuts short into a progressive beat that is layered to increase intensity and suspense taking you again to the vocals where it finally builds again with a smooth drop that gently works its way down. This was one of my favourite remixes because from start to finish we hear the original with a more suspenseful layered build.  Enjoy. 
10 Save The World (AN21 and Max Vangeli Remix)
Download:
Swedish House Mafia - Save The World (AN21 and Max Vangeli Remix)
9. Tommy Trash Remix
Tommy Trash's remix is fairly new and was original aired on BBC's Radio Show before finally being released which helped build a lot of blog love before hand. After waiting in anticipation for this remix I can say that I was impressed but that it doesn't meet up to Tommy Trash's usual standard. His typical heavy synths combined with a climaxing build to a house lifting drop felt like they were missing. Still I have to give some credit since this remix does add an angrier touch to the original with a heavy bass that comes in at the drop. Enjoy.
Antidote (Tommy Trash Remix)
Download:
Swedish House Mafia - Antidote (Tommy Trash Remix)
8. Slamtype Remix
Slamtype's remix hit's all the right spots taking "Leave the World Behind" turning it into a filthy nightmare, with a DnB speed and grime that would make Skrillex wince. Slamtype he makes himself a spot at my number 8th remix. Enjoy.
Swedish House Mafia - Leave the World Behind (Slamtype Remix)

7. Cazzette Remix
Cazzette's remix comes in at my number 7 place after much thought: although I love Cazzette I feel I simply overplayed this remix for myself when it first came out so it has lost its initial awe. Cazzette works his usual magic again by adding a filthy intro with a heavy bass that is only a tease for what's in store. We're lead right to the drop where this remixes title Cazzette's "Angry Swedish Hunter" mix got it's title. Cazzette's usual sound is a filthy bass breakdown; whether 140 bpm or 100 bpm Cazzette is sure to take you on a "hellish" ride. Enjoy. 
07 Save The World (Cazzette Remix)
Download:
Swedish House Mafia - Save The World (Cazzette Remix)
6. Jahz Remix
Jahz's remix reminds me a lot of AN21 and Max Vangeli's remix, it's a progressive house remix that starts slowly, builds up throughout the whole entire remix, drops and than falls back down again. One of the reasons that I loved this remix is because it uses the vocals throughout the entire song, choosing to use them at the right moment to build the perfect anticipation. Even when you feel like it's about to drop, Jahz changes things up with a smooth Jungle House sound. Enjoy.  
06 Leave The World Behind (Jahz Remix)
Download:
Swedish House Mafia - Leave The World Behind (Jahz Remix)
5. Haibert Remix
Haibert's remix was a last minute addition to my list but a must have on the top 5. Haibert takes the beginning intro of "One" and builds it right up to the initial synth and changes the original completely. An amazing moombah house remix that builds you up and drops you down at just the right points. Enjoy. 
Download:
Swedish House Mafia - One (Haibert Remix)
4. Marco V Turn The Crowd Up Treatment
At number 4 we have Marco V's Dutch house remix that is another remix of "Save the World" that climaxes almost exactly the same yet changes everything at the drop. Marco V works with the original adding his own Dutch house; I prefer this house remix over the original because it's almost darker, the gloomy synths, looped vocals and big house sounds make this an amazing remix. From the initial drop to the big house sound it works its way through our speakers; I feel like I can see this on any local DJ's top 10 most played list since it has the right ingredients to become a club banger. Enjoy. 
04 Save The World (Marco V Turn The Crowd Up Treatment)
Download:
Swedish House Mafia - Save The World (Marco V Turn The Crowd Up Treatment)
3. Knife Party Remix
This remix is an absolute classic, I could not have made this post without having it in at least the top 3. Knife Party are a force to be reckoned with right now, with over 50,000 downloads on each of their latest songs from their EP 100% No Modern Talking and performing worldwide, Knife Party's fame is ever growing. This remix is a sign of Rob Swire's and Gareth McGrillen's (former members of Pendulum) amazing production skills to add their signature fidget filth sounds with deep sub wobbles. The remix combines their fidget filth with Swedish House Mafia's classic house to make an amazing remix. After such a mix of two polar opposites, both Knife Party and Swedish House Mafia joined forces again this time making the single "Antidote" which is where were taken for our final 2 remixes. Enjoy.
03 Save the World (Knife Party Remix)
Download:
Swedish House Mafia - Save the World (Knife Party Remix)
2. Woobbes Remix
Woobbes' remix is a prime example of using deep bass and wobbles to create a perfect remix. It starts instantly with the vocals instead of a slow build like the original, the suspense is quickly built as it brings us to the drop where Woobbes plays with the line "take it higher" literally using wobbles and a filthy fidget synth to take it higher. What has been defined as "bro-step" uses what others have called "Dinosaur" sounds that you might imagine look a little like this. Woobbes uses a classic example of the "Dinosaur" sounds to create a filthy pop remix of "Antidote". Enjoy.
02 Antidote (Woobbes Remix)
Download:
Swedish House Mafia - Antidote (Woobbes Remix)
1. Vonikk Remix
At number one we have Vonikk's remix that is rightfully deserved. From the very start to the end Vonikk's remix covers almost every aspect of a remix. The initial snare is different, the beginning melody has been altered just the right amount, the breakdown and build up are slower but use the same vocals to gain the right amount of anticipation. Even up to the drop he perfects the original so that the result is a heavy electro remix combined with small amounts of filth creeping in here and there. One of the reasons I loved this remix so much is because you can still clearly tell it's the original but it's changed so that what the original was missing, Vonikk has added. Great work Vonikk and make sure you check out his Soundcloud page for a ton of other amazing electro and dubstep productions. Enjoy.
Swedish House Madia - Antidote (Vonikk Remix)

TOP 3 FAVOURITE MASHUPS
3. Divide and Kreate Mashup
Divide and Kreate's mashup  is a softer remix which features U2 and relies more on Swedish House Mafia's original vocals than using Swedish House Mafia's main melody which you find Swedish House Mafia are most commonly used for when in mashups. Smooth yet still reminding you of House, this mashup does Swedish House Mafia proud. Enjoy.
Save the Streets (U2 vs Swedish House Mafia)
Download:
Swedish House Mafia - Save the Streets (U2 vs Swedish House Mafia)
2. Mazik Mashup
Mazik's mashup combines "Titanium" by David Guetta with "Antidote" into an amazing vocal mashup. Mazik takes Sia's female vocals and layers them over top of the hectic "Antidote". When I first heard this remix I expected the drop to remain the same as "Antidotes" but Mazik surprises me with a amazing low synth break down along side heavy electro that change up both "Titanium" and "Antidote". Enjoy.
Antitanium (Mazik Mashup)
Download:
Swedish House Mafia - Antitanium (Mazik Mashup)
1. 3LAU Mashup
3LAU's magic to make songs flow together has always shocked me. If you're a fan of any form of mashup you must be familiar with the growing legend, "3LAU". This was the first song I ever heard by 3LAU which made me really open up and be less 'cold hearted' to mashups. His ability to make vocals flow with ease has awed fans all over and is what's making him constantly grow. "Girls Who Save the World' takes the classic uplifting melody from "Save the World" and features popular vocals from Adele, Britney Spears, and others. What makes this mashup stick out so well is the simple yet delicate flow from one vocal to another. Great work Justin! Enjoy. 
Girls Who Save The World (3LAU Mashup)
Download:
Swedish House Mafia - Girls Who Save The World (3LAU Mashup)
Besides my top 10 favourite remixes and top 3 favourite mashups I've included a vast amount of other remixes that I found of Swedish House Mafia's small discography. To stop you from simply staring at giant, intimidating list of remixes and mashups I've split them into 3 chunks so hopefully thinking about listening to all these songs will not be so scary. Enjoy!
First Chunk Of Remixes
Antidote (Dirtie Clouds Vocal Edit)
Download:
Swedish House Mafia - Antidote (Dirtie Clouds Vocal Edit)
One (Supa Crush xx Remix)
Download:
Swedish House Mafia - One (Supa Crush xx Remix)
Miami 2 Ibiza (Gemini Remix) (Meitar Quality Edit)
Download:
Swedish House Mafia - Miami 2 Ibiza (Gemini Remix) (Meitar Quality Edit)
Download:
Swedish House Mafia - One (Ohmboyzs Remix)
Save The World (Style of Eye Remix)
Download:
Swedish House Mafia - Save The World (Style of Eye Remix)
Download:
Swedish House Mafia - One (Netsky Remix)
Second Chunk of Remixes
One (Giovane Fortuna Remix)
Download:
Swedish House Mafia - One (Giovane Fortuna Remix)
Miami 2 Ibiza (Zappaz Remix)
Download:
Swedish House Mafia - Miami 2 Ibiza (Zappaz Remix)
Antidote (Not Decided Remix)
Download:
Swedish House Mafia - Antidote (Not Decided Remix)
Miami 2 Ibiza (Zaklord Remix)
Download:
Swedish House Mafia - Miami 2 Ibiza (Zaklord Remix)
Leave The World Behind (Tomeenec Remix)
Download:
Swedish House Mafia - Leave The World Behind (Tomeenec Remix)
Download:
Swedish House Mafia - One (DemoniC Remix)
Third Chunk of Remixes
Antidote (Mikkel Christiansen Remix)
Download:
Swedish House Mafia - Antidote (Mikkel Christiansen Remix)
Download:
Swedish House Mafia - One (Congorock Remix)
Download:
Swedish House Mafia - One (Caspa Remix)
Antidote in your Champagne Shower (DJPass Mashup)
Download:
Swedish House Mafia - Antidote in your Champagne Shower (DJPass Mashup)
Save The World (Dj Christian Club Remix)
Download:
Swedish House Mafia - Save The World (Dj Christian Club Remix)
Download:
Swedish House Mafia - Antidote (Venom Remix)
One (The Prototype Remix)
Download:
Swedish House Mafia - One (The Prototype Remix)